Tasting Three Classic, Sherried Scotches From GlenDronach
Photos via GlenDronach
Drink
Features
scotch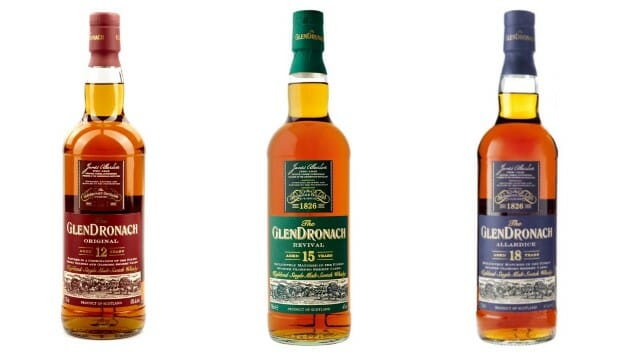 I can't claim to have been following the scotch world too closely at the time, but it seems like a lot of whisky drinkers may have missed the acquisition of classic Highland sherried single malt experts GlenDronach by American conglomerate Brown-Forman back in 2016. This wasn't too much of an outlier—Brown-Forman also acquired GlenDronach parent company BenRiach, as well as Glenglassaugh, giving them a well-rounded family of single malt distilleries to balance out the bourbon represented by brands like Old Forester and Woodford Reserve. These things just have a way of slipping under the radar, unless you're an industry watcher who is regularly paying attention.
Ultimately, the acquisition likely helped shore up production at GlenDronach, which faced some fairly serious logistical challenges that arose out of the venerable distillery (founded in 1826) closing in 1996, only to open again in 2001. This six year gap in production has meant that GlenDronach releases in the years since have occasionally been forced to feature older stock than their actual age statements, which have made certain bottles extremely sought after on the secondary market. It's also meant shortages of certain brands—in particular, the 15 Year Old Revival.
Now, though, GlenDronach 15 is back on U.S. store shelves after a few years of being away, and there's no better time to dive back into the core lineup for a tasting of three distinctly different sherried scotches. This distillery having long been associated with finishing their Highland single malts in a variety of sherry barrels, their core lineup of 12, 15, 18 and 21-year-old whiskies highlight the different flavor profiles that can be extracted from sherry cask maturation. Of the core lineup, we have all but the 21 Year Old GlenDronach Parliament. So with that said, let's get to tasting.
---
GlenDronach Original 12 Years Old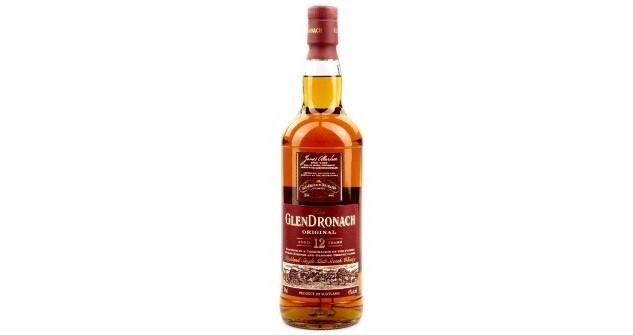 The flagship entry in the GlenDronach core line runs a bit more expensive (roughly $60 MSRP) than the entry level single malts from most of the comparable Speyside distilleries, but when exotic finishing barrels are a big part of the allure, that's to be expected. For the GlenDronach Original, those barrels are Spanish Pedro Ximénez and Oloroso sherry casks, which it shares in common with the 15 Year Old Revival. This one is bottled at a slightly lower strength, however (43% / 86 proof), and is non-chill filtered and natural in color.
On the nose, The Original comes off as warm and nutty, with lots of buttery shortbread, red apples and apricot jam. "Buttery" indeed feels like a good term for the palate, which keeps that shortbread cookie quality going, although sweetness is only moderate. Orchard fruit (apples/stone fruit) is present in moderation, as is cinnamon stick, with very slight, subtle earthy/grassy notes that are easy to miss on first inspection. Overall, this is a nicely subtle profile, which is both very approachable and easygoing, but not lacking in character. The heat is respectable, but it presents as less assertively sweet or fruit forward than some of the other flagships from distilleries that specialize in sherried single malts, such as The Glenrothes. This whisky's sherry influences are integrated in a considerably more subtle way, and I can appreciate this. The Original is a very nicely balanced dram that would be an excellent introduction to sherried single malts, especially from those who don't appreciate a lot of peat or smoke in their scotch.
Rating: 8.1
---
GlenDronach Revival 15 Years Old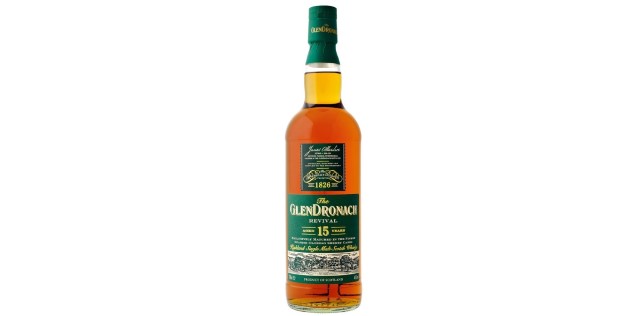 If you tasted the GlenDronach 12 and thought something along the lines of "but where's all the sherry cask?", then the 15 Year Old is the answer to your question. Like its smaller sibling, this single malt is aged in Spanish Pedro Ximénez and Oloroso sherry casks, is non-chill filtered and natural in color, but it comes in at a slightly higher strength, at 46% ABV (92 proof). It's also considerably more expressive in terms of its sherry influences, essentially being the "sherry bomb" that you may have expected in the former.
This one is a different beast on the nose, announcing its presence with strong impressions of nut butter and darker fruit impressions of berry compote, along with a touch of maple syrup. On the palate, cinnamon spice and shortbread mix with deeper caramelization, sweet almond paste and dark fruit that reminds me of the boysenberry syrup one might pour over pancakes. It's significantly sweeter and richer than the 12 Year, with a more syrupy and unctuous texture to boot. All in all, it makes for a considerably more decadent dram, although I wouldn't mind just a little bit more balance. Still, this one is going to be highly sought after among those who see "sherried single malt" and want something very fruity, sweet, nutty and rich. You might even get a decent deal, as the MSRP of $70 I'm seeing at some retailers is only $10 more than the 12 Year. Share this one with someone you know wants more of a desserty scotch.
Rating: 7.9
---
GlenDronach Allardice 18 Years Old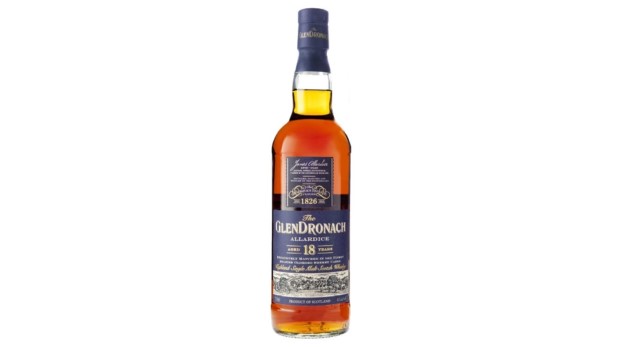 The star of the show, as far as I'm concerned, is the 18 Year Old expression of GlenDronach, which reins in the intensity of the sherry cask character by a little bit and allows some other flavors to come forward and increase the profile's overall complexity. Unlike the 12 or 15 Year, this one is matured exclusively in Oloroso sherry casks, but is likewise non-chill filtered, 46% ABV (92 proof) and natural in color. That last bit is more interesting here than in the other bottles, as the 18 Year Old is noticeably quite a bit darker in color than either the 12 or the 15, with a ruddy amber hue that looks particularly rich in the glass.
On the nose, I'm getting plenty of biscuit, ginger, nuts and especially dark chocolate, with dried fruit impressions that seem a bit less sweet than the 15 Year Revival. The nuttiness here has more of a cacao nib quality, which is nice. On the palate, this strikes me as simply a more balanced scotch than the 15 Year Old, with considerably more assertive earthy/savory/herbal notes to balance out the raisin, almond candy, apricot and plum. GlenDronach's single malts are reputed to be unpeated, but I'd liken the earthy character here to a very subtle, but welcome peat presence that contributes the smallest wisp of smoke to complement the combination of fruit, caramelization and old oak notes. Of the three bottles, the Allardice 18 is definitely the most contemplative and complex of these drams. It's why you're paying a premium, with MSRPs around $160. Each of these bottles offers their own particular pleasures, but this is the bottle I'd want to have on hand to impress a visitor from out of town.
Rating: 9.0
---
Jim Vorel is a Paste staff writer and resident brown liquor geek. You can follow him on Twitter for more drink writing.