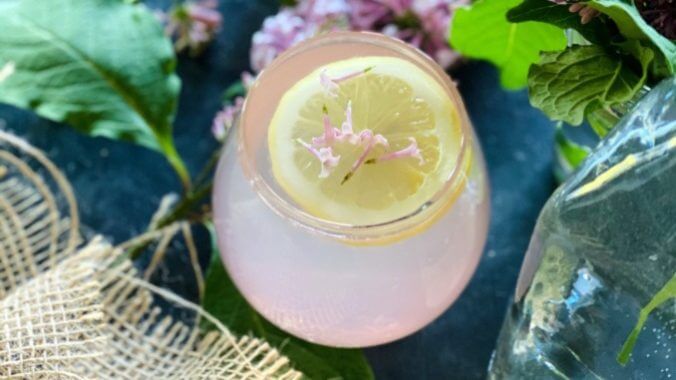 Spring has officially sprung, and what better way to celebrate than with some cool cocktails? From floral-forward libations to fruity concoctions that look just as great as they taste, spring is the perfect season for getting creative and trying a new recipe or two. Whether you're a seasoned mixologist or you're trying your hand at cocktail-making for the first time, these refreshing and inventive drinks are well worth exploring. That said, we've rounded up some of the best cocktails and spritzers to celebrate the season and sip in spring.
---
1.
Rosé Margarita from Wood & Spoon
Love tequila and rosé? Combine the two in this refreshing cocktail that is smooth and stunningly pink. This simple libation is easy to make and only requires a handful of ingredients. In fact, all you need in addition to the standard ingredients for a margarita is a bottle of rosé. Use pink Himalayan salt for the rim, and garnish with a lime before sipping under some sunshine. 
---
2.
Lemon Lavender Gin Spritz from Yes To Yolks
The scent of fresh lavender screams spring, and this adult take on lemonade makes the most of its floral flavor. Since gin is infused with natural botanicals, the lavender syrup blends with the spirit effortlessly, while the lemon adds acidity, brightness and balance. In addition to being delicious, this cocktail catches the eye with its bright purple float thanks to the use of butterfly pea pollen powder. Garnish with a sprig of fresh lavender from the yard and enjoy!
---
3.
Elderflower Rose Gimlet from Feast and West
Spruce up your standard gimlet with some sweet elderflower and a refreshing hint of rose. This drink is as close to sipping on a flower as you can get, and if you're a fan of floral notes, this one's for you. All you need is some St. Germain, fresh lime juice, simple syrup and rose water. Score some presentation points by topping your spring cocktail with some rose petals or small buds. 
---
4.
Ginger Hibiscus Martini from Beyond Mere Sustenance 
Craving something with a slight kick? This sweet, zesty ginger hibiscus martini is going to help you celebrate the warmer weather. It does take a bit more time to prepare since you have to first brew a hibiscus tea, but the results are well worth the wait. Garnish the glass with a fresh hibiscus flower if you have one, and wow your friends at your next sunset dinner party. 
---
5.
Cucumber Lavender Gin Fizz from Burrata and Bubbles
This spring cocktail seamlessly blends the crisp flavors of cucumber with the calming effects of lavender to create a bubbly drink that you'll want to sip on all season long. Though you can buy a lavender syrup, this recipe shows you how to make your own for the freshest and most vibrant results. Since this recipe also calls for an egg white, it's important to note that it's not vegan-friendly for plant-based drinkers. Thankfully, you can always substitute the egg white with aquafaba. 
---
6.
White Sangria from The Art of Food and Wine
As the weather warms up and the sun starts to shine, there's no better way to cool off than with a glass of classic white sangria. This refreshing drink calls for a bit of orange liquor, which gives it a nice crisp, citrusy tone, while the Prosecco provides a bit of texture. When it comes to the fruit, feel free to add anything from grapes to peaches to kiwi!
---
7.
Rose Vodka & Tonic from a Tipsy Giraffe 
If gin isn't your jam, give this rose vodka and tonic a try. This vibrant pink drink will catch your eye and tantalize your taste buds with its vibrant flavor and bubbly mouthfeel. Since the ingredients are pretty minimal, you'll want to use a clean, crisp, high-quality vodka. This recipe also calls for a rose liqueur rather than rose water, so expect the rose flavoring to be a bit more intense than some other floral cocktails. 
---
8.
Bourbon and Sage Cocktail from Inspired by Charm
Looking to add some whiskey to the mix? If dark liquor is your thing, you'll love this bourbon and sage concoction. The sage simple syrup balances the intensity of the bourbon nicely, while the lemon cuts the cocktail with a hint of acidity. Garnish with a thin slice of lemon and a sprig of sage or a few loose leaves for a versatile cocktail that you'll want to keep sipping all night long. 
---
9.
Pink Lemonade Cocktail from A Classic Twist
This pink spring cocktail puts a boozy twist on a childhood classic. Best of all, it calls for rum and vodka, ensuring that this stiff yet tasty drink is sure to result in a good time. That said, since the alcohol is hidden pretty well, you'll definitely want to drink responsibly. The sprig of thyme not only adds a visual appeal but  also provides an earthy spice that enhances the complexity of this otherwise simple drink.
---
10.
Hibiscus Mule from Cupcakes and Cutlery 
Ready to put a floral twist on this classic cocktail? Adding hibiscus juice and liquor to a Moscow Mule yields a fresh and somewhat fruity result that combines wonderfully with zesty ginger beer. Though Moscow Mules are traditionally served in copper mugs, the hot pink color of this cocktail means that you might want to show off in a clear glass.