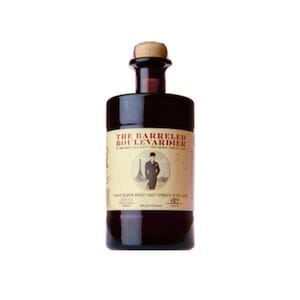 The best cocktails function as a narrative. After the theatrics of preparation—shaking, stirring, slicing, tasting, pouring over hand-chipped ice, garnishing, lighting stuff on fire—the experience of a well-made drink unfolds like a play. Each ingredient should open on the palate and be experienced before giving way to the next.
Yeah, it all sounds a bit pretentious. But in this post Mad Men world, the resurgence of mixology is a welcome change from the ghastly days of crap Seven-Sevens. Of course, high-end cocktails require a measure of skill to mix—or a willingness to pay double digits at the nearest local speakeasy. High West, Utah's first distillery since prohibition, offers a more approachable alternative.
Their Barreled Boulevardier is a bottled cocktail that takes mixing out of the equation. They take some of their prize-winning six-year-old bourbon and add Vya sweet vermouth (which is hand-infused with more than 17 herbs and spices) and Gran Classico, the famed bitter amero from Switzerland. Then they age it in American oak bourbon barrels for 120 days before bottling. The end result is complex and compelling.
The first act opens on the nose, a touch of bourbon spice and herbal notes around a dominant butterscotch sweetness that takes over on the first sip. Then the bourbon breaks in over the vermouth, wakening the palette with cloves, a rustic woodiness from the barrel-aging, roasted nuts, and cinnamon. A slight burn carries through to the final act, where the amero bitterness takes hold. This bitterness becomes the drink's central theme, with a tannic aftertaste from the American oak. It's a truly bracing drink—much like a bourbon-based Negroni. And like that gin-based cocktail, the Boulevardier delivers the same distinct medicinal qualities, making it a great palate-awakening pre-dinner drink. Try it with a sliver of lemon peel.
The history of the drink also tells a story. As the bottle label documents, the name traces back to a publication modeled after The New Yorker, published in Paris in the 1920s, that catered to the upper-class expats that became the Lost Generation. Its founder, Erskine Gwynne, also mixed the first Boulevardier cocktail, using slightly less rarefied ingredients (1/3 Campari, 1/3 Italian vermouth, and 1/3 bourbon whisky).
Visitors to Park City take note: The gift shop at Park City's High West gastro-distillery (the country's only ski-in distillery located just off Main Street), is currently the only place in the state where you can buy a bottle of hooch on a Sunday.
Distillery: High West
City: Park City, Utah
Ingredients: Bourbon, Vya Sweet Vermouth, Gran Classico Bitters
ABV: 34%
Price: $50