Tasting: 2 Whiskeys (Bourbon, Rye) From DC's District Made Spirits
Photos via District Made Spirits
Drink
Features
whiskey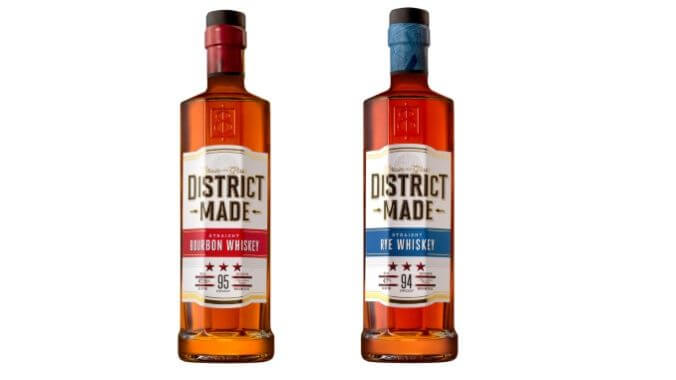 For a small distillery to stand out, even in its local market, it really needs some kind of hook for products such as bourbon or rye whiskey. Even though interest in American whiskey is at an all time high, there's such a glut of new releases on store shelves at any given time, and an ever-surging crowd of small, independent distilleries, that creating a recognizable identity is one of the biggest tasks that a distiller needs to accomplish.
This can be easier said than done, and the desire to compartmentalize a company's operations can sometimes simply lead to consumer confusion. So it apparently was for Washington DC's One Eight Distilling, founded in 2013, which maintained sub-brands under the titles District Made Spirits and Untitled. Recognizing that things had become too complicated and potentially confusing, the company recently revamped and rebranded entirely under the District Made Spirits banner. Making everything from vodka and barrel-rested gin to numerous styles of whiskey under one brand, the DC distillery has sought to solidify its identity.
In terms of its spirits, the lineup of District Made Spirits is likewise united by their use of Maryland and Virginia-grown cereal grains, with all five of the core products specifically exploring the Abruzzi rye grain's "spice box" of flavors. This style of rye is often described by millers to be inherently more sweet than other rye varieties, with a pleasantly nutty flavor. Its use (both malted and unmalted) in all of District Made Spirits' products—even the vodka and gin—gives a unique philosophical base for the entire lineup to rest upon.
Today, though, we have two District Made entries to taste, in the form of the company's flagship bourbon and rye whiskeys.
---
District Made Spirits Straight BourbonMSRP: $50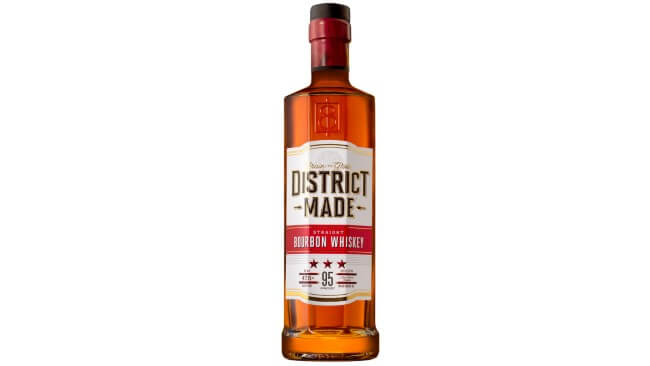 When this straight bourbon whiskey was first launched a few years ago, it was a 2+ year old product that had just cleared the hurdle to qualify for the "straight" designation. Today, it's grown steadily older, with each bottle now reportedly being 4+ years old. That's a pretty significant upgrade, especially considering that the MSRP hasn't really changed, even during a period of rampant inflation. That potentially makes District Made Bourbon a significantly better value now than it was just a few years ago.
This is a bourbon with a pretty novel methodology behind it—it's a blend of two different District Made mashbills, one featuring several varieties of rye, and one featuring wheat instead. The rye bourbon features both malted and unmalted Abruzzi rye, while the wheated bourbon is made with hard red winter wheat. All together, it works out to a mashbill of 58% corn, 16% unmalted rye, 12% malted rye, 8% wheat and 6% malted barley, for a four or five grain bourbon, depending how you'd choose to look at it. District Made Straight Bourbon Whiskey is bottled at a sturdy 47.5% ABV (95 proof).
On the nose, this one is on the more "doughy" side, with malty grain sweetness, apple flesh, sweet mint and licorice. The herbal tones almost put me in the mind of how your average Kentucky bourbon might taste if you added a subtle drop of absinthe. At the same time, there's some caramel and honey to be fond as well. On the palate, the grainy character suggests a younger bourbon, but it doesn't scream "young whiskey." Sweet on the palate, and almost deserving of the word "sugary," it features lots of mint and grassy, floral tones of rye, combined with malty, biscuity sweetness and caramel. In particular, it seems like the malted rye is making itself felt, and I believe that it often becomes a major player in bourbon mashbills like this, even when used in relatively small quantities. Ethanol heat is appropriate for the proof, mildly buzzy. All in all, it's a sweet and toasty/malty dram with hints of maturity starting to creep in.
---
District Made Spirits Straight Rye WhiskeyMSRP: $50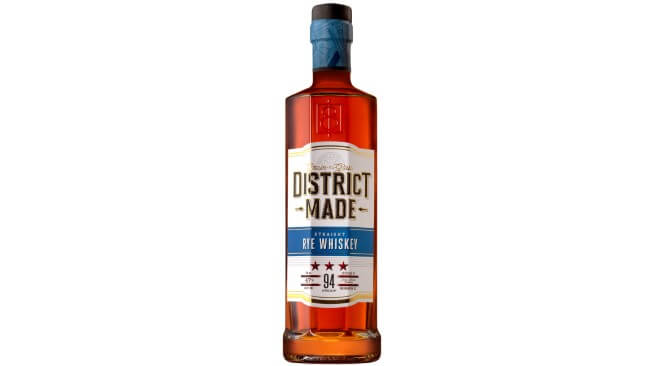 District Made's straight rye whiskey is quite high rye indeed, although it splits that influence between unmalted Abruzzi rye and malted rye, for a final mash bill of 57% unmalted rye, 29% malted rye and just 14% corn. It's bottled at an ever-so-slightly lower 47% ABV (94 proof), at the same MSRP. The company calls it "a spin on classic Maryland-style rye," which is often historically noted as a bit sweeter in profile.
On the nose, conversely, this one reads as considerably more dry than the bourbon did in terms of aromatics—there's a lovely bit of nutty cocoa powder, along with dried herbs and assertive rye spice, with flashes of orange citrus. All in all, a very nice, to-style nose for modern rye whiskey. On the palate, this grows somewhat sweeter, with pepper, dried herbs de provence, and cocoa again. There are kisses of toasted malt, toasted sugar and cola, some more orange citrus, and a lingering savory bit of tobacco leaf.
Of the two District Made bottles here, this rye whiskey strikes me as the more elegant pour, perhaps unsurprising in the sense that rye often plays better at relatively younger age statements than bourbon. Regardless, the character of the region's own rye absolutely carries through.
---
Jim Vorel is a Paste staff writer and resident liquor geek. You can follow him on Twitter for more drink writing.