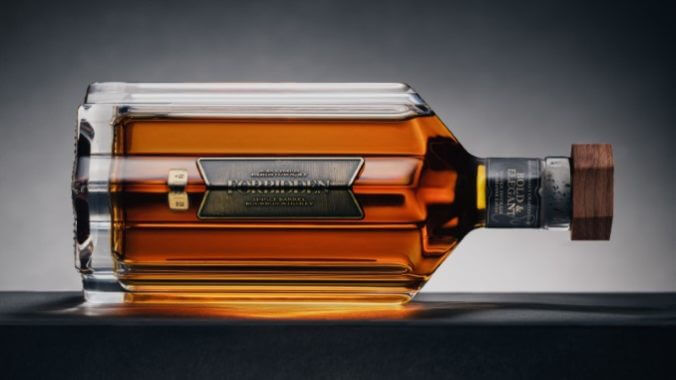 Sometimes I can't help but feel like I'm repeating myself when it comes to the discussion of "value" as it pertains to bourbon in the American whiskey world, but it's one of the truly evergreen debates that the industry faces, especially in a time of inflation, elevated prices and retailer price gouging. In a time when we're likewise inundated with limited edition or "LE" bourbons, most of which find themselves trying to justify price tags of $100 or more, you at least have to ask the question with most releases: Do the specs here line up with the asking price? And how much value can you assign to the quirks or extra features that may make any new bourbon release unique?
That's a tricky question, when it comes to the newly announced Forbidden Bourbon from master distiller and blender Marianne Eaves. On paper, this is a moderately aged, modestly proofed new wheated bourbon that likely struggles to justify an LE-like price point of $129. Looking into the full story of Forbidden, things make a bit more sense–but does it do enough to genuinely stand out as much as its creator would no doubt like for it to stand out in the modern whiskey market? And even if it does have enough unique qualities, how is the average consumer meant to deduce or understand those qualities from simply browsing a bottle at a package store? It's hard to say.
Regardless, we need to start with a little background. Forbidden is a new company, with Eaves as its figurehead and creative leader, in conjunction with four "South Carolina-based partners." The company seeks to "rewrite the rules for how bourbon is made, from char and fermentation to blending and bottling," with the general theme of releases that go against various aspects of what might be considered common whiskey industry practice. Overseeing everything is Eaves, the former Master Distiller of Castle & Key, who helped revive that brand but left the company before any of her whiskey had ever been commercially released. Since that time, she's worked as a consultant and blender, perhaps most notably on several releases from Sweetens Cove, which I quite enjoyed. Forbidden Bourbon will seemingly be a more permanent foray into regularly released whiskey batches for her. As she said in a statement:
"Total creativity involves a certain degree of rebellion. To be completely creative, I tend to do things that are a little bit forbidden," said Eaves, who has fully controlled the distillation, aging and bottling of Forbidden from grain to glass. "While creating Forbidden, I have had the freedom to cross deep into uncharted territory by using nontraditional ingredients and techniques. The resulting bourbon, on my palate, is perfection."
So, what is in this bottle? Well, the brand is designed around collaboration with spirit from the ultra-versatile Bardstown Bourbon Co., but according to Eaves it also actually contains some of the more mature spirit she distilled at Castle & Key. Overall it's a wheated bourbon mash bill, described by the brand as the "spirits industry's first white corn and white winter wheat expression of bold Kentucky bourbon." It's described as being both "inspired by Southern cooking," and an experiment in capturing new bourbon flavors "achieved by nontraditional low-temperature fermentation." My guess is that a low-temperature fermentation might be hoped to preserve the delicate flavor and aroma compounds known as congeners. This is a small batch bourbon that has been aged 5 years, and bottled at 47.6% ABV (95.2 proof). The MSRP is the already mentioned $129, for a "highly allocated number of hand-blended bottles" being sold in Kentucky, Tennessee, Georgia and South Carolina, with three single barrel cask strength expressions to follow. Pre-orders are open now, with the whiskey shipping in June.
So, let's ask it: Is a consumer going to see $129 for a 5-year-old, 95.2 proof bourbon and conclude that's a reasonable price point? It may be a bit of a big ask, but Eaves does have some rationalization, starting with higher ingredient costs than distillers are typically working with. The "cuisine-quality" white corn is a choice that the master distiller feels reflects the spirit of Forbidden as a product, saying the following:
At least 80% of yellow corn is grown for non human consumption. It's for other industrial uses like feeding farm animals.It's the opposite for white corn. It is primarily grown to eat, though it's more expensive. The yield is, I think, well, it's comparable. It's a little bit less, and I think that's also why folks don't use the amount of malted barley because it's an expensive grain and it's not the workhorse of the recipe. So while we look at the grains in a different way, you know, for flavor and high quality human grade food grains, I think it does make a significant difference in the quality and the flavor and the mouthfeel of this product.
So with that said, let's actually taste this whiskey and see how it handles.
On the nose, Forbidden Bourbon initially presents on the lighter and more delicate side, with subtle caramel and richer vanilla frosting. Returning to the nose repeatedly, it opens up more and I'm getting an enticing browned butter note and corresponding nuttiness, with maybe a hint of marzipan. Overall quite soft and gentle, it seems to lean more toward the sweeter side of the spectrum.
On the palate, this whiskey really begins to open up in a more dramatic way. Here, things are sweet and inviting, with crisp grain meeting toffee, cream soda and big vanilla cream. This is notably creamy in terms of texture, and it feels significantly more full in terms of mouthfeel than you would probably expect for this proof point. Orange citrus dances on the palate, along with light floral notes, creamy caramel, and a bit more of that brown butter. Texture is a real highlight here, as this has one of the more memorable mouthfeels I've experienced recently in a whiskey of less than 100 proof. Residual sweetness is moderate to a little bit higher, but it's nothing excessive. I'm not a fan of the term "smooth" as a descriptor, but it's quite apt here.
All in all, Forbidden Bourbon's profile is that of a silky, moderately sweet crowd pleaser–the kind of bourbon that most drinkers would probably find very easy to enjoy. Perhaps this speaks to some of the innovations that Eaves has spearheaded here, or perhaps it's just a well-made wheated bourbon from a solid company making lots of good bourbon these days. Consumers will have to decide if the asking price here is worth the investment, but at least the product can stand up under its own merits.
Distillery: Forbidden Bourbon (Bardstown Bourbon Co., Castle & Key)
City: Bardstown, KY
Style: Kentucky straight bourbon whiskey
ABV: 47.6% (95.2 proof)
Availability: 750 ml bottles, $129 MSRP
---
Jim Vorel is a Paste staff writer and resident beer and liquor geek. You can follow him on Twitter for more drink writing.