Tasting the Redesigned Glenmorangie Extra Matured Range (Lasanta, Quinta Ruban, Nectar D'Or)
Photos via Glenmorangie
Drink
Features
whiskey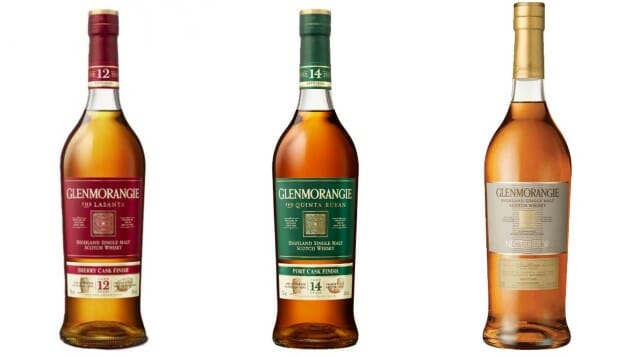 Scotch whisky is a funny industry, in the way it treats the ideas of tradition and permanence. Practically every prominent brand of malt markets itself as a totem of unwavering consistency—here's a formulation, they say, that hasn't changed in the last 100 years, so you know it must be good. At the same time, however, distilleries feel natural pressure to adapt and fine-tune their lineups, when they feel they're not best reflecting the product the distillery wants to produce, or what is desired by the consumer. As such, there's a delicate dance between the marketing potency of "this whisky doesn't change" and "hey guys, we improved the whisky!"
Glenmorangie (founded 1843) certainly knows better than to mess with some of their most iconic products. Nobody is going to be tinkering (we would hope) with Glenmorangie The Original, the brand's flagship malt, which at $30 or less has long represented one of the best pure values in scotch. This is exactly the kind of bottle you never want to change, because the product's legion of fans appreciate it for exactly what it is.
The Glenmorangie "Extra Matured Range," on the other hand, has recently undergone some revision. The Highland distillery looked at their three offerings—sherry cask aged Lasanta, port cask aged Quinta Ruban and sauternes cask aged Nectar D'Or—and decided to "refresh" the lineup via alterations both minor and major. Of the three, only Lasanta remains exactly as it was before, albeit with some new labeling. This seemed like an ideal time, then, to re-taste each member of the Extra Matured Range. So let's get to it.
---
Glenmorangie Lasanta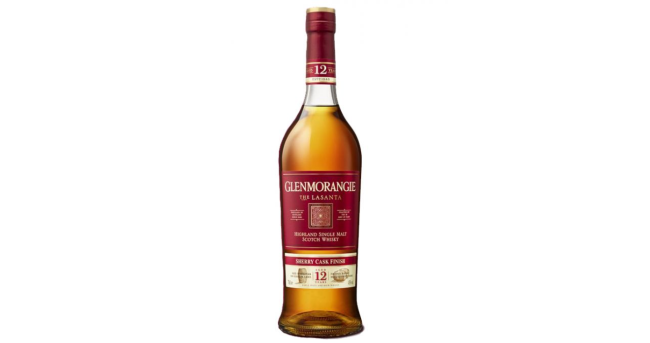 Lasanta is the brand's classic sherry cask-finished single malt, competing against a wide array of sherry focused malts from distillers such as Glendronach, Glenrothes or Aberlour. This one has been unaltered in formulation during the Extra Matured Range revisions, retaining its 12 year age statement and red label/box. MSRP according to Glenmorangie is $40, although in practice in the U.S., it usually seems closer to $50.
On the nose, this one is fairly sherry forward, with big notes of roasted nuts, hazelnut coffee, marzipan, vanilla bean and some light citrus. On the palate, it knocks you back a step with sweet, intense notes of toffee, which are frankly a little bit overwhelming, and reminiscent of sucking on a Werther's Original. The initial flavors are dominated by confectionary sweetness, with notes of marshmallow and long-developing caramel, followed by orange Starburst candy and vanilla bean. This is a rich and very flavorful dram, but one that strikes me as being rather unbalanced toward the sweet side and its sherry cask influences, losing a bit of the underlying single malt in the process. It will be best appreciated by those who are seeking a dessert-appropriate sherry finished malt.
Rating: 7.1
---
Glenmorangie Quinta Ruban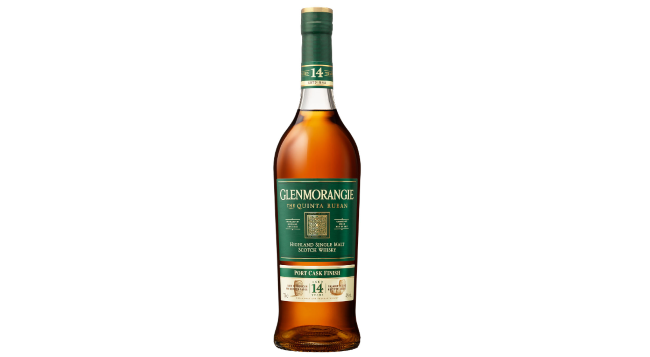 Quinta Ruban, the brand's port cask-finished single malt, has moved from a 12 year age statement to a 14 year-old expression, which the distillery says "brings out even deeper flavors of Seville orange and dark chocolate for a bolder, velvety whisky." The color of the bottle and box, meanwhile, has been swapped from black to dark green, which I think gives it a rather lovely, distinctive look on the shelf. It is now measurably the oldest entry in the Extra Matured Range, but apparently not the most expensive. Its MSRP according to the distillery stands at $55, although Total Wine lists the new 14-year-old version of this whisky at $67.99. Once again, your mileage here may vary.
On the nose, I get a lot of raisin, plum, toasty malt and buttery toffee on the Quinta Ruban, all notes that one would expect from a malt finished in port barrels. On the palate is where things diverge from what I was expecting. This is considerably more dry and not as fruit dominated as the nose would suggest, with some nicely complementary (but subtle) notes of brine, peat and hints of smoke/tobacco. It has a nice, warming hug that builds in the chest, with slowly blooming notes of dark, stewed fruit, into nuttiness, finishing with hints of smoke and earth. This expression is not so dominated by its finishing barrel as Lasanta, and is a more complex and satisfying whisky for it. I wasn't really expecting Quinta Ruban to be my favorite offering of these three, but that's what it ended up being. Very nicely balanced.
Rating: 8.2
---
Glenmorangie Nectar D'Or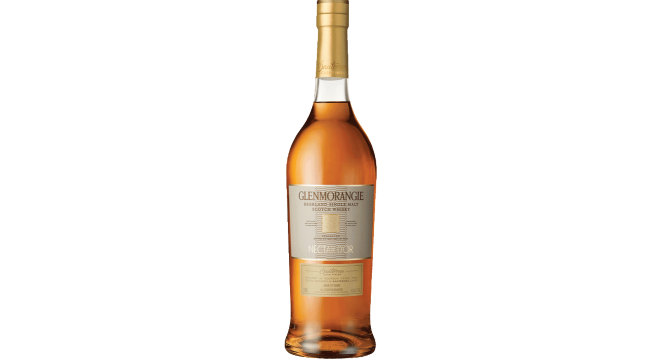 The changes to Nectar D'Or are the most likely to have the whisky geeks in a tizzy, as the formerly 12-year age stated expression is now becoming a non-age-stated bottle, while "retaining all the sumptuously sweet flavors that come from its highly prized rare Sauternes cask finish." Again, pricing is a bit confusing here: The distillery cites $76.99 as an MSRP, which is about on par with the formerly age-stated version. However, in package stores where the new version of Nectar D'Or has already hit the shelves in Georgia, I'm seeing it priced as much as $20 less, around $55. The reality for you may be somewhere in between.
On the nose, I found Necatur D'Or to be less distinctly aromatic than Lasanta or Quinta Ruban, with a more subtle and less punchy profile, showcasing notes of honey, white wine and hints of malt/bread. Where it shines is on the palate—I found this whisky unexpectedly delightful, especially considering that I'm sometimes sensitive to large amounts of residual sugar. Despite the company highlighting the "sweet" elements of the profile contributed by the Sauternes cask, I found that Nectar D'Or's actual level of residual sweetness seemed noticeably less intense than in Lasanta, and it works very well with the luscious single malt profile. This one has a very impressively smooth, velvety texture, which is all the more impressive for the fact that the liquid isn't as old as it was previously. It showcases delicate flavors of clover honey, florals, grass and moderate heat, segueing into buttery shortbread cookies. The profile reminds me a little bit of well-made mead, except for the much fuller and more decadent mouthfeel.
All in all, it really doesn't seem like the loss of the age statement has hurt Nectar D'Or, in my own opinion. It retains a very nice degree of richness, without becoming a one-dimensional sugar delivery device. And if the price really has decreased in your average package store, it might represent an even better value now than it once did.
Rating: 8.1
---
Jim Vorel is a Paste staff writer and resident brown liquor geek. You can follow him on Twitter for more drink writing.