Pat LaFrieda Is Now Selling a Steak Soaked in Whiskey for Three Weeks
Photos via Pat LaFrieda, Hudson Whiskey
Drink
News
whiskey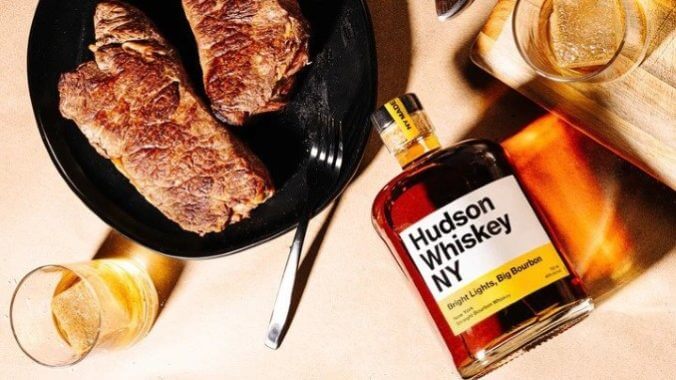 How does one make a premium cut of dry-aged beef that much better? Well, New York's Pat LaFrieda has teamed up with NY's own Hudson Whiskey to advance the possible answer of "soak it in bourbon," as improbable as that may sound. The two companies have come together for a new collaboration that seems to satirize the non-drinking ethos of Dry January, calling their collab "Dry (Aged) January," featuring whiskey-infused steaks.
Now, when I saw "whiskey-infused steaks" as a description, my first thought was to question what exactly that meant. But it's really as simple as it sounds—Pat LaFrieda is taking 45-day dry aged, Prime New York strip steaks and then soaking them in Hudson's flagship Bright Lights, Big Bourbon whiskey for an additional 21 days before they're shipped off to consumers. What does exposure to ethanol for so long even do to the fiber of a prime cut of beef? I can accurately say that I have absolutely no idea, although LaFrieda says "the process imparts notes of rich vanilla, lightly salted caramel and deep umami flavor to premium cuts of beef." And verily, who among us hasn't been eating a steak while thinking "this could really use some rich vanilla"?
Quite simply, this is a pretty wild gimmick, but if you're a bourbon geek perhaps the idea will be too irresistible to pass up. The steak kit can be ordered online here for a limited time, for a mere $158 plus shipping. That will net you two gigantic, 16 oz NY strip steaks, two Hudson Whiskey rocks glasses, a cocktail recipe card, and a Caskers code to "order a bottle of Hudson Whiskey to enjoy at a time of your choosing."
Anyone who does choose to do this: Please report back to me, because I'd love to know what bourbon-soaked steak actually tastes like.