"Eat Well, Do Good:" Helping Survivors of Human Trafficking, One Meal at a Time
Photos courtesy of Not For Sale
Food
Features
Not For Sale
Whilst looking through the menu, enjoying a cup of freshly brewed coffee and examining the ultimate American Pancake Stack, Amsterdam restaurant Dignita seems just like any other culinary hotspot.
The all-day brunch restaurant prides itself on freshness, ethically sourced ingredients and an international array of dishes such as the Benny-Boy with streaky bacon, eggs and signature potato roasti, along with the Forest Dwellers; a melting pot of mushroom overload with poached eggs and crispy sage.
But Dignita is so much more than a successful restaurant.
Dignita, which only opened last year, is part of Not For Sale, an international organization that's dedicated to providing long-term opportunities for survivors of human trafficking and modern slavery.
"We're trying to help them get a normal work life, a normal community," said Toos Heemskerk-Schep, the director of Not For Sale Netherlands in a recent interview with Munchies. "Trauma should be dealt with by psychologists, and humanity just by normal people."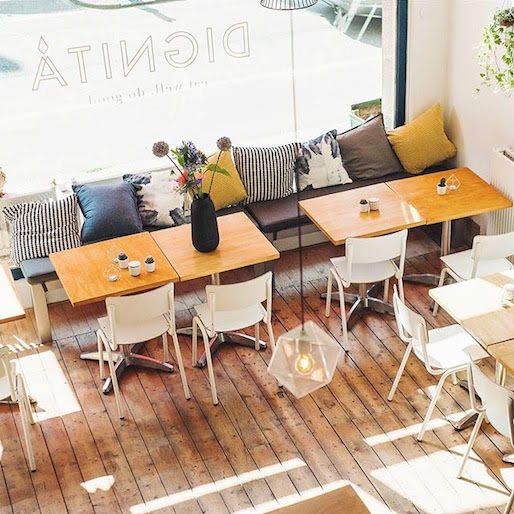 De Wallen, otherwise known as the Red Light District, continues to attract thousands of travelers each month, who flock to see the sex shows, coffee shops and of course the red-lit windows occupied by scantily dressed women.
There are approximately between 6,750 and 8,000 sex workers currently working in Amsterdam. However, not all should be recognized as victims, since prostitution was legalized in the Netherlands in 2000. But despite the legalization providing a lawful framework for the sex workers to work in and the decrease of criminality, the concern for women who have been forced into sex labor continues.
According to research conducted by Not For Sale, "In 2014, 1,561 possible victims of human trafficking were reported to Comensha, the coordination center for victims of human trafficking in The Netherlands."
However, conducting a concrete study is challenging, as not all those who are reported to be working as a sex worker is a victim and the victims a lot of the time go unreported since it's a hidden industry.
"Another struggle that is encountered while trying to estimate the number is that not all victims see themselves as such."
Ultimately, human trafficking is the exploitation of men, women and children; it is also known as the modern form of slavery. Not For Sale describes it as "the acquisition of people using force, deception or coercion with the intent to exploit."
Human trafficking is also a booming business, as it is said to make an estimated $150 million annually. And unfortunately, eighty percent of those who are trafficked are young females, with half of the victims being under the age of 18.
According to Not For Sale, in a lot of cases, the traffickers threaten the victims with violence, use emotional blackmail, confiscate travel documents and take away the victim's freedom of movement.
"Some individuals enter into work agreements willingly but accrue enormous debt to the trafficker in the form of food, shelter, documentation and travel fees."
Therefore, the social enterprise restaurant is there to offer a real kitchen experience that will contribute towards rehabilitating the victims who were forced into sex work in Amsterdam.
Marcelle Bolweg is the Executive Chef for Dignita Amsterdam and Foodservice Manager for Not For Sale Netherlands. She develops the culinary course modules, writes and forecasts the menu, runs the kitchen and supervises and teaches the trainees.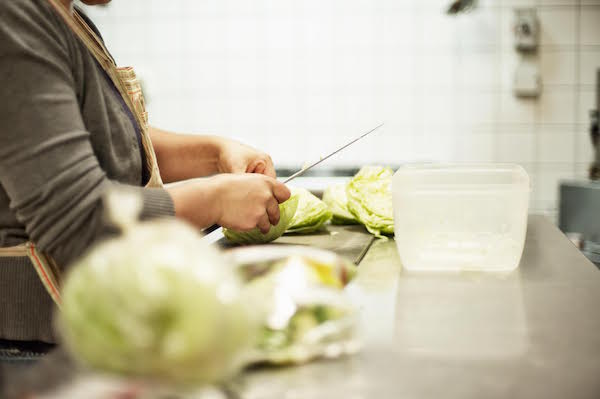 "Coming from New Zealand has allowed me to contribute my own fresh, healthy and 'from scratch' recipes and align our food with seasonal influences," said Bolweg. "The major benefit of this is that it also allows the Not For Sale trainees to really learn how to make delicious products from raw ingredients."
The first phase of the training is a four-week basic culinary course on preparing different soups. The main goal is to boost the confidence of the trainees and to expand their social skills. Twice a week the Not For Sale volunteers then sell and deliver soups and salads made by the trainees to the women working in the Red Light District.
In this way, the sex workers are offered a nutritious meal, and building a safe relationship.
At the end of the four weeks, the trainees receive a Not For Sale certificate at their graduation ceremony. The survivors who come to Dignita are given an opportunity to train, gain qualifications, stimulate recovery and work alongside professionals employed by Not For Sale.
In her interview with Munchies, Heemskerk-Schep said that the interaction with employees is "an important part of their rehabilitation."
Following their training at Dignita, Not For Sale offers survivors a further three-month hospitality training module developed with the ROC of Amsterdam (a culinary training school). The training consists of hygiene and cleaning standards, production techniques and front of house practices.
After this phase, the trainees are then able to apply for an apprenticeship at either Dignita or at another designated workplace. Once all their training is complete, the survivors receive a recognized hospitality certificate, thus providing them with tools to get a paid job or additional education either in The Netherlands or their country of birth.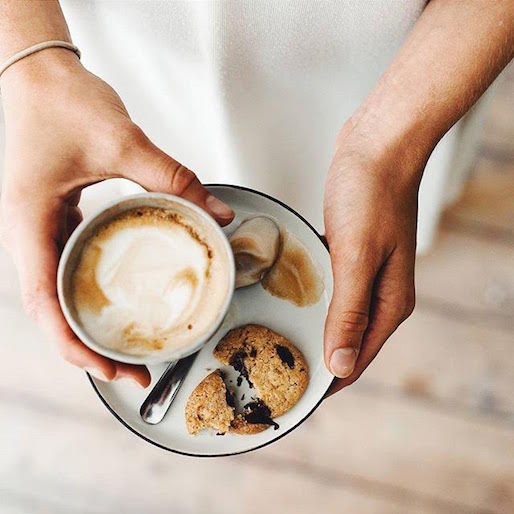 Not For Sale is currently training approximately 40 participants per year, and has helped four graduates find paid employment.
In the near future, Not For Sale plans to extend its concept of "Eat Well, Do Good" to the countries where the victims are from in order to attack the problem from the beginning.
Many customers, who arrived in the morning, are still at Dignita by midday. Evidently, no one has any urgency to leave. The friendly service, bright open space, fairy lights and the decorated Christmas tree that's surrounded with presents makes this eatery feel comfortable, welcoming and safe.