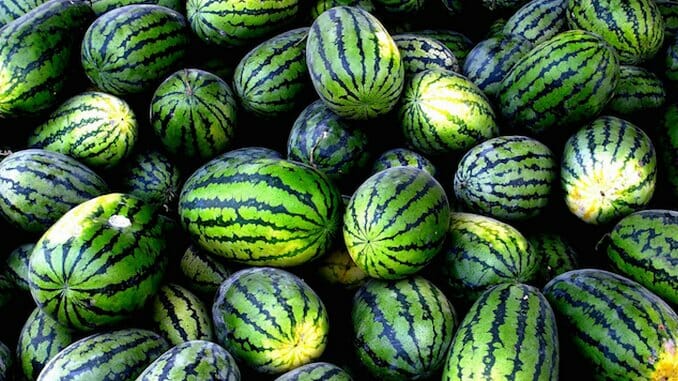 The changing seasons doesn't mean the end of watermelon everywhere. Due to its popularity, watermelon is popping up in products ranging from beer to cookies.
Even better, watermelon is awesome from a nutritional standpoint. It's high in lycopene, which maintains good bone and cardiovascular health. Watermelon also includes an amino acid called citrulline, which can help improve blood flow and reduce fat cells. It even comes with a decent amount of potassium to add to your system.
Here are some of the watermelon-fueled products we're loving:
1. Trader Joe's Cold-Pressed Watermelon Juice
Talk about simple and refreshing. This drink — made of just watermelon juice and lemon juice — is about as pure as you can get. Served icy cold, each 15.2-ounce bottle of juice contains about two pounds of watermelon. Whip it out at a late-summer barbecue and you're sure to be a star.
2. Cape May Brewing Co.'s Watermelon Wheat
Cape May Brewing Co. has been in on the watermelon trend for a few years now, and now's the perfect time to snag some of their Watermelon Wheat beer (4.4% ABV). The brewers wait until the beer's fermentation is totally complete before adding watermelon juice, keeping the drink refreshing and juicy. (You see, only a minor secondary fermentation occurs since the juice is added so late in the process.) Since it's made from real juice — no fake fruit additives here – it tastes like the real deal. The downside? Quantities are limited — look for it on tap.
3. Wiley Wallaby's Australian-Style Gourmet Watermelon Licorice
Have you experienced the deliciousness that is Australian-style licorice? It's incredibly soft and so very flavorful, so it absolutely lends itself to getting on the watermelon bandwagon. It offers a real fruit flavor that will linger delightfully on your tongue and have you reaching in the bag for more.
4. Go Raw Sprouted Watermelon Seeds
Watermelon flesh isn't the only thing that's good for you — turns out those seeds that kids love to spit out contest-style at cookouts also contain lots of good-for-you nutrients as well, including magnesium, iron, and folate. To enjoy them pre-prepared, check out Go Raw's watermelon seeds, which have been sprouted to further activate the nutrients inside the seeds and then lightly salted.
5. IZZE Raspberry Watermelon Sparkling Water
Add some flavor to your sparkling water with this IZZE organic offering. Its flavor is bright and memorable, transporting you solidly to summertime no matter what time of year you're drinking it. And — good news — this isn't a "fake watermelon" water. (I mean, watermelon Jolly Ranchers are delicious and all, but let's be real — that's NOT watermelon.) So you can feel good about the fruit taste's origin.
Anna Keller likes the occasional fancy, over-the-top meal served on a white tablecloth, but will be just a happy with dinner from Taco Bell (she and her husband were there the day they launched their new breakfast menu). For her, food is about the experience, the story, the tradition, and the community it provides, and it takes a starring role in her blog, where she shares recipe creations and recreations — usually of the baking variety.