Through the official Overwatch Twitter, Blizzard released an image (uncropped version below, click to enlarge) offering a hint at the next playable character to be released. This character, rumored to be named Sombra, would be the game's first post-release character. The image shows the blueprints for a sniper rifle that would combine Mercy's Caduceus staff and Soldier: 76's Biotic Field healing ability, implying that it would allow the character to heal teammates from afar.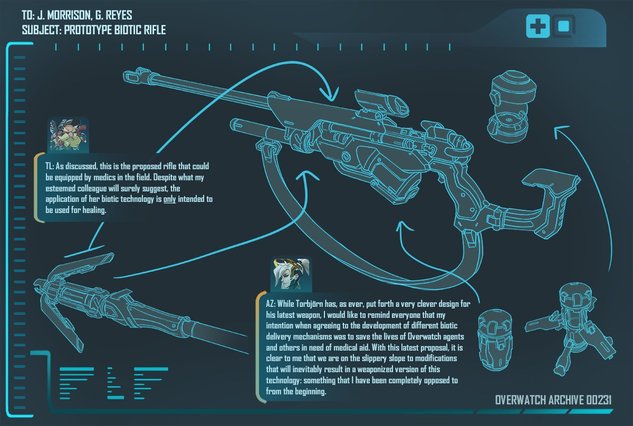 The picture also shows a note written by the designer of the sniper rifle, the soon-to-be nerfed Torbjörn, as well as a note by Mercy, about the use of her technology. Torbjörn's reads, "As discussed, this is the proposed rifle that could be equipped by medics in the field. Despite what my esteemed colleague will surely suggest, the application of her biotic technology is only intended to be used for healing."
[ARCHIVE] Communications Records of Ziegler, A. – Overwatch File 00231 – Security Classification: CONFIDENTIAL pic.twitter.com/lLAxTL2DhO

— Overwatch (@PlayOverwatch) July 6, 2016
Mercy's response reads:
While Torbjörn has, as ever, put forth a very clever design for his latest weapon, I would like to remind everyone that my intention when agreeing to the development of different biotic delivery mechanisms was to save the lives of Overwatch agents and others in need of medical aid. With this latest proposal, it is clear to me that we are on the slippery slope to modifications that will inevitably result in a weaponized version of this technology: something that I have been completely opposed to from the beginning.
In the top left you can see the blueprints and notes are addressed to J. Morrison and G. Reyes, Soldier: 76 and Reaper, respectively. Overwatch's Brazilian Twitter account released a similar image, except this one had the name "A. Amari," Pharah's mother, added in the top left.
Histórico de comunicações de Ziegler, A. – Arquivo do Overwatch 00231 – Classificação de Segurança: CONFIDENCIAL pic.twitter.com/4BBGdmiKBi

— Overwatch (@OverwatchBrasil) July 6, 2016
This fits with previous rumors that the game's next character would be a sniper. Fans are speculating that their name will be Sombra, who is believed to have a connection to Reaper, as one of his lines is "Where's Sombra when you need her?" Fans are also speculating that Sombra is the codename for Ana Amari, shown below.