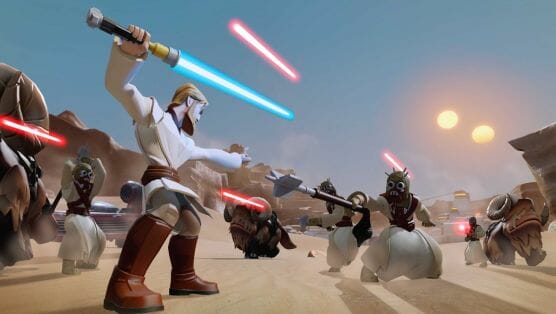 Disney theme parks have always operated under the belief that more is definitely more, and Disney Infinity is following the same philosophy. Just as Disneyland squeezes fantasy, tomorrow and multiple versions of yesterday into a single park, Infinity pulls from pretty much everything Disney owns to fill an already overstuffed videogame universe with even more nostalgia. Disney Infinity 3.0 finally introduces Star Wars into the fold, tossing Luke Skywalker and Darth Vader right into that toy box alongside characters from Marvel, Pixar and Disney classics. It brings a significant chunk of your childhood favorites alive within your videogame system, while also letting you clutter up your shelves with the real-life toys that bring these characters to life inside the game.
If you haven't played Disney Infinity before, here's a brief rundown of its many different parts. You run the game through your console like you would any videogame, but you also have to plug the "Infinity Base" that's included with the starter pack into one of the console's USB ports. You then place figurines, tiles and other pieces on that base to make that content playable in the game. You can use the characters unlocked by those figurines in Play Sets, which are professionally designed games based on different Disney properties and that are only playable with specific figures, or in the Toy Box mode, where you can use any figures you'd like in levels that you can build or that are built by other players and downloaded through the internet. The main game also comes loaded with a variety of Toy Box minigames that give you ideas of what you can build in the Toy Box. There are also Power Discs, which offer a variety of options in the Toy Box when placed on the base, from new tools, abilities and vehicles, to altering the music, background and terrain of your Toy Box. It sounds confusing, but it's simple to understand once you start playing, and 3.0's opening tutorial does a good job of explaining how everything works.
This version's starter pack focuses on the Star Wars: The Clone Wars cartoon, and includes a Play Set and two characters, Anakin Skywalker and Ahsoka Tano. That's one less character than the last two starter packs, but that's reflected in the price, which is lower than before. Also available right now is a Play Set based on the movie Inside Out that we'll review separately, and a variety of characters from The Clone Wars, Star Wars Rebels and various Disney movies. They include Yoda, Obi-Wan Kenobi, Ezra Bridger, Kanan Jarrus, Sabine Wren, Zeb Orrelios, Mickey Mouse, Minnie Mouse, Mulan, Olaf from Frozen, Sam Flynn and Quora from Tron: Legacy, and the five emotions from Inside Out. A Play Set based on the original Star Wars trilogy will be released later this month, along with figures for the major characters from those films, and somewhere down the road you can expect Play Sets based on this December's new Star Wars movie and some additional content built around Marvel and Disney/Pixar.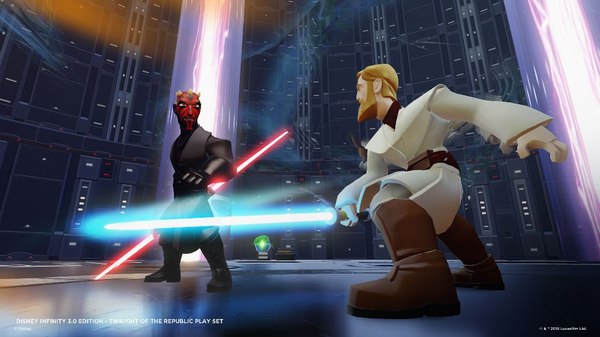 In order to recreate the faster-paced and more precise combat style of a Jedi, 3.0 has made the game's core fighting engine more detailed and complex. There's a greater emphasis on combos, and you can now tap buttons in different rhythms to juggle enemies or pull off different attacks. The skill tree introduced in 2.0 is now split across a handful of different paths, including one devoted to this new style of combat. And this doesn't just apply to the new characters; combat is just as intricate and customizable with Mickey or Mulan. This increased complexity distances 3.0 from the simple joys of the original Disney Infinity, which is vital to keeping the game alive and justifying its annual updates. It's still a game that children can understand and enjoy, but there's more for older players to sink their teeth into, which fits the slightly more mature world of Star Wars. And in keeping with this growth, the Clone Wars Play Set is the deepest Infinity has ever gotten.
Called Twilight of the Republic, the Play Set included with the starter pack takes place between Attack of the Clones and Revenge of the Sith, just as the Clone Wars cartoon does. It's built around the same style of action-heavy, third-person platforming found in the Marvel Play Sets, but with a few substantial additions that make it feel more like a fully formed game. The action takes place on four different iconic Star Wars planets, and you fly between them instead of just hopping straight from one to another. When you're flying to, say, Naboo, you might come across a fleet of enemies harassing a trade ship, or have to shoot your way through space debris to travel safely. The space flying controls take a little bit of time to get used to, and these scenarios are limited and grow repetitive in time, but at first it's a fun and exciting way to expand what a Play Set can do while also making the game feel more like Star Wars. It also leads to a slightly longer Play Set, at least if you don't focus on the minimal amount of missions necessary to progress.
Twilight of the Republic also subtly introduces you to most of the major ways to play Disney Infinity. There's a lot of fighting, jumping and climbing, but you also do some racing on Tatooine, along with a section where you take a land speeder out into the desert for a quick look at how vehicular combat works. On Coruscant you chase the bounty hunter Cad Bane in a small spacecraft, learning how to control flying vehicles. In a way the Play Set is a tutorial for the larger possibilities within Infinity, although it never feels like it's teaching you how to play. It drops you into a new scenario, gives you a very quick explanation of what you're doing, and then lets you learn through experience.
We ranked every Infinity Play Set shortly before 3.0 came out. If we waited a couple of weeks, Twilight of the Republic probably would've taken the top slot. If it was just a little bit longer it could theoretically be its own standalone game, which can't be said about most Play Sets. And as the first in-depth look at how Jedi knights play within Infinity, with their complex light saber combos and variety of Force abilities, it's the most fun Play Set to play.

Of course there's more to Infinity than the Play Sets. The Toy Box saw a big upgrade between the first two versions of Disney Infinity, and 3.0 expands on it again. It's still easy to build a simple landscape and drop iconic Disney buildings throughout the skyline, or to set up a beacon that attracts a stream of bad guys to stomp for easy experience points. If you want to really explore game design, though, you can use the suite of Creativi-Toys to build relationships between objects and construct goals from the simple to the complex. You can even create games that seem to have multiple levels, building separate chambers with concrete goals that unlock doors or transport you to new areas when accomplished.
If you want an idea of what's possible in the Toy Box, download some of the community Toy Box levels made by the Disney Infinity team. Although not as deep or large as a Play Set, these downloads are free and let you play with any of your characters. They also provide examples of what you can build in the Toy Box.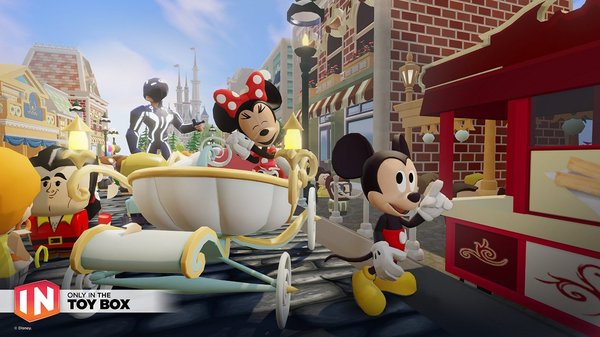 Unlike many games that rely heavily on user created levels, Disney Infinity 3.0 launched with a number of worthwhile community-created worlds to download. Part of that is because the team that made the game occasionally uploads new Toy Box games, but also because some of the best and most popular Toy Box creators from 2.0 started working within 3.0 before the game was out. Again, these Toy Box levels are usually pretty short, and there's not enough to justify playing every day, but if you let them store up over a few weeks you'll probably have some nice new surprises the next time you log in.
Another change to Toy Box mode comes in the form of sidekicks. If you played the Escape from the Kyln or Brave Forest Siege Toy Box starter pack games from 2.0 you're familiar with sidekicks. They're tiny little characters that follow you around on an adventure and can help you attack enemies or discover secrets throughout levels. In 3.0 you can use a sidekick throughout the Toy Box mode. They're more customizable now, too, with more armor and weapons to choose from, higher stats and a friendship meter that grows the more you use them.
You'll quickly notice some of these changes as you play through the introductory Toy Box hub, which is the de facto tutorial for the whole game. This hub world is larger and better designed than the one introduced in 2.0, with a section based on Disneyland's Main Street USA. The hub also includes an arcade that is supposed to let you play a few online multiplayer Toy Box games with others, although we've never been able to get a steady game put together on the PlayStation 4. Whenever we'd connect with another player one of us would inevitably get dropped before the game began. That's annoying, but there's so much else to do in 3.0 that it's mostly just a footnote. The hub is also a portal to a number of minigames that introduce you to various aspects of the game, while also potentially letting you level your characters up. As tempting as it might be to jump straight into Twilight of the Republic, you should spend time with the hub and its minigames to get a grasp on how to play Infinity and what's changed with 3.0.

Much has changed with Disney Infinity 3.0, but change in and of itself isn't good. Thankfully these updates have all made Infinity a deeper and more well-rounded game. Some of the older Play Sets felt half-finished, as if the designers built three hours of play and decided that was good enough. You shouldn't expect long, intricately detailed games out of the new Play Sets, but the two we played are more substantial in almost every regard than the older ones, from both how they play to how they're presented through menus and title screens. (Again, we'll review the Inside Out Play Set in the next week or two.)
The heart of the game remains the Toy Box, though, and after a somewhat rocky start with the original Disney Infinity the Toy Box more than pulls its own weight now. The tools can be complex and confusing, but once you crack them you can make some inspired creations. And when every toy is unlocked from all three versions of the game and all the various Play Sets, you have a remarkable library of iconic buildings and environments at your disposal. The steady trickle of new playable levels in the Toy Box probably won't include anything as impressive as the Play Sets, but the sheer volume of extra material, and the ingenuity displayed by your fellow players, should keep you playing Disney Infinity 3.0 until the next version inevitably rolls around.
---
Disney Infinity 3.0 was developed by Avalanche Software and other studios, and published by Disney Interactive Studios. It is available for PlayStation 4, Playstation 3, Xbox One, Xbox 360, Nintendo Wii U, PC, iOS and Android.
Garrett Martin edits Paste's games and comedy sections. He also writes about Disneyland whenever he gets the chance.