EA held their E3 2016 press conference yesterday and showed off some interesting games and cool new initiatives. Read on below for our recap of Titanfall 2, Mass Effect: Andromeda, and more!
Titanfall 2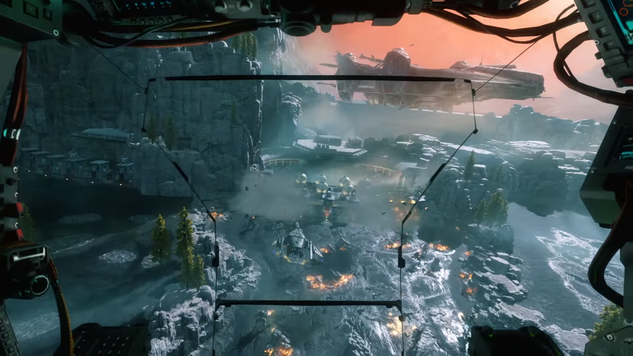 EA began their press conference with Respawn Entertainment's debut of Titanfall 2. They showed off its improved multiplayer with new gameplay elements such as a motorized grappling hook to pull the player towards both objects, titans, and other players for close-range takedowns. With that there appeared to be expanded melee options both in Titan and on-foot. The lauded free-running movement system from the original Titanfall is back. There will be six new Titans, each with unique abilities. There will be a multiplayer beta later this summer, which you can sign up for on Titanfall.com. Check out the multiplayer trailer below.
In addition, Respawn also confirmed what had been leaked that morning, Titanfall 2 will have a single player story mode. The single player will focus on the bond between pilot and Titan. It seems that Titans have some sort of AI running, making them more than mere vehicles. In the story, a rookie pilot gets trapped behind enemy lines and teams up with a veteran Titan. This seems a direct response to Titanfall's criticism over a lack of single player.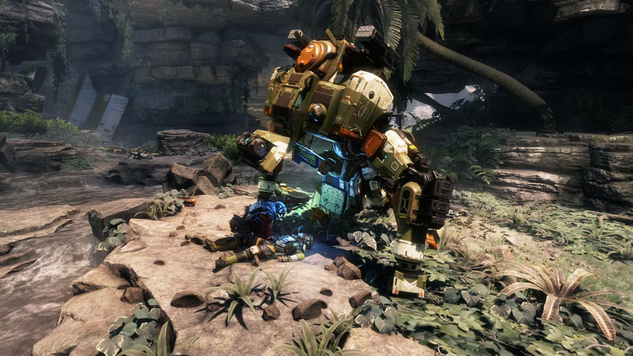 It will be interesting to see how Titanfall 2 is received. The original garnered great critical praise upon release for its gameplay innovations in movement and multiplayer. However, it was quickly forgotten about by the general gaming community. Hopefully Respawn has expanded upon the original to offer more to players to stick around and form a community. Titanfall 2 will likely be judged on its staying power, and the move to add a single player mode was likely wise. Titanfall 2 is coming to PS4, Xbox One, and PC on Oct. 28th. You can watch the story mode trailer below.
Madden NFL 17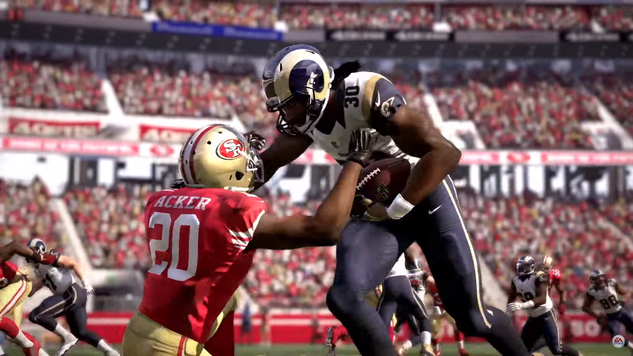 EA introduced Madden NFL 17's new Franchise mode feature "Play the Moments." Play the Moments allows fans to experience the important milestones in each game while simulating the rest of the matchup. Players will be invited to jump in at critical moments such as red zone drives, vital third downs, game-winning drives and more. The shortened games allow Franchise players to take their team all the way from opening day to the Super Bowl in just a weekend. Madden NFL 17 will be available on PS4, PS3, Xbox One, and Xbox 360 on Aug. 23rd. Watch the full E3 trailer below.
Esports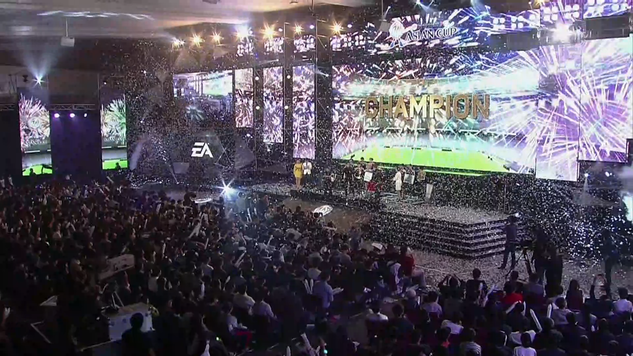 EA spent time highlighting Esports and competitive play in their games and their new approach going forward. "We want to make stars of all of our players going forward," Peter Moore said. "We're making competition fun and meaningful for everyone, regardless of their ability." In light of constant calls for "git gud" by self-professed "hardcore gamers," this welcoming approach is nice to hear. They will be implementing this through a new competitive tournament structure across all of EA's competitively played games. There will be three types of events: Challenger Events, which will give the community easy access to run and host their own events; Premier Events are large scale, live events hosted by EA with other partners. Lastly, EA Major Event are marquee events on a global scale with the best players in the world.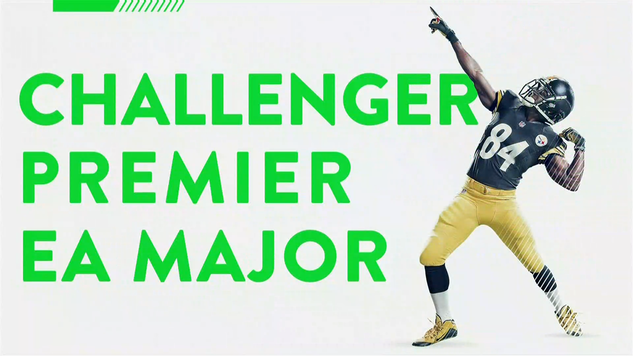 The very first EA Major Event will be this week, with the Madden NFL 16 Championship. The championship will have $50,000 at stake and will be live streamed Tuesday at 6 p.m. EDT. In the coming year, there will be $1 million in prizes for the Madden NFL 17 Championship Series with four EA Major Events.
Mass Effect: Andromeda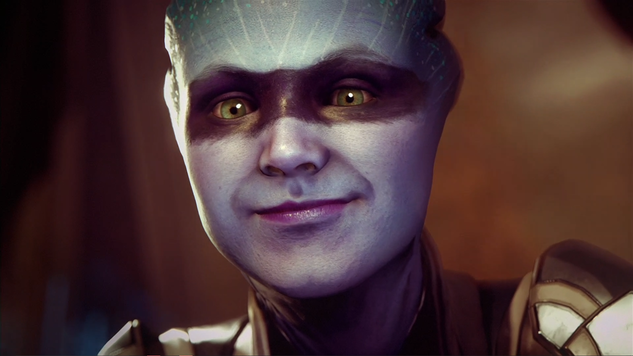 "At the heart of Mass Effect: Andromeda is a question: 'How far will we go?'" Aaron Flynn, general manager at Bioware, said. Mass Effect: Andromeda centers on one team's ambitious expedition to the Andromeda galaxy to find a new home for humanity. They then debuted the trailer showing the first in-game footage of Mass Effect: Andromeda. We don't even know the protagonist's name yet, but it looks like Bioware's tradition of letting the player choose the gender is returning, along with the Asari, Krogans, and perhaps even the Mako. There's no release date yet, but take a look at some screenshots and the trailer below.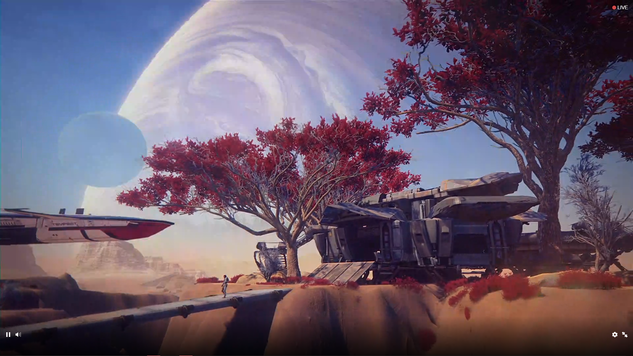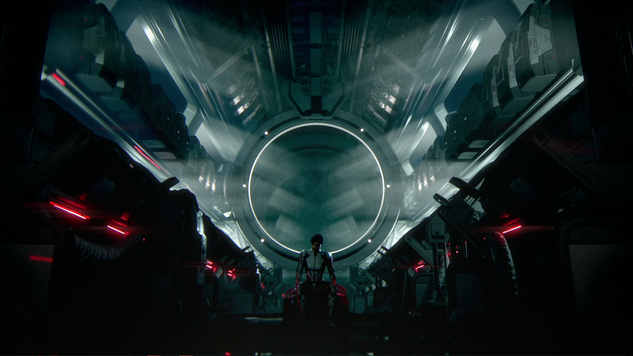 EA Access
EA announced that EA Access, their service that offers access to a library of their games for free, discounts, and access to unreleased games, would have a free trial on Xbox One and on their PC games platform Origin until June 22nd. They then went on to promise that from here on out they will be supporting their games with even more post-launch content and updates.
EA Play to Give Charitable Program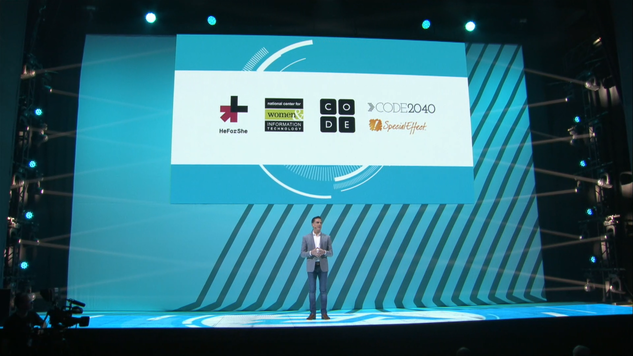 EA announced their new Play to Give program, which will connect in-game challenges to charities. They have partnered with charities that "encourage a more diverse and inclusive world for all of us as well as those that inspire and assist future game makers through STEM education." The charities are The UN He for She Initiative, The National Center for Women and Information Technology, Special Effect, Code.org, and Code 2040. In Battlefield 4, Battlefield: Hardline, Star Wars: Galaxy of Heroes, Star Wars: Battlefront, FIFA 16, and Madden NFL 16 there will be in-game challenges connected to the EA Play to Give initiative over the next week. At the end of the week EA will donate $1 million to these charities in celebration of inclusivity and developing future game creators. With Square Enix's partnership with Open Bionics prosthetics company and now EA's Play to Give initiative, it's wonderful to see game companies giving back and creative a positive change in the world through games.
FIFA 17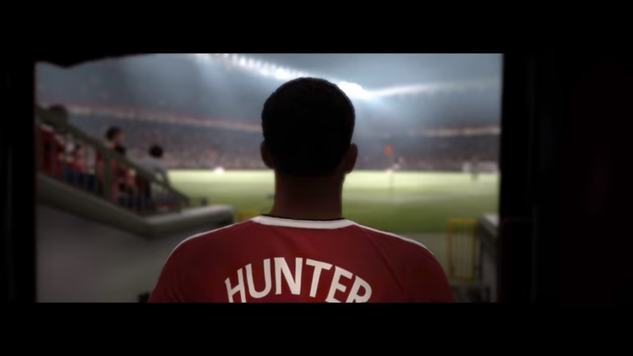 EA unveiled an all new story mode for FIFA 17, titled The Journey. This mode will follow the journey of fictional Premiere League player Alex Hunter, as he goes from rookie prospect to top player. It's an interesting direction for the FIFA series, perhaps inspired by last year's NBA 2K16's rather odd story mode. FIFA 17 will also feature real Premier League managers for the first time ever.
EA Originals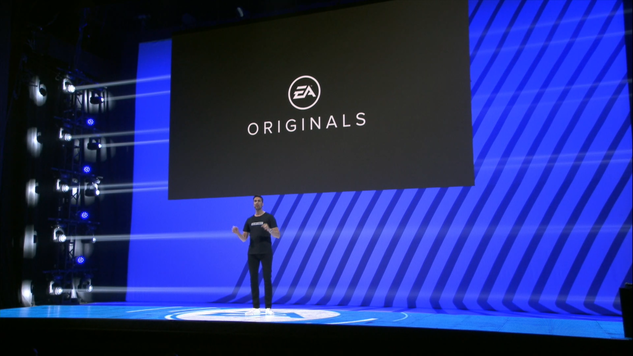 EA began talking about Coldwood Interactive's Unravel, which they unveiled a year ago at E3 2015. "We know that there are more out there, more studios like Coldwood, more games like Unravel," Patrick Söderlund said. "We are committed to working with small developers, finding these great new games, and giving all of you a chance to discover them." And with this, EA announced their new initiative to fund and publish indie games, EA Originals. EA Originals will seek out promising independent games and developers and work with them to provide funding, marketing, and distribution. Söderlund stressed that they want to provide security to independent developers taking risks, creating inspiring and unique new IP. In an amazing cherry-on-top move, Söderlund said "With EA Originals, we want all of the profit from these games to go back into the hands of the developers." They then showed the first game that will come out of EA Originals, Fe by Zoink Games.
Fe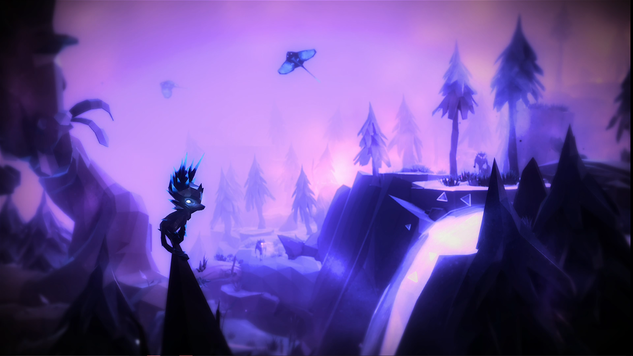 "Fe is a personal narrative about our relationship with nature," Klaus Lyngeled, head of Zoink Games, said. Fe presents a forest, soaked in dark blue and purple hues, from the perspective of small deer/fox-like creature. Zoink is interested in exploring how everything is connected in a delicate balance through Fe, especially people and nature. Everything in this forest has its own unique song that it uses to communicate with, and the player will learn these songs that will deepen your connection with the forest and its inhabitants.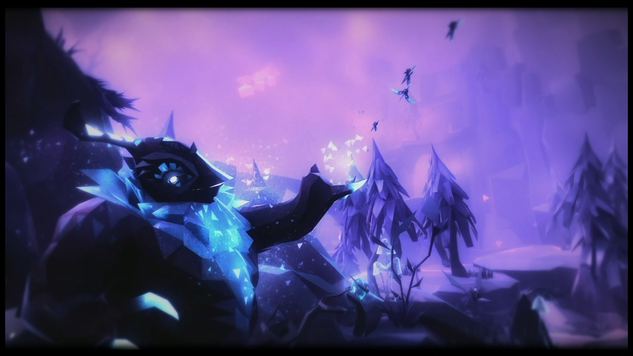 However, a new force has arrived in the forest, the Silent Ones. These dark creatures are working to silence the forest and the player must find a way to stop them through stealth and cunning. Lyngeled discussed how, when exploring Fe, the game will not hold the player's hand, tell them where to go, what to do, or how to think. "We will set the stage and invite you into the forest for your own personal experience," he said. I cannot wait to experience what looks like a beautiful journey in Fe. Watch the trailer below.
Star Wars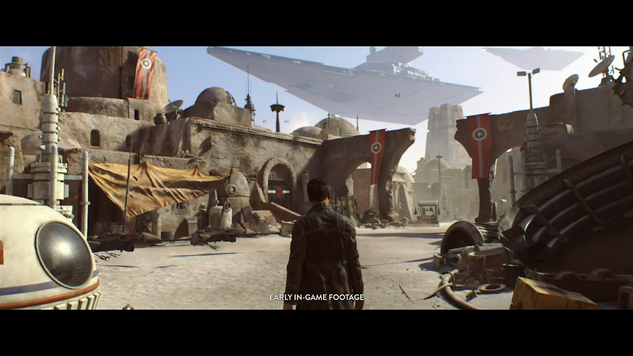 EA teased many new Star Wars games in development, without actually showing anything of substance. They confirmed that a new Battlefront game will be coming in 2017 that will incorporate elements, settings, and characters from the new films. Despite them not showing a single screen, the idea of playing as Rey has me kind of giddy. A staggering seven of EA's top studios on working on Star Wars games. DICE, Criterion, Visceral, Bioware, Respawn, and Capital Games are all working on Star Wars, many of which are still unannounced. We got a very quick glimpse of Amy Hennig, writer behind Uncharted 1 – 3, and Visceral's Star Wars game, pictured above. "We hope every fan goes away thinking, 'Wow, I never thought they would bring my Star Wars fantasy to life,'"Jade Raymond, VP at Motive Games and Visceral, said. This was one the section of EA's press conference that had any women in it. I'm glad to see women taking a leading role in the development of EA's Star Wars games, but it made it very clear that the rest of EA's press conference was a veritable boys club.
Battlefield 1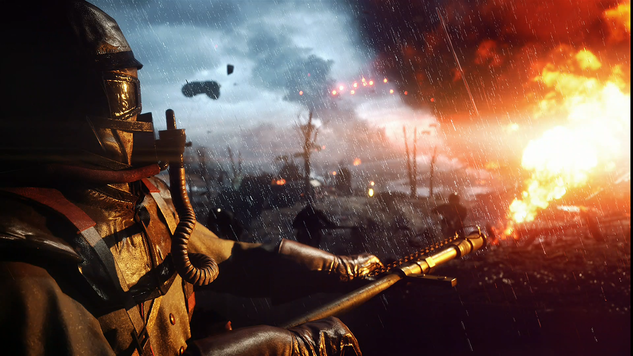 EA closed out their press conference with a big showing of Battlefield 1. A trailer showed gameplay highlights, such as dog fights, piloting zeppelins, and driving tanks. They also announced that Battlefield 1's multiplayer will have dynamic weather. One match could be bright as day, another could be a torrential downpour. The trailer also showed desert locales, which made it seem at least some of Battlefield 1 would be outside of Europe. "The Great War gave birth to some of the largest vehicles ever made and Battlefield 1 gives you the ability to drive these vehicles," Patrick Bach, General Manager of DICE, said. Players will be able to pilot airships, armored trains, and battleships. There was one incredibly awkward moment where Zac Efron and Jamie Foxx appeared and basically just stood there and then said that they were excited for Battlefield 1. E3 celebrity appearances are almost always awkward, and this one seemed especially out of place.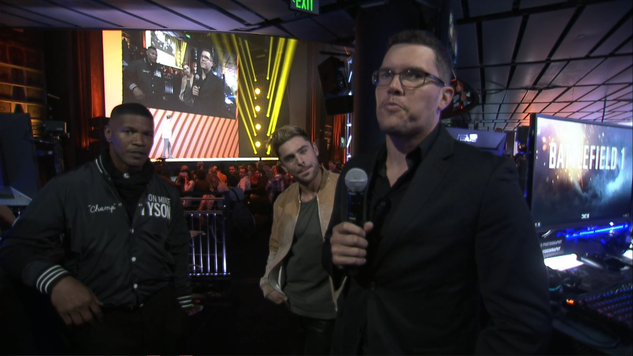 EA followed their press conference with a stream of a 64-player Battlefield 1 match. There will be an open beta later this summer and Battlefield 1 releases on Oct. 21st.
EA's press conference was largely free of surprises. We knew Battlefield 1 was coming. We knew Titanfall 2 was coming. We obviously knew their sports games were coming. They showed little of substance regarding Mass Effect: Andromeda. We got basically nothing about upcoming Star Wars games. The only game there that got me really intrigued was Fe because it shows EA's commitment to funding games outside their most marketable franchises. It's not that the games shown looked bad, they just weren't surprising. The EA Play to Give initiative was quite nice to hear about though. It's lovely to see game companies trying to make a positive impact. And the promise that EA Originals will give all profit back to the developers to ensure they can keep making games is heartening, and will hopefully make it easier for smaller developers to make more new and inspiring games.
The press conference adequately accomplished what it had to, except when it comes to representation. There were only two women in the entire press conference, and the only game that seemed to have any notable female characters was Mass Effect: Andromeda. EA can do better. They should do better. There are smart, talented women making games at EA and there are stories to be told about women. Case in point, did Titanfall 2's story really need to be about the the utterly bland sounding "Jack Cooper"? I have a feeling that this lack of representation will continue to be a theme, as it is almost every year at E3. Also, I won't lie, the whole thing had an uncomfortable air hanging on it because of the tragedy in Orlando. Everyone on stage just pretended everything was fine and went on presenting their games. It would have been nice to see just a small showing, like the way everyone at Bethesda's conference wore queer rainbow flag ribbons.
Stay tuned to Paste for more coverage of all of E3 2016.