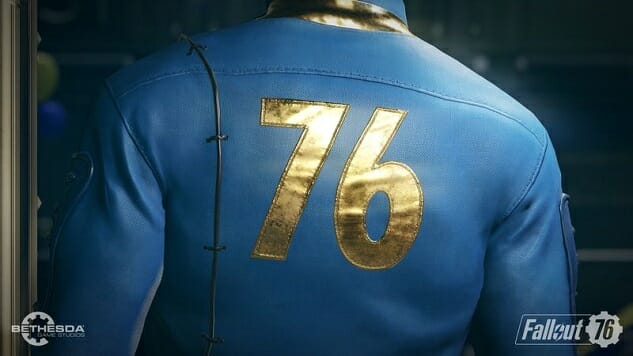 After yesterday's tease of Fallout's infamous "please stand by" screen and fans spending hours watching a Twitch stream with nothing but a television set and a Vault-Tec bobblehead, Bethesda finally unveiled the newest entry in the Fallout series—Fallout 76.
In traditional Fallout fashion, the game's teaser trailer shows off a post-WWII-looking vault with John Denver's "Take Me Home, Country Roads" playing in the background. Towards the end, a vault-dweller wearing a uniform with the number 76 is seen from behind fastening his Pip-Boy. Eagle-eyed fans will notice signs adorning the vault celebrating something called "Reclamation Day," with the date of Oct. 27, 2102 on the dweller's Pip-Boy. Not much else is revealed, but it's enough to get fans of the series excited for whatever Bethesda has in store.
A lot of speculation went into what yesterday's tease could have been, including a remaster of Fallout: New Vegas or a port of Fallout 4 coming to the Nintendo Switch. Now that we know that it was all for Fallout 76, fans are left with more questions than answers. The name already gives away that this is not a mainline entry in the series. We could be in for something less traditional than your typical Fallout game or another spinoff like New Vegas. Bethesda is no stranger to opening up the franchise to new experiences with games like Fallout Shelter and Fallout 4's VR experience.
What we do know is that the game is being made by Bethesda Game Studios team, who worked on The Elder Scrolls Skyrim and Fallout 4. Expect to hear more about Fallout 76 during Bethesda's E3 Showcase on June 10. You can tune in live that day at 9:30 p.m. ET on Twitch, YouTube, Twitter or Bethesda's website.
In the meantime, watch the trailer for Fallout 76 below to hold you over for the next two weeks until E3.