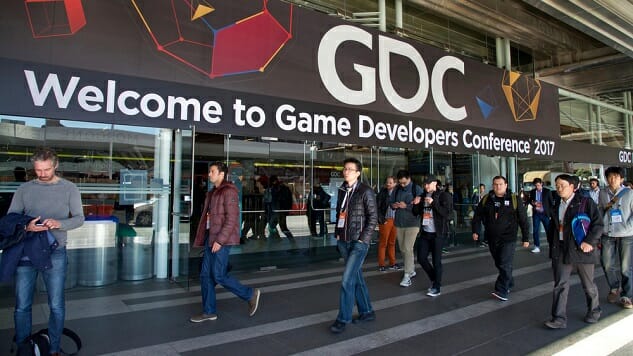 The annual Game Developers Conference, one of the tech industry's longest-running and most important events, is almost here. Starting on March 19, thousands will gather in San Francisco at the Moscone Center starting to participate in five days of conferences, sessions, demos and panel discussions to celebrate and learn more about games design in all its forms, from audio and visuals, to writing, programming, business, marketing, and more. This year there are many events to pay close attention to in the advocacy track, and a few off-the-beaten-path items to explore if you're looking for a less corporate experience. Here are the highlights and what I'm personally looking forward to during GDC 2018.
Lost Levels
Held by the community since 2013, Lost Levels is an "unconference" loosely organized by developers who are, for whatever reason, not attending GDC in an official capacity. It's an informal event, where participants take the initiative to form a casual structure where they can share their games with an audience for free. Folks who would like to participate, either to see the games or show one of their own, are encouraged to show up at Yuerba Buena Gardens on Thursday at noon and gather near the gazebo. For more details and suggestions, read up over at the Lost Levels site.
---
Indie Megabooth
The Indie Megabooth is my favorite spot at GDC. It's not only one of the best places to scout upcoming indie hits, but also a great space to relax and watch other community members play games before diving back into a panel session. This year, 24 games will be shown, half on Monday and Tuesday, and the other half from Wednesday to Friday.
The first batch will include A Case of Distrust, A Tofu Tail, Above, Astronaut: The Best, Carto, Dead Cells, Felix the Reaper, Gunhead, One Finger Death Punch 2, Sigma Theory, Skye and Starbear: Taxi.
The second will present Astrologaster, Black Future '88, Exposure, A Game of Camouflage, Firmament, Guacamelee! 2, Juicy Realm, Light Fingers, Million Onion Hotel, Mulaka, Plunge, Shape of the Worlds and Moonfield.
More details, including trailers for each game, can be found here.
---
Train Jam
Held annually in the days leading up to GDC, Train Jam is a two-day event held, as the name suggests, on a train. Participants have a 48 hour window, the span of their journey from Chicago to San Francisco, in which to create an original game, which are then showcased on the showfloor at GDC. I spent some time with the games of Train Jam last year and had a wonderful experience with its inspiring display of necessity-driven creativity. If you wish to play the finished products yourself and are not attending GDC, be sure to keep an eye on the official site, where they'll later provide a link to all the games created during the Jam.
---
Xbox Community Events
Over the week of GDC, Microsoft is hosting a number of events with the aim of highlighting inclusion and diversity in the industry. They are free to attend with a GDC pass. On Tuesday there will be an all-day Women in Gaming Rally, starting with lunch and several workshops before ending with a keynote address by Lisy Kane of League of Geeks, followed by the 1st Annual Gaming and Disability Reception. On Wednesday, the 2nd Annual LGBTQ in Gaming event will be held with a fireside chat featuring several members of the wider gaming community, followed by the 13th Annual Blacks in Gaming Green Room panel, moderated by Kahlief Adams. To finish things out on Thursday, there will be a 3rd Annual Celebrating Latinx in Gaming event (speaker information not yet available). Click the Eventbrite links for each to register.
---
Accessibility Panels
This year at GDC there are a number of panels dedicated to issues related to identity and accessibility in games community and games design. They cover a broad section of interests, with a particular, perhaps increased, focus on mental health and diversity in games writing. While advocacy sessions at GDC, an event paywalled behind class barriers and often sponsored by corporations with a vested interest in image maintenance, remain a dicey topic, it's still an important opportunity to gain new perspective while supporting the endeavors of our marginalized community members. Some highlights include A How-To-Guide for Muslim Representation in Video Games, #1REASONTOBE (a panel moderated by Rami Ismail consisting of several presentations about games development in emergent countries around the world), Accessibility in Games: Where We Are and Where to Next , and Mental Health and Making It: Succeeding Through The Struggles. There are also some identity-related roundtables to attend, including the Black Developers Matter Roundtable, Latinx in Games, I Am From The Future: Moving Past Women in Games 101 Roundtable, and the Jewish Developers Roundtable. Be sure to check the description for each talk to check time, location, and speaker information, as well as ensure your GDC badge will grant you admission.
---
Holly Green is the assistant editor of Paste Games and a reporter and semiprofessional photographer. She is also the author of Fry Scores: An Unofficial Guide To Video Game Grub. You can find her work at Gamasutra, Polygon, Unwinnable, and other videogame news publications.