Gigantic Finally Launches Next Month
Images via Motiga/Perfect World Entertainment
Games
News
Gigantic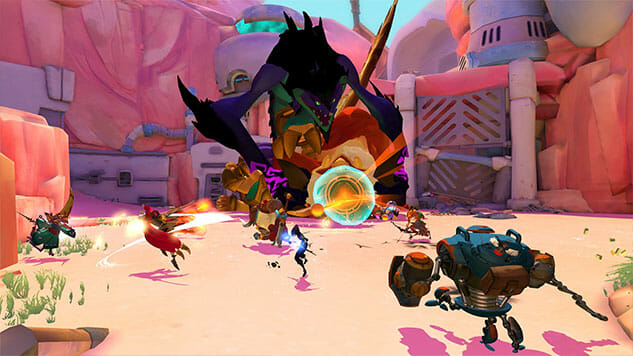 Out of open beta and onto a full launch; free-to-play hero shooter Gigantic is finally launching on Xbox One, Windows 10 and PC through Arc and Steam on July 20.
For those still playing the open beta, a large update hit today to celebrate the final month. The update includes the introduction of bot matches, revamped tutorial, voice chat and a snazzy new user interface. And, if you login and play at least one match, you'll get a free Lightning skin for Tripp on Arc, or an Excelsior skin for Tyto the Swift on Xbox One and Windows 10.
This vivid five-player battler pits players and their massive guardians in epic battles that combine everything you love about teamwork, strategy and skill. You'll have to work together to take down the opposing guardian with spells, swords and guns blazing. Fan of big boss battles? This one is for you.
If you're really in love with Gigantic, you can purchase the founder's pack to get access to all 18 heroes, two forthcoming heroes and other goodies. Right now, it's discounted at $30, but will only be available until July 20.
For more on Gigantic, check out the trailer below.