When we awarded Rayman Jungle Run our 2012 Mobile Game of the Year, it was for a very specific reason: Developer Pastagames understood the platform they were developing for. That same intuition shows through with Joe Danger Touch, a new iOS title from Hello Games. In fact, Joe Danger Touch feels so natural that you might assume it was made from the ground up for touch devices. Perhaps that is because in some ways it was. Developer Hello Games went back to the books with their popular racing/platforming franchise and made something that feels incredibly intuitive to swipe and tap through.
Joe Danger Touch takes many of the abilities, pieces of level design and art assets from Joe Danger and Joe Danger 2: The Movie and repurposes them for this iOS version. In Joe Danger, you play as the titular motorbike-riding stuntman as you ride through levels filled with ramps, quirky obstacles and shiny collectibles. Getting through the relatively short levels is usually fairly easy, especially early on. But if you want the extras, you'll have to keep your eye on the sky as Joe Danger Touch's side-scrolling landscapes fly by. Once you realize how many hidden paths and extra coins you are missing, getting through the level just won't be enough.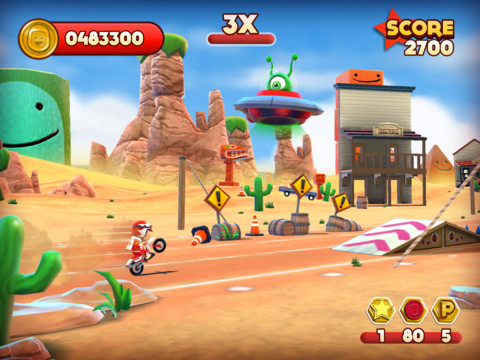 Joe Danger Touch shines with the kind of level design that will have you tapping that "Retry" button right after you cross the finish line. Each level provides you with three measures of success: Collect all the coins, collect a mischievously placed Star token, or collect the floating letters that spell out "D-A-N-G-E-R" that are spread throughout the course. The achievements differ course to course, but if you complete all three in one go you'll get awarded the sought-after "Pro" achievement. The game ultimately feels like a classic Nintendo title with an Angry Birds-style three-star rating system.
The final compliment I must award Joe Danger Touch for is its impeccable controls. Whether its jumping, ducking, popping a wheelie, double-jumping or performing some crazy mid-air tricks, everything in Joe Danger Touch is done without the use of a single on-screen button. The amount of things you can do can be overwhelming at first, but slowly learning the controls is all part of the fun and Hello Games has done an excellent job of pacing out the game's progress toward insane difficulty.
Joe Danger Touch is simply delightful, but it's not by accident. When Hello Games set out to create the original Joe Danger, they wanted to create a game that brought smiles to people's faces. With Joe Danger Touch, they continue to succeed under that motto with flying colors.
Joe Danger Touch
Platform: iOS
Developer: Hello Games
Release Date: 1/10/13
Price: $2.99