SAG-AFTRA, Videogame Companies Make Tentative Agreement to Suspend Voice Actor Strike
Images via SAG-AFTRA
Games
News
SAG-AFTRA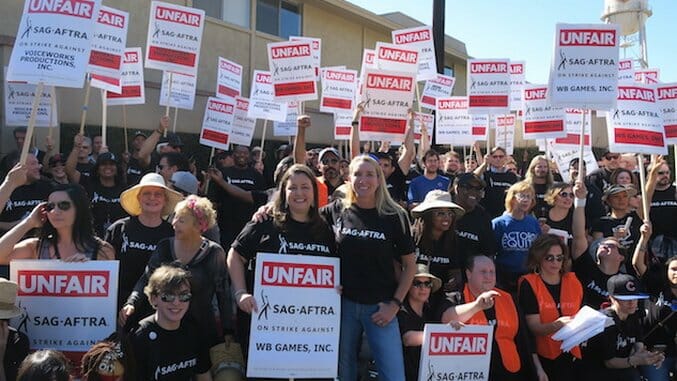 With much of the world embroiled in conflict these days, there is one fight that may have been difficult to notice in the background. Since Oct. 21, 2016, videogame voice actors represented by union SAG-AFTRA have been on strike against 11 videogame companies. Eleven long months, and negotiations between the parties have led to an end of the longest strike in the union's history, at least for now.
The origins of the strike stem from failed negotiations over residual payments, transparency about the content of voice projects and protection for vocal performers' voices. In a press release from SAG-AFTRA, it appears as though these issues have been addressed, and solutions are in progress.
The press release mentions a new bonus structure that provides secondary compensation to performers, based on the number of voice sessions worked on for each game. To be more specific, performers will be compensated "beginning with a $75 payment on the first session and totaling $2,100 after 10 sessions worked." SAG-AFTRA President Gabrielle Carteris says of this development:
"This is an important advance in this critical industry space. We secured a number of gains including for the first time, a secondary payment structure which was one of the members' key concerns. The courage of our members and their fortitude these many months has been admirable and I salute them. We are always stronger together."
Chair of the SAG-AFTRA Interactive Negotiating Committee Keythe Farley adds:
"The bonus payments we have now are significantly larger now than what we had 11 months ago. And the existence of additional payments beyond your session fee is in the video game world for good, both in our high-budget and independent promulgated agreements. Those are the victories that this strike has brought us."
In regards to the issue of transparency, SAG-AFTRA back in October cited cases where voice actors performed scenes with sensitive (sexual or violent) content without their prior knowledge or permission. Chief Contracts Officer Ray Rodriguez lauds the improvements made on this front:
"The new transparency provisions will enhance the bargaining power of our members' representatives by requiring the companies to disclose the code name of project, its genre, whether the game is based on previously published intellectual property and whether the performer is reprising a prior role. Members are also protected by the disclosure of whether they will be required to use unusual terminology, profanity or racial slurs, whether there will be content of a sexual or violent nature and whether stunts will be required."
And the issue of protection against vocal stress was also addressed in negotiations, with employers "committing" to work with SAG-AFTRA on the issue. Furthermore, previous proposals by employers were excluded from the agreement, such as a fine for voice actors who are late for or distracted during a session.
The companies that the unionized voice actors struck against included WB Games, Activision, Electronic Arts, Insomniac Games and Take 2 Productions. Videogame players may not have noticed any consequences, but a significant casualty came in the recasting of Chloe in Life Is Strange prequel Before the Storm. Original voice actress Ashly Burch, also known for Horizon: Zero Dawn and Borderlands 2, is a SAG-AFTRA member and confirmed that the strike prevented her recasting.
This agreement is tentative, with SAG-AFTRA reviewing the contact in October. But for now, remember to appreciate these performers working in a difficult environment, not take their voices for granted and not let issues like these fade into the background.