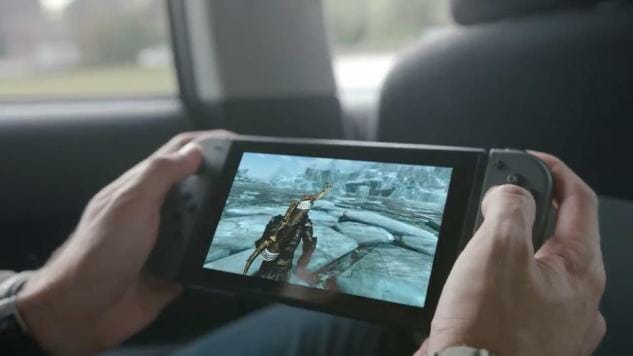 Last week I was packing for a work trip, and I had to make a decision I always make when I'm about to fly: do I bring any videogame stuff with me, or should I plan on reading and sleeping? In the past I'd probably just throw the Vita or 3DS in my carry-on, and maybe spend an hour or two of the plane ride on Spelunky or an RPG. This is the first time I've flown since Nintendo released the Switch, though, so those other handhelds stayed home. It was the perfect chance to exploit the Switch's portability, so I packed the tablet (with Joy-cons attached) into a padded carrying case covered with Super Mario emblems and slid the whole thing into a shoulder bag alongside my laptop, a pair of headphones and a Ziploc bag full of toiletries.
That shoulder bag had way too much stuff in it, and the Switch was the tipping point.
This is the same bag I've used for over a decade whenever I travel. It's the same work laptop I have to take with me whenever I leave home. The same headphones, without the hard-shell protective case they came with. I've flown with a Vita or 3DS (sometimes both) in this same bag with the same other objects tucked into it a dozen times or more and it was never an inconvenience. The Switch, though, especially in its padded zip-up sleeve, made the bag just a little too bulky. It made it an annoyance to slide the laptop in and out of the bag in the security line at the airport, and it made the bag take up just a little too much foot room beneath the seat in front of me on the plane.
I played Breath of the Wild for maybe twenty minutes, during a flight that was just under three hours? And had no time to play anything at all once I made it to my destination.
The fact that I could take the same console I'd been playing Splatoon 2 on in my home, throw it in a bag and fly to Canada with it is impressive. For a guy who's been playing games since the 2600, it's something that'll never stop amazing me to a certain degree. That's made the Switch a fantastic tool to bring with me to family outings, where my nieces and nephews can all get their hands on it, and on car trips where space is not an issue. And next time I fly I'll try to pack lighter so I can bring the Switch along without it being any kind of a hindrance. The portability of the Switch is one of its chief selling points, and it should be, as it's something no other console can boast.
That portability isn't always practical, though. Obviously I know the Switch and its case take up more space than the Vita or 3DS. And if I had a slightly roomier shoulder bag I probably wouldn't have felt as inconvenienced. But my first attempt flying with the Switch, my first experience bringing a Nintendo console with me on a cross-continental journey that plopped me down in another country, convinced me that, as far as my needs and concerns go, the Switch isn't really practical for trips like this. And this doesn't even factor in the system's relatively short battery life.
This is not to say that the Switch is a bust as a portable, or that it was a bad decision to turn it into a home/handheld hybrid. This is just one easily annoyed fool sharing an opinion forged by experience. I flew with a Nintendo Switch. It was kind of inconvenient. It wasn't really worth overstuffing my carry-on for. Now it's up to you to decide what works for you the next time you have to catch a flight somewhere.
(On the flight back the Switch stayed in the bag and I played Sudoku on my phone for an hour and a half.)
---
Garrett Martin edits
Paste
's games and comedy sections. He's on Twitter @grmartin.