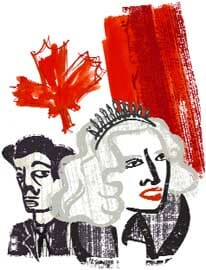 Canadian director John Greyson has reportedly stated that Canadians "make films for adults, where Americans makes films for 14-year-old boys." To which the obvious rejoinder is that the two largest grossing Canadian films of all time are Porky's and Meatballs. Nonetheless, our neighbors to the north have consistently produced innovative and thoughtful films. The Canadian film industry emerged from near collapse in the 1930s to become a world leader in documentaries, animation and experimental films throughout the last 50 years.
In 1969, then Prime Minister Pierre Trudeau told an audience at the National Press Club that living next to the U.S. "is like sleeping with an elephant; no matter how friendly and even-tempered is the beast, one is affected by every twitch and grunt." In the later days of silent film and the beginning of the talkies, the slumbering creature rolled-over and nearly crushed the Canadian film industry. Hollywood simply dominated and made Canadian film seem redundant and irrelevant. In 1922, Hollywood producer Lewis Selznick responded to a question about the prospects of a healthy Canadian industry: "If Canadian stories are worthwhile making into films, American companies will be sent into Canada to make them." And in fact, from 1910 to late '50s, Hollywood made over 500 features about Canada while Canada only made around 50 about itself. As stars such as Mary Pickford, Fay Wray and Walter Pidgeon in the '30s left for the U.S., the industry hit a nadir that would take some 30 years to fully emerge from. Only 13 feature films are known to have been made in Canada in the '30s and no prints of those remain.
In 1939, Canada formed the National Film Board (NFB), not to compete with Hollywood but to develop an alternative. The NFB experienced early success in documentaries, and soon thereafter in animation. NFB funding and Canada's unique, fluctuating and diverse national identity (and the related struggles) allowed many unique voices in documentary to emerge.
The government-funded infrastructure and a distinct aesthetic (developed partly as an attempt to avoid competition with Hollywood) also attracted many visiting and immigrating animators, helping make Canada a world animation leader in pioneering technique and quality product. Key figures in Canadian animation include Norman McLaren (who often sketched, painted and cut directly on film stock), Caroline Leaf (who used paint on glass, film etching and other techniques), and especially Frédéric Back, who dominated in international awards for animation.
As real and perceived Québecois discrimination became more prevalent, Québecois influence on the NFB and other entities increased and a separate, parallel industry infrastructure materialized. The '70s ushered in what Canadians derisively refer to as the "tax shelter years." The Canadian Film Development Corporation (CFDC) was formed to stimulate private sector production with public funding, resulting in a blitz of co-productions with foreign film companies seeking to take advantage of the newly available Canadian tax dollars. Such government beneficence begat Porky's and other largely forgettable films. Nonetheless, it helped build a strong infrastructure and saw the emergence of director David Cronenberg.
Even more national government entities and initiatives (such as Telefilm, Canada's Film Fund, the Canadian Council) and regional bodies (such as the Ontario Film Development Corporation) were established in the 1980s and beyond. Government support has played a large role in many national cinemas, but such support has begun to fade in most nations. Canada, on the other hand, seems to possess a stubborn commitment to continued public support. While some may debate the economic and artistic value of such efforts, there's little debating that the Canadian film industry continues to experiment with form, style and substance to create a diverse, independent cinema.
For further reading: Take One's Essential Guide to Canadian film, edited by Wyndham Wise; Weird Sex & Snowshoes: And Other Canadian Film Phenomena by Katherine Monk (forward by Atom Egoyan); One Hundred Years of Canadian Cinema by George Melnyk
Recommended
Canada's Ten Greatest Films of All Time From the Toronto International Film Festival Group, as chosen in 2004 by a group of some 100 filmmakers, programmers and industry representatives from Canada and around the world.
1. Mon oncle Antoine (1971)
Claude Jutra
2. Jésus de Montreal (1989)
Denys Arcand
3. (tie) The Sweet Hereafter (1997)
Atom Egoyan
Goin' Down the Road (1970)
Don Shebib
5. Atanarjuat (2001)
Zacharias Kunuk
6. Dead Ringers (1988)
David Cronenberg
7. (tie) Les Ordres (1974)
Michel Brault
Les Bons Débarras (1980)
Francis Mankiewicz
9. (tie) Les Invasions barbares (2003)
Le Déclin de l'empire américain (1986)
Denys Arcand
View the full results at www.topten.ca.