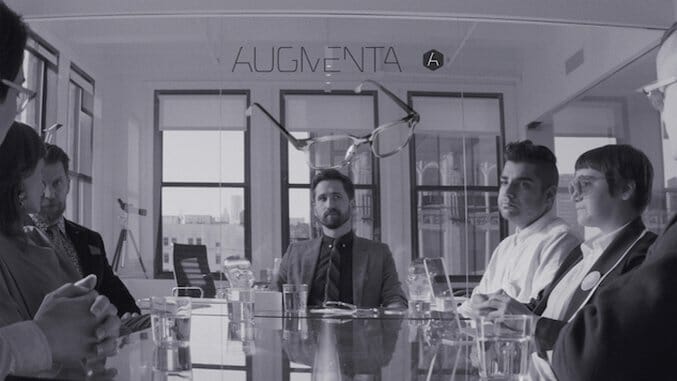 In the near future, technology may become more advanced, but self-absorbed hipster douchebags will always remain self-absorbed hipster douchebags. Intentional or not, that's the conclusion posited by the new sci-fi drama Creative Control, and writer-director-star Benjamin Dickinson should know: His debut feature, First Winter, presented a frozen apocalypse that tested the back-to-the-earth, free-love ideals of a similarly insufferable band of yogis. Two films in, and Dickinson already appears to have a consistent theme: taking the mighty piss out of stereotypical Brooklynites. Now, in Creative Control, he projects this malicious vision into the future in what amounts to a coal-black, cynical variation on Her.
Two men and two women are at the heart of Creative Control, with the women slightly less hateful than the men. Aspiring tech ad man David (Dickinson himself) is best friends with photographer Wim (Dan Gill), but if anything, he's more interested in Wim's girlfriend, Sophie (Alexia Rasmussen)—especially since his yogi girlfriend, Juliette (Nora Zehetner), seems to not excite him anymore. Of course he's intrigued by Sophie: Wim apparently feels no compunction about sending his best bro photos of not only his girlfriend's naked ass, but that of the other model with whom he's cheating on Sophie. These interpersonal elements come into play when David becomes the point person for the ad campaign around Augmenta, a Google Glass-style augmented-reality technology. When asked to do reconnaissance for the product, he finds himself obsessed not with the possibilities of the technology in improving his daily life (for that, David hires artist/comedian Reggie Watts, here playing himself in an amusing self-parody), but in escaping his professional and personal stresses by, among other things, indulging in a love affair with a virtual recreation of Sophie.
In essence, David uses this particular advance as merely a way to further his own self-absorption. This alarmist view of technology is nothing new, really. Not only did Wim Wenders already broach this territory all the way back in 1991 in the last hour of his globetrotting sci-fi epic Until the End of the World—which found its two main characters, after they survived Y2K, recording their own dreams on portable video screens—but you hear it every time someone, say, labels selfie-takers as the epitome of narcissism (to which this essay offers the definitive riposte). If anything, seeing such tiresome critiques even in a sleek-looking low-budget indie film like Creative Control makes one appreciate the subversiveness of Spike Jonze's sincerity in Her all the more. While Jonze acknowledged the limits of virtual reality in modern romance, that hardly means there aren't genuine emotional needs underpinning the seemingly outlandish premise of a human being falling in love with an operating system.
Dickinson, however, is too busy getting off on despising his characters to entertain such a notion, coming up with as loathsome a bunch of specimens of privilege as possible and daring us to tolerate them. Such an abrasive approach might work if there were any insights to be gained from observing such appalling behavior; Todd Solondz, for one, regularly manages to find glimmers of recognizable humanity in the most repugnant of characters. Repugnance, though, is all that animates Creative Control, so much so that even the soundtrack—including the George Frideric Handel and Franz Schubert music that Stanley Kubrick used in Barry Lyndon—becomes oppressive in its utterly shallow irony. What should have been a thought-provoking cautionary tale about the way technology has as much power to separate human beings as it does connect them amounts to little more than a preening ode to one filmmaker's contempt for a very particular subset of humanity.
Director: Benjamin Dickinson
Writers: Benjamin Dickinson and Micah Bloomberg
Starring: Benjamin Dickinson, Nora Zehetner, Dan Gill, Alexia Rasmussen, Reggie Watts
Release Date: March 11, 2016
---
Kenji Fujishima is a freelance film critic, contributing to Slant Magazine, Brooklyn Magazine, The Playlist, and the Village Voice in addition to Paste. He is also Deputy Editor of Movie Mezzanine and former editor-in-chief of In Review Online. When he's not watching movies and writing and editing film criticism, he's trying to absorb as much music, art and literature as possible. He has not infrequently been called a "culture vulture" for that reason.