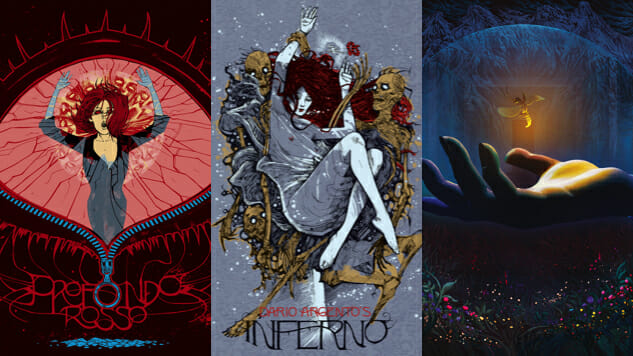 If you're looking to get deeper into Dario Argento's filmography ahead of the release of Luca Guadagnino's remake of his 1977 horror classic Suspiria, or just because it's that time of year, you can now own some of Argento's most iconic film scores on vinyl.
In honor of Argento's 78th birthday and the forthcoming Suspiria remake, Waxwork Records and Paste are teaming up to give away three of Argento's original scores, expanded and complete: Profondo Rosso ('75) on 3LP, and Inferno ('80) and Phenomena ('85) on 2LP, available as of today, Friday, Sept. 7.
You can enter to win all three records via Paste right here, but make sure to do so before the deadline: next Friday, Sept. 14, at 11:59 p.m. ET.
The new collection should be comprehensive enough for new fans and Argento obsessives alike who want to bring home a little piece of what made his films so memorable.
Goblin, who will provide the live soundtrack during screenings of the original Suspiria this fall, scored Profondo Rosso and Phenomena. The late Keith Emerson scored Suspiria sequel Inferno.
You can find a bundle of all three soundtracks now available for purchase via Waxwork Records here, and again, if you want to enter the giveaway via Paste, do so here before the Sept. 14 deadline.