Gundam Anime Getting the Live-Action Movie Treatment from Legendary
Photo by Chris McGrath/Getty
Movies
News
gundam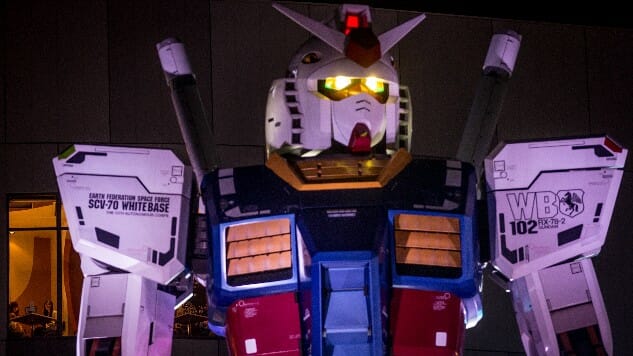 Anime adaptations are on the rise in Hollywood, with the likes of Ghost in the Shell gracing the big screen last year and Alita: Battle Angel coming at the end of 2018. So it's no surprise that to hear that Legendary Entertainment is working on a live-action movie for the classic mecha anime Gundam. The studio announced that it is co-developing the project with the Gundam creators, animation studio Sunrise, Thursday during Anime Expo 2018 in Los Angeles.
Legendary Entertainment has tapped film producer Cale Boyter to oversee the film along with the creative team at Sunrise. Boyter worked as producer on films like Shoot Em' Up and Pacific Rim: Uprising, a series with plenty of giant robot action, comparable to classic mecha animes like Gundam and Neon Genesis Evangelion. The producer is also working on the first-ever live action Pokémon movie, Detective Pikachu, which is set to debut later this year.
For those unfamiliar with the Mobile Suit Gundam series, here's a synopsis of the original 1979 anime from Legendary Entertainment:
The original Gundam series is set in the Universal Century, an era in which humanity's growing population has led people to emigrate to space colonies. Eventually, the people living in the colonies seek their autonomy, and launch a war of independence against the people living on Earth. Through the tragedies and discord arising from this human conflict, not only the maturation of the main character, but also the intentions of enemies and the surrounding people are sensitively depicted.
What's surprising is that it took this long for Gundam to hit the big screen with its own feature film. As one of the oldest and most popular Japanese animes in history, the series is a pop-culture icon, spawning several different anime adaptations, games, and even an appearance in the recent hit film Ready Player One. There are not many details on the plot or when the movie will arrive, but the film is sure to have fans talking when more information is released.