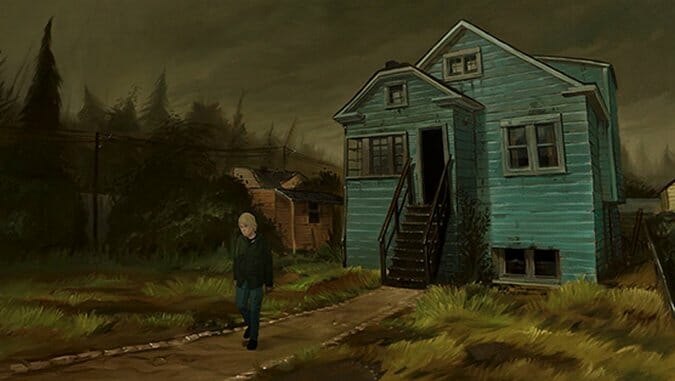 Among its other dangers, nostalgia is toxic because it warps our memories of the thing we're commemorating. Sanding down the rough edges, reducing complexity to platitudes, nostalgia causes us to intensify our affection while impairing our judgment. For anyone in thrall to the music of Nirvana, this problem is only amplified. It's not ridiculous to say that, over the span of three studio albums, the Aberdeen, Washington band changed the direction of popular music generally and rock 'n' roll specifically—but it sure sounds ridiculous. Twenty years removed from frontman Kurt Cobain's suicide, the musical landscape looks completely different than it did when the trio dropped Nevermind in 1991. So how do those who were there articulate to those who weren't what it was like?
Despite its limitations, the documentary Kurt Cobain: Montage of Heck is an honorable attempt to restore the gunk, anger and volume to the band's legacy—and to Cobain's as well. Dead at 27—the same age when Janis Joplin, Jimi Hendrix and Jim Morrison died—the songwriter-guitarist is remembered as a talented, troubled stalwart, but The Kid Stays in the Picture director Brett Morgen wants us to look closer at Cobain, and what Montage of Heck reveals isn't all that pretty. A junkie, a pain in the ass, an inveterate malcontent: This is the Cobain we see in Morgen's documentary. Yet, by emphasizing the messy, ugly humanness of his subject, Morgen manages to make him heroic and tragic, too. Though Montage of Heck is undoubtedly geared to fans, it gives fans reason to be grateful for this guy and this band all over again.
As described in Paste's interview with Morgen, Montage of Heck is sanctioned by Cobain's estate: His daughter Frances Bean Cobain serves as an executive producer, and his widow Courtney Love is one of the film's interview subjects. Opening up the vaults doesn't necessarily provide fresh insights into Cobain—if you own, say, Journals or the inexhaustibly amusing concert video Live! Tonight! Sold Out!, you've seen some of these curios already. But what Morgen does is provide a public service that's similar to the work he did on his fine ESPN "30 for 30" documentary June 17th, 1994, which told the story of O.J. Simpson's infamous Bronco chase entirely through sports coverage from that fateful day. Likewise, by offering a fresh perspective, Montage of Heck makes the familiar feel new, and in Cobain's case, that means shoving the man's loud, rude, desperate energy in our faces—even to the point where perhaps we've had enough of him. One suspects that's Morgen's point. Nirvana cut deeper than its peers not just because of Cobain's hooks but because of his genuine rage and confusion; the hooks made his unmistakable animosity palatable, and relatable.
Montage of Heck avoids the typical music biography course, never highlighting the artist's career peaks, or relating stories of how this song was written or how those two band members first met, and instead offers an intuitive causation from one event to the next. We see Cobain as a happy, energetic boy whose parents' divorce seems to have permanently soured his spirit, leaving him searching for some sort of family stability throughout the rest of his life. Cobain's mother, sister and former girlfriend don't deliver a lot of ah-ha insights into the man's creativity because Morgen doesn't seem interested. The director is trying to create an emotional sketch of Cobain, as if the artist's inner life can only be guessed at, never fully comprehended.
That approach doesn't always work. As with The Kid Stays in the Picture, which he co-directed with Nanette Burstein, Morgen has his cutesy moments, marrying animation to Cobain's audio recordings, for example, or pairing the band's "School" with the artist's complaints about his younger years. But the occasional bum note is mitigated by the director's fairly nervy approach to retelling Cobain's story.
At first, that rethink isn't fully noticeable, but in hindsight it's there from the beginning. Montage of Heck opens with Nirvana bassist Krist Novoselic doing a present-day interview with Morgen, and in it he's struggling to come to terms with Cobain's suicide. Although the movie very much celebrates the singer's life, warts and all, Montage of Heck is perhaps best viewed as an examination of what now seems to be his inevitable descent into self-destruction. Not every moment of the documentary focuses on Cobain's heroin addiction or self-loathing, but because Morgen introduces the film with the mystery of his passing, it's a question that stays with the viewer throughout: What happened? We watch to understand how the man's life informed his music—and how the music reflected (and hinted at) the ensuing suicide.
That music remains fantastic, particularly because Morgen occasionally avoids original versions to concentrate on a live rendition or an alternate mix. Again, this technique can be problematic—even completists will probably retch at the strings cover of "Smells Like Teen Spirit" overlaid on outtakes from the video shoot—but mostly you're reminded why you reach for the band's live albums rather than the studio discs: Because you want to shake off the familiarity of tracks you love but know too well. Best heard loud, Montage of Heck never stops reinforcing the notion that Cobain's songs were snotty and abrasive, meant to trigger a reaction (sometimes childishly) from the uptight squares and authority figures Cobain despised. Equally combative are selections from the man's journals, where random provocations like "Abort Christ" were splayed on the page like kiss-offs.
Montage of Heck is unquestionably geared to those who already love the group. Eschewing the sort of narrative signposts that would help orient the newcomer—not to mention including talking heads who could contextualize Nirvana's legacy—Morgen's film practically speaks in code, communicating in the language of angst and uncertainty that bonded Cobain and his audience. But it's not mere hagiography; Montage of Heck spends time—perhaps too much time—delving into home movies of Cobain and Love as the effects of heroin addiction become increasingly clear. Repetitive they may be, they suggest a slow-motion hell, a gradual circling of the drain in which the outcome seems practically preordained.
Which is why Montage of Heck finds the right ending to its messy, unwieldy, bracing tale. Everyone knows how Cobain's story resolved itself, but Morgen, as he does throughout the film, wrestles with familiarity to offer a new take on the artist's oblivion. With a lot of nostalgia, one can only say, "Guess you had to be there," but Morgen makes Cobain's death feel painful, poignant and vibrantly present in a way that it hasn't in years.
Director: Brett Morgen
Writer: Brett Morgen
Release: Screened at the 2015 True/False Film Festival; May 4, 2015 (HBO)
---
Tim Grierson is chief film critic for Paste and the vice president of the Los Angeles Film Critics Association. You can follow him on Twitter.