The First Trailer for La La Land Starring Emma Stone and Ryan Gosling is Here
Image via YouTube
Movies
Video
La La Land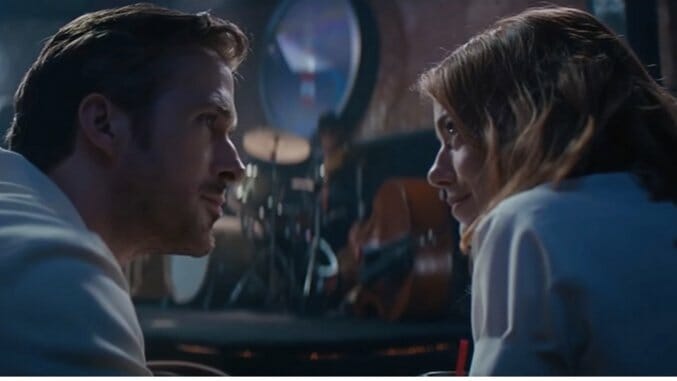 The first trailer for the highly anticipated La La Land is here. The film is from writer-director Damien Chazelle, whose superlative previous film Whiplash established him as one to watch.
La La Land follows the love story of Mia (Emma Stone) and Sebastian (Ryan Gosling) as they seek success in their careers as an actress and jazz pianist, respectively. Chazelle remains fixated on music, and the film is a rarity as an original musical.
The film is set in the modern day, but the trailer is reminiscent of mid-20th century musicals, with lush coloring and snippets of Mia and Sebastian dancing against a magical starry background. It features no dialogue, backed by Gosling's vocals and a piano as he sings a melancholy lullaby called "City of Stars" from the film's soundtrack—probably just so we're all aware that Chazelle is going for the Best Original Song Oscar this time.
We already know that Chazelle's leads will have no chemistry problems—it's Stone's and Gosling's third time sharing a screen after 2011's Crazy Stupid Love and 2013's Gangster Squad. Chazelle also recruited J.K. Simmons to star for a second time, with Simmons having won an Oscar for Best Supporting Actor in Whiplash. La La Land hits theaters on Dec. 2. In the meantime, watch the first trailer above.