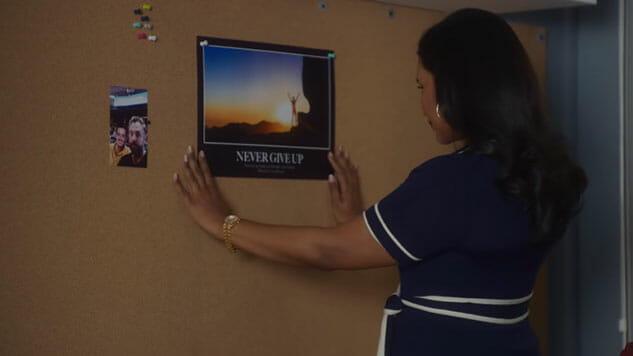 Early on in Late Night, an affable, sometimes candid dramedy about the various anxieties and exhilarations of writing for a late night talk show, comedy obsessed ex-chemical plant employee Molly (Mindy Kaling) has just scored her dream job writing for her favorite host, the cantankerous Katherine Newbury (Emma Thompson). Molly enters her dumpy new office as if she's walking through the gates of Olympus. She shares the already tiny space with Burditt (Max Casella), a paranoid writer who, like his other colleagues, doesn't like the female and Indian-American Molly because he considers her strictly a diversity hire. When Molly asks Burditt why he doesn't have any decorations on his side of the office, he replies with deadpan simplicity, "I've been working here for 27 years. I don't hang anything up in case I get fired."
As a boss, Katherine is certainly fucked up, and her ticking time bomb of neuroses isn't helped by the news that, after decades as the host of her own late night show, she's forced to call it quits and make way for a young and hip new host in the form of a Dane Cook-wannabe dudebro (Ike Barinholtz). Her steady decline in ratings is excused by her insistence on booking "boring" guests like Doris Kearns-Goodwin, but the truth is that she's been going through the motions for a while without any fresh, creative output. Not only does she seem clueless about how to get her old magic back, she looks actively disinterested in trying to recapture what made her comedy exceptional in the first place.
Burditt's suspicion about Molly being a diversity hire is correct. In a panic to bring some new life to her show and hopefully save her job, Katherine decides to hire a female writer, any female writer, for her all-male staff. It's at this point the underwhelming first act makes its first mistake: Molly landing the job is tied to a series of sitcom conveniences that don't match Kaling's otherwise unfiltered depiction of talk show politics. Molly has no experience as a writer, and applies for the part because she loves comedy and does her own bits to entertain her co-workers. Without any previous work as a writer or performer, there's no way in hell she'd land the job even if the show's desperate to hire a woman. This is explained away by Katherine yelling at the show's producer (Denis O'Hare) to hire a woman now, and the producer giving the gig to the random female organism sitting in front of him. Why not still have her work at the plant as her day job, but set her up as a comedian who has been grinding at the clubs for years, waiting for her big shot?
The second problem with the first act is that it's hard to become emotionally engaged with Katherine's conflict. We're told that she used to be great, but all we see is a bitter person who doesn't even seem to be interested in what she does for a living anymore. So why should we care whether she keeps her job or not? We see nothing of her show at a time when she's supposed to have been hilarious and engaging. Yet an important dramatic turn finally comes in the form of Katherine, at the lowest point in her career, deciding to perform a deeply personal, impromptu stand-up set that harkens back to her glory days. It's not hard to see why Thompson was cast as an imposing presence, but the way she effortlessly taps into the charm and tight timing of what's supposed to an established comedy icon is a formidable bit of acting, a welcome reminder of Thompson's once-in-a-generation versatility.
So Katherine decides to work with Molly to revive the show, allowing Late Night to deliver a lighthearted approach to showing how the TV sausage is made. Even though Molly is clearly a token hire, Kaling deftly communicates the need for representation of different perspectives to facilitate any art form's progression into new and exciting territories. An attempt to simply fill a politically correct quota results in the show's salvation, yet Kaling somehow finds a way to remain grounded without appearing to spoon-feed her message.
Kaling was an intern for Conan O'Brian, and spent considerable time in comedy writing rooms, penning almost two hundred episodes for shows like The Office and her own The Mindy Project. She obviously knows this world, and the direct insight she brings to the audience becomes Late Night's raison d'etre. At its core, it's a tough-love letter to the insane ordeal of pursuing an actual career in comedy, paired with an open thesis about the innate wholesomeness of making people laugh. Director Nisha Ganatra, who also comes from TV, doesn't really create a cinematic experience that begs to be seen on the big screen, but treats the characters and the setting with enough depth to breathe life into an otherwise tired project.
Director: Nisha Ganatra
Writer: Mindy Kaling
Starring: Emma Thompson, Mindy Kaling, John Lithgow, Hugh Dancy, Denis O'Hare, Reid Scott
Release Date: June 7, 2019