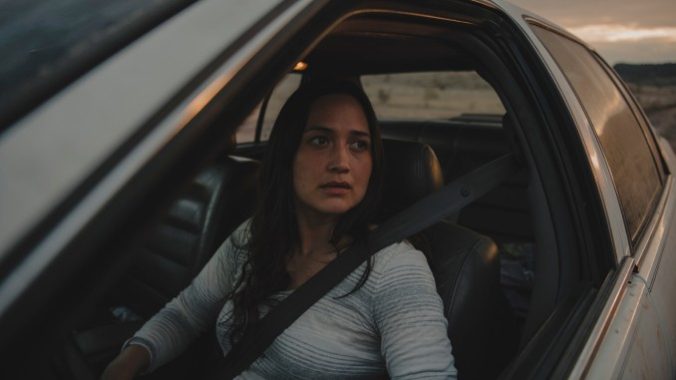 In the age of Silicon Valley and Airbnb, it's almost surreal to imagine that the western United States was once a richly textured landscape—one that characterized foreigners' perception of America at large, despite the country's endless geological diversity. Still, beneath the developments and urbanization, the landscape remains, as do the people who call it home. With The Unknown Country, filmmaker Morrisa Maltz takes viewers on a journey through the American West that creatively blurs the line between fact and fiction with illuminating results.
The Unknown Country stars Lily Gladstone as Tana, a Lakota Sioux woman who embarks on a road trip from the Midwest to the Texas/Mexico border, following her grandmother's death. However, the fictional protagonist is merely a cipher that introduces a slew of real-life subjects—fellow Lakota people, local service workers and others whose stories are often pushed into the periphery of the American consciousness.
In a voiceover accompanying the short vignettes that interrupt the narrative, each subject grants viewers an intimate look into their lives for minutes at a time. In one instance, a convenience store clerk who manages to crack a smile from our withdrawn protagonist narrates how he and his partner came to know each other, and recounts vivid dreams he had of them meeting years before their paths crossed for the first time. In another, a Texas dance hall owner shares how she bought the locale when it was on the brink of collapse, so that a local 90-year-old legend named Flo could continue to hit the floor at a time when such venues are phasing out. From the pursed lips of an elderly woman meowing back at her cats, to the bright blue basketball shorts of a Sioux father holding his daughter's tiny hand on their way to school, cinematographer Andrew Hajek captures the beauty in the mundane through intimate close-ups during these segments.
Acting as a love letter to the land and its people, The Unknown Country also examines what home means for its Indigenous protagonist. In an early scene, Tana visits a bar with her cousin Lainey (Lainey Bearkiller Shangreaux, who also helped conceive the story along with Gladstone, Maltz and editor Vanara Taing).
Among the chatter of familiar faces, Tana seems distant, smiling at the jokes the elders tell even as her quiet demeanor suggests a deep sadness. When an elderly relative approaches her, asking how long her trip is and if she plans on visiting the Pine Ridge Reservation where she grew up, Tana seems guarded. "I don't want to go home quite yet," she answers, forcing a chuckle. "But you know, if you go to the rez, that is going home," the woman replies. "The land will help heal you and it will remind you of all that's good about where you come from and what you have to look forward to."
As such, The Unknown Country posits homecoming and healing as two sides of the same coin: To heal is to restore something that has been damaged, and to return is to recuperate something left behind. Whereas Tana is afraid of unlocking the nostalgia of past memories when she's at her most vulnerable, her family reassures her that bridging this gap between past and present will help guide her on this spiritual journey. As Tana opens up to others over the course of her trip, her relationships to the land she treads and the locals who inhabit it are shown in similar moments of tenderness. 
For the majority of its runtime, The Unknown Country is a hazy tone poem born from lens flares and handheld montages yielding constant movement. It's in the film's third act that Maltz's screenplay hits a bump in the road: Seemingly conscious of the fact that Tana's story needs an ending, the movie's sudden plotting contrasts from the warmly documented stories in a way that isn't entirely seamless. Still, Gladstone is imminently watchable—understated but fully evocative of the pain that comes with harboring grief. Like Kelly Reichardt's Certain Women, Maltz's quiet, meditative drama takes full advantage of the actress' flair for naturalism, her microexpressions conveying more than many actors do in loaded outbursts. Gladstone's presence alone makes The Unknown Country worthwhile, ultimately taking Tana and the audience on a journey towards catharsis.
Director: Morrisa Maltz
Writer: Morrisa Maltz
Starring: Lily Gladstone, Raymond Lee, Richard Ray Whitman, Lainey Bearkiller Shangreaux, Devin Shangreaux
Release Date: July 28, 2023; September 12, 2023 (Digital)
---
Ursula Muñoz S. is a critic, journalist and MFA candidate at Boston University who has previously written for news and entertainment outlets in Canada and the United States. Her work has appeared at Xtra, Cineaste, Bright Wall/Dark Room and more. For further reading, feel free to follow her on Substack and X, where she muses about Taylor Swift and Pedro Almodóvar (among other things).