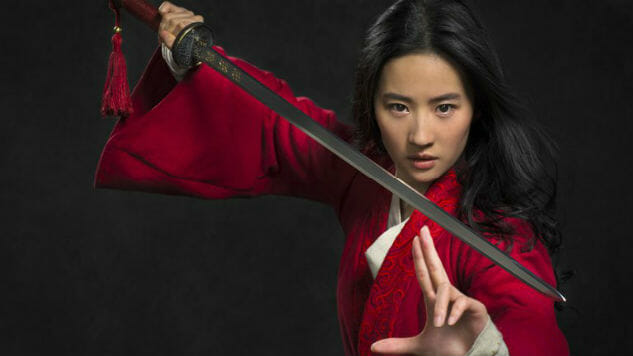 Disney has finally shared the full-length trailer for its forthcoming live-action remake of the 1998 animated film Mulan. Some distinct changes: There's no singing, and no Eddie Murphy/live-action Mushu or any other comedic elements, really. Based on the narrative poem The Ballad of Mulan, this reimagined Disney classic has a much more serious and adult feel to it than its animated predecessor.
Drawing from both the original source material (that's still being taught in Chinese schools) and the beloved 2D version from Disney, director Niki Caro said during Disney's D23 expo that the live action remake is "the thing I'm most excited about. For people to experience her story in a very real, very visceral and a very emotional way."
The film follows the story of Hua Mulan, the eldest daughter of an honored warrior, who secretly takes the place of her father in the battle against Northern invaders, which is super going against tradition of women staying at home and bringing honor by being good wives. Mulan masquerades as a man (instead of the original Fa Ping—which translates to Flower Pot—she goes for the much more legit-sounding Hua Jun) and faces obstacles every step of the way. Much like the original, it is an epic journey that will transform Mulan, and earn her the respect of a grateful nation and a proud father. Also, there's a witch involved. So to recap, no Mushu, but we do have a witch. The trailer just had to be set to an instrumental version of "Reflection," but we're not crying, you are.
Liu Yifei (aka Crystal Liu) gets down to business as Mulan, and is joined by Donnie Yen as Commander Tung, Jason Scott Lee as Böri Khan and Yoson An as Cheng Honghui, with Gong Li as Xianniang and Jet Li as the Emperor.
Disney's Mulan is set to hit theaters on March 27, 2020. Watch the new trailer below.