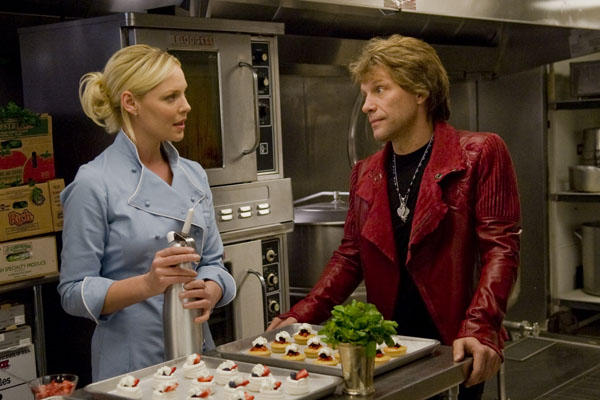 New Year's Day is a disaster movie masquerading as an ensemble romantic comedy. Think of it as The Towering Inferno without 138 stories of burning skyscraper, people dying of smoke inhalation, and, of course, Steve McQueen or Paul Newman for that matter. Like Irwin Allen's overwrought multi-character melodrama, it is easy to get caught up in one or two of the stories.
After last year's commercial success of the poorly reviewed Valentine's Day, Warner Bros. Pictures surely saw the financial incentive in green-lighting another star-studded rom-com under the steady administration of Garry Marshall. After all, Marshall has a good track record—he is the guy who gave us Pretty Woman—and he often works with the same collection of popular talent, which means that actors like him. So it stands to reason that Marshall would be the perfect choice to manage—dare I say direct—a movie featuring cameos by some of Hollywood's biggest names. The fact that he makes this kind of weak material work at all is a testament to his ability and explains his enduring appeal.
The plot unfolds over the course of one day and is understandably rushed, with little time spent developing any one character. The script is nothing more than an excuse to work as many familiar faces as possible onto the screen, and the Big Apple's end-of-the-year bash provides a good canvas.
On New Year's Eve, random New Yorkers scramble to avoid confronting loneliness in their lives while mustering up enough energy to ring in 2012. A lot of ground is covered by a laundry list of intersecting storylines.
Key characters include Hilary Swank, who plays a newly minted VP of the company charged with dropping the ball in Times Square. Katherine Heigl plays Laura, a caterer working to deliver top-notch cuisine at a music label's glitzy party, the guest of honor of which is a rock star named Jensen (Jon Bon Jovi). Laura and Jensen have a history. Plain Jane Michelle Pfeiffer plays a lonely secretary who employs the services of a bike messenger (hipster Zac Efron) to help her complete her bucket list. A comic book artist and New Year's curmudgeon (Ashton Kutcher) gets trapped in an elevator with an idealistic back-up singer (Lea Michele). A single mother (Sarah Jessica Parker) battles with her teen daughter (a grown-up Abigail Breslin) over where to spend the evening. Pregnant couples compete to have their baby right at the stroke of midnight. A rich playboy (Josh Duhamel) races back to the city from the country to deliver a speech at an important party. And in another part of the city, a lonely man (Robert De Niro) spends his last days in a hospital bed hoping to stay alive long enough to see the ball drop one last time. A caring, dutiful nurse (Halle Berry) waits thoughtfully by his side.
Surely, I've left something and someone out, but merely mentioning the characters could be enough to spoil the thin storyline. (The director can be seen in a scene if you look closely, and Hector Elizondo, a Marshall movie constant, makes a comic appearance.)
New Year's Day is cloying and loaded with cheese, but it's intentional cheese. The laughs, though there, come begrudgingly, though the story of the lonely, dying man spending his last days in a hospital room surrounded by only the hospital staff—that story got to me. Unfortunately, any real emotions dredged up are immediately squandered by all the false moments in the film. The gaggle of pretty people who populate this disaster movie/romantic comedy may mean a lot to Hollywood's bottom line, but they are gathered together in a saccharin-laced affair that substitutes star power for anything genuine.
Director:Garry Marshall
Writer:Katherine Fugate
Starring:So, so many people.
Release Date:Dec 9, 2011