2019 Academy Awards Break Record for Most Wins by Black Nominees
Photo by Dia Dipasupil/Getty
Movies
News
Oscars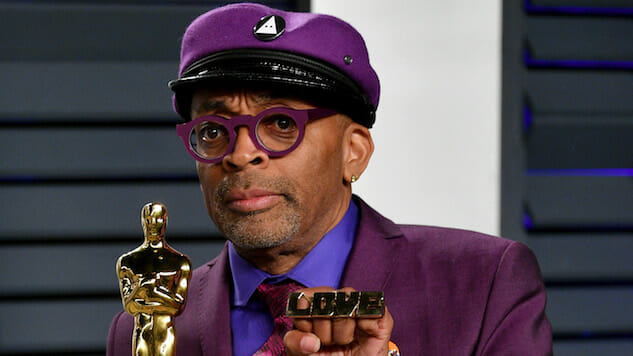 Sunday was a historic Oscar night for a number of reasons, but perhaps the biggest was that no other Academy Awards in history has honored so many black winners. Regina King, Mahershala Ali, Peter Ramsey, Spike Lee, Ruth Carter, Hannah Beachler and Kevin Willmott all took home awards on Sunday night, bringing the tally up to an unprecedented seven wins for black artists. The next most productive night for black talent came in 2017, when five black artists won their categories, with Barry Jenkins and Tarell Alvin McCraney sharing the Oscar for Best Adapted Screenplay for Moonlight.
This year, King brought home the Best Supporting Actress award for her work in Jenkins' If Beale Street Could Talk and Ali won Best Supporting Actor for Green Book. Carter won the Costume Design category for her work on Black Panther as one of only two black costume designers to be nominated since the category's addition to the show in 1949—she was also the first black costume designer nominated back in 1993, for Lee's film Malcolm X. Beachler, meanwhile, became the first-ever black designer to receive not only a nomination but also a win in the Best Production Design category, which she, too, took home for Black Panther. Ramsey also became the first black director to be nominated in and win the Best Animated Feature category. Ramsey co-directed Spider-Man: Into the Spider-Verse with Bob Persichetti and Rodney Rothman. Finally, Lee took home his first-ever Academy Award for BlacKkKlansman, which won the Best Adapted Screenplay category. Lee had been nominated for four other Oscars dating back to 1990's Do The Right Thing, but had never won before Sunday night.
The Academy Awards have come a long way from 2015's #OscarsSoWhite disaster, but there are clearly still some big changes that need to be made. It's good to celebrate when a black artist wins a category for the first time, but it's also a glaring reminder of how long it took for this to happen, and how many brilliant black creatives were passed over before this. The Academy also demonstrated that it still isn't totally self-aware by granting the night's highest honor of Best Picture to Green Book, the oddly light-hearted road trip film about a semi-racist bouncer from the Bronx protecting a well-to-do black pianist on a tour through the Deep South. This year's Oscars were definitely a step in the right direction all things considered, but there's still plenty of work to be done. Just ask Spike Lee.
Find the complete list of this year's Oscar winners here.