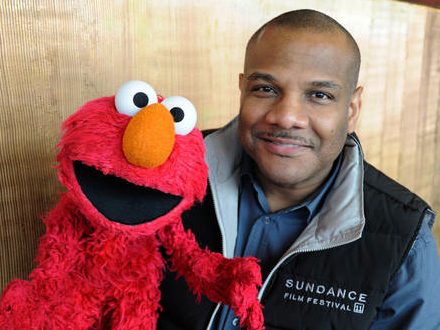 Those with passion enough to go into the arts can find it hard to conform to societal norms, which often call for them to keep themselves in check. The arts allow devotees to channel their true selves (or at least certain aspects of their true selves) into a piece of music, a piece of clay or, in at least one case, a piece of felt.
While the concept of performers coming alive through their work is a bit of a cliché, Being Elmo: A Puppeteer's Journey is Exhibit A in the case to prove that clichés exist for a reason. In this warm and fuzzy documentary, we follow the career path of Kevin Clash, the voice and arm behind the lovable phenomenon known as Elmo. A soft-spoken and admittedly private man, Clash does seem to smile the most when operating the bubbly and outgoing furry red monster.
From his poor childhood in Baltimore, where he actually taught himself puppeteering with scores of puppets he also made, to his current multiple-hat stint as performer, director and producer of Sesame Street, the film is certainly a Muppet fan's dream. Clash's story is accompanied by snippets of archival footage of Jim Henson, Frank Oz and others in the Henson stable, as well as rare peeks into the Muppet workshop, with its drawers full of lovingly fabricated mustaches and eyeballs.
Where the film really gets interesting is watching Clash the master at work, especially as he instructs other puppeteers. In those scenes, one can only marvel at how the barest subtleties of hand movement can magically create such varied expressions in something so otherwise inanimate.
But there's a reason it's called a puppeteer's journey, and not a man's. Being Elmo falters a bit in its failure to portray Clash as a fully rounded person, warts and all. Yes, there are glimpses of his perfectionism—such as when he criticizes his own seam work on a puppet he gave an old boss—and yes, he talks about his awkwardness and insecurities around his idol Henson, but these are fleeting glimpses at best. There's footage of an ex-wife, but no discussion as to what broke up the marriage, though it's vaguely implied that too much time spent on his career is to blame. As a result, the film winds up being very much like Elmo himself: cute and earnest, with Kevin Clash crouching just outside the spotlight.
To be fair, a detailed psychoanalysis is not what the film is really going for. As the story of how Elmo came to be, it works very well. It carries a message as pure and sincere as the Muppets themselves: do what you love, believe in yourself, be good to others, and you, too, can fulfill your dreams.