Ryan Gosling to Star in Damien Chazelle-Directed Neil Armstrong Biopic First Man
Photo by Frazer Harrison/Getty
Movies
News
Ryan Gosling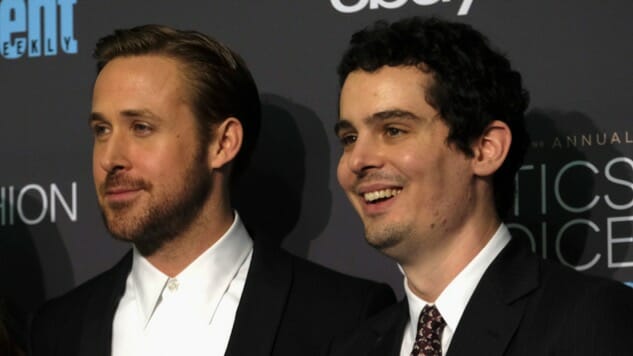 Ryan Gosling is making his way from the "City of Stars" to the stars themselves. The comically handsome actor will reunite with his La La Land director Damien Chazelle, of Whiplash fame, for a biopic on Neil Armstrong, the first-ever man on the moon. Universal Pictures confirmed the out-of-this-world news today, as per EW. Marty Bowen and Wyck Godfrey will produce the film through their Temple Hill Entertainment, with Isaac Klausner executive-producing.
Chazelle's biopic bases its story on First Man: The Life of Neil A. Armstrong, a 2012 biography by James R. Hansen, who will co-produce the film. Oscar-winning Spotlight co-writer Josh Singer adapted First Man's screenplay, comprising a "visceral, first-person account" of NASA's 1960s mission to put a man on the moon focused primarily on Armstrong's sacrifices and dangers faced.
Gosling and Chazelle's first collaboration La La Land has generated a dull roar of awards noise. The film's "exhilarating and nearly unflagging energy strives to inspire in viewers an equally bold appreciation for all the things it celebrates: the thrill of romantic love, of dreams within reach, of what we call 'movie magic,'" Anthony Salveggi wrote in his review for Paste. La La Land was nominated for seven Golden Globes, more than any other film this year.
Gosling recently finished filming Denis Villeneuve's Blade Runner 2049, due out in October of 2017. First Man is currently without a release date, but expected to start shooting in early 2017.