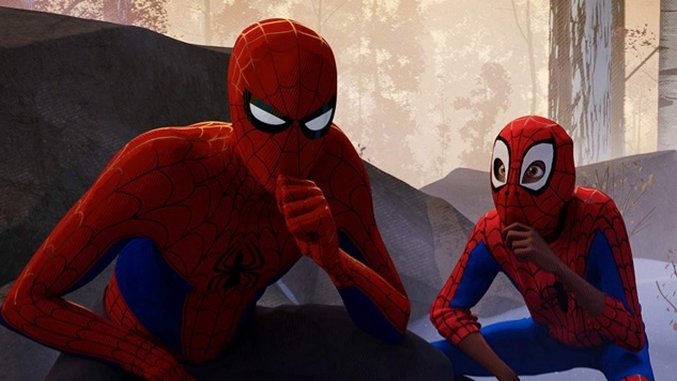 Movie-making is an intensely collaborative endeavor. That's hardly an original insight, but it's something too easily forgotten when one has shifted into "feed me!" mode as the trailers, concessions ads and Coca-Cola propaganda pieces preface the main attraction. With so many moving parts, and so many different people moving them, just finishing a film—be it jaw-droppingly bad, mind-blowingly good, or one of the countless in between—is an achievement. Just as daunting as the sheer logistics of making a movie is the elusive alchemy of it all. A film put together with grade A ingredients—source material, script, director, crew—can be undone by one bad idea allowed to roam free, while another movie with hardly anything going for it can come together in a way that rocks viewer and box office alike. Given all the moving pieces and all the expectations, it's a bit amazing that any movie gets made, let alone great movies.
Then there are, rarely, films like Spider-Man: Into the Spider-Verse, where ingredients, execution and imagination all come together in a manner that's engaging, surprising and, most of all, fun. Directors Bob Persichetti and Peter Ramsey, writer-director Rodney Rothman, and writer Phil Lord have made a film that lives up to all the adjectives one associates with Marvel's iconic wallcrawler. Amazing. Spectacular. Superior. (Even "Friendly" and "Neighborhood" fit.)
Along the way, Into the Spider-Verse shoulders the immense Spider-Man mythos like it's a half-empty backpack on its way to providing Miles Morales with one of the most textured, loving origin stories in the superhero genre.
The plot is simple. Just kidding … it's not at all. Derived from one of the more complicated Spider-Man storylines of the past decade, Into the Spider-Verse is from the start a "challenging" story to present to non-comics fans. Different versions of Spider-Man—themselves drawn from previous iterations of the character since its creation—find themselves in the same universe, facing your standard, "fix it or that's all she wrote" threat thanks to your not-at-all-friendly neighborhood Kingpin (voiced by Liev Schreiber). All this takes place in the "home" universe of Miles Morales (Shameik Moore), which has its own pretty standard version of Spider-Man (Chris Pine), but early on, Miles encounters the must-have plot-delivery device for would-be wallcrawlers—the radioactive spider—and things quickly become very sticky for young Miles. He's soon joined by an older, paunchier Spider-Man (Jake Johnson), Spider-Gwen (Hailee Steinfeld), manga-nese Peni Parker (Kimiko Glenn), hard-boiled Spider-Man Noir (Nicolas Cage) and, of course, Peter Porker, the Spectacular Spider-Ham (John Mulaney). Plenty of action films with much less complicated plots and fewer characters to juggle have failed, but Into the Spider-Verse spins order from the potential chaos using some comic-inspired narrative devices that seamlessly embed the needed exposition into the story.
Spider-Man: Into the Spider-Verse also provides simultaneous master classes in genre filmmaking. Have you been wondering how best to intersperse humor into a storyline crowded with action and heavy emotional arcs? Start here. Do you need to bring together a diverse collection of characters, nimbly move them (together and separately) from setting to setting and band them together in a way that the audience doesn't question? Take notes. Do you have an outlandish, fantastical concept that you need to communicate to the viewers (and characters) without bogging down the rest of the story? This is one way to do it. Would you like to make an instant contemporary animated classic? Look (and listen).
Ultimately, this particular intensely collaborative endeavor clicks on all cylinders in a manner even the MCU could learn from. As a result, Spider-Man: Into the Spider-Verse vaults into consideration as one the best Spider-Man films ever.
Directors: Bob Persichetti, Peter Ramsey, Rodney Rothman
Writers: Phil Lord, Rodney Rothman (screenplay); Brian Michael Bendis, Sara Pichelli (Miles Morales created by); Steve Ditko, Stan Lee (Spider-Man created by); David Hine, Fabrice Sapolsky (comic characters created by)
Starring: Shameik Moore, Jake Johnson, Hailee Steinfeld, Mahershala Ali, Brian Tyree Henry, Lily Tomlin, Luna Lauren Velez, Zoë Kravitz, John Mulaney
Kimiko Glenn, Nicolas Cage, Kathryn Hahn, Liev Schreiber, Chris Pine
Release Date: December 14, 2018
---
Michael Burgin is the Movies Editor for Paste. He can do very little that a spider can.