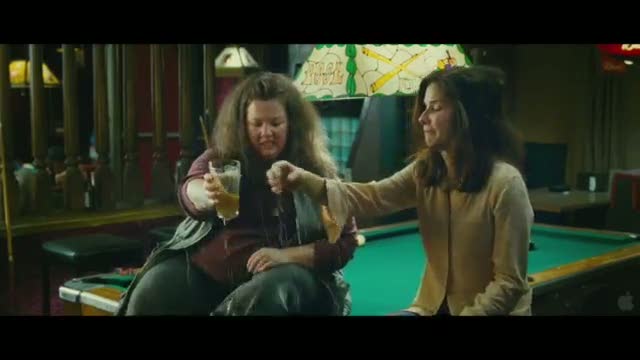 Any discussion of The Heat will likely draw comparison to director Paul Feig's previous film, Bridesmaids—a watershed moment for contemporary Hollywood. It was the first comedy with an all-female lead cast to become a crossover demographic success since perhaps Nine to Five, which came out more than thirty years ago. This is maybe less surprising when you realize that, for whatever reason, there aren't that many made in the first place. You have to truly plumb the depths of IMDB to find the likes of Outrageous Fortune, The First Wives Club and Baby Mama, and let's not kid ourselves into believing Sex and the City has gender-spanning appeal.
Bridesmaids worked so well by treating its characters as people who happen to be women, not the other way around. Which brings us to The Heat, a buddy cop comedy that instead features sketch-comedy caricatures who happen to be women.
Sandra Bullock plays Sarah Ashburn, a straitlaced FBI agent from New York who is great at her job, but pretty much nothing else. Her dedication to the bureau and her arrogance have left her so lonely, the only companionship she enjoys is in stolen moments with a neighbor's cat. On assignment in Boston to track down a drug lord, Ashburn partners up with a local beat cop played by Melissa McCarthy, coming off her own star-making turn in Bridesmaids. McCarthy's Shannon Mullins is like a Beantown force of nature. She curses and threatens anyone in her way, striking fear into criminals and coworkers alike, verbally abusing her superiors so much it's a miracle she hasn't been fired.
Casting Bullock and McCarthy in these roles was a minor stroke of genius. The two are very comedically gifted, and they have a great time working off each other. But the film sometimes leans on the comedy and their improv too much, often sacrificing believability for silly, albeit laugh-out-loud, moments. It's a little hard to buy that someone wouldn't actually know the word "curtains," for example (Mullins calls them "window blankets" or something like that). Or that Mullins's family (including Jane Curtin, Nate Corddry, Bill Burr, and Michael Rapaport) could be so dense as to wonder if Sandra Bullock's Ashburn is actually a dude.
There's plenty to laugh at and enjoy in The Heat, it's just a little disappointing that the script is lightweight and uneven, and any emotional heft is delivered as an afterthought. It's a breezy, low-impact good time that distinguishes itself as a comedy starring two women … by being almost indistinguishable from any other pleasant comedies starring anyone else.
Director: Paul Feig
Writer: Katie Dippold
Starring: Sandra Bullock, Melissa McCarthy, Demián Bichir, Marlon Wayans, Michael Rapaport, Michael McDonald
Release Date: June 28, 2013