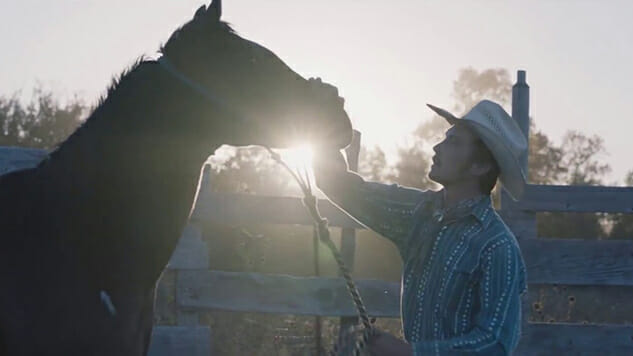 A dream dissipating. The Rider begins with flashes of a horse, in close-up, so intimately observed we immediately abandon all assumptions of symbolism or pretention of deeper meaning. Chloé Zhao's second film invites social commentary and political dissection—it's about the obsolescence of a certain way of life; about the death of toxic masculinity as exigency of a frontiersman's spirit of adventure; about the failure of rural America to embrace an obvious socioeconomic future—but there's nothing clearer, or more devastating, in The Rider than the bond between cowboy and horse.
Said cowboy, and aforementioned dreamer, is Brady Blackburn (Brady Jandreau), a young, lithe South Dakotan rodeo rider still recovering from a head injury during one of his eight-second stints, a blurry accident we re-watch with Brady via YouTube video on his phone. As Zhao follows Brady throughout his morning, waiting in silence for coffee to drip and redressing his impressive head wound and smoking a joint, we gather amidst the silence the bare facts of Brady's world: His single father's (Tim Jandreau) a drunk struggling to take care of Brady and his developmentally disabled sister, Lilly (Lilly Jandreau), a broken man barely stable enough to properly tend to their horse and small plot of land less than four long years after Brady and Lilly's mom died.
Brady hangs out with his friends at dusk, drinking slowly (though he shouldn't) due to the head injury, sitting around a bonfire dropping anecdotes about their good friend Lane (Lane Scott), who's semi-permanently stationed in a local hospital because of a similar rodeo accident that's left him nearly paraplegic, communicating through shaky sign language. Brady's friends wax romantic on the cowboy lifestyle, and in turn Brady promises he'll be back to riding just as soon as he heals up, especially when his friends reminisce about just how amazing Brady once was on the saddle, how magically he could relate to even the wildest stallions. When he tries to quietly introduce his doctor's orders, Brady's friends ignore all protest as the stuff of weaker stock: "ride through the pain," they remind him. That's what a real cowboy does—plenty of examples of why head injuries should be taken seriously at the ready or not.
As a response to these conversations, Zhao follows Brady to the hospital to visit Lane. Together the two watch YouTube videos of Lane in his prime, the cocky, invincible star rodeo rider seemingly unable to fail. Though Brady grins as optimistically as he's able, they both know Lane will never be that person again, and in these visits Zhao witnesses their shared, liminal delusion: They can't let go of the cowboys they'll never be, even as they remember vividly that they were both, among their friends, the two meant for actual stardom. At one point, Lane signs to Brady that his friend is, in fact, giving up the dream—knowing full well that pursuing that dream would undoubtedly mean death for Brady, a possibility not real enough for Lane to resist living vicariously through his friend, who made it out of his accident far luckier.
Zhao met Jandreau while making her first feature length film, Songs My Brothers Taught Me, eventually writing a story around Jandreau's experience, which closely resembles the plot of The Rider. With a cast of non-professionals basically playing themselves, Zhao rarely pushes her actors to too riskily delve into melodrama, or anything, for that matter, that might make them uncomfortable. Instead, in Jandreau and his family, Zhao discovers a beautiful, intuitive sense of calm, which she reflects in long, mournful shots of Dakotan vistas, so unhurried and unhindered by the boundaries of the screen that each interstitial segment—often of Brady contemplating the world before him as he stands, his hip cocked, before a magnificent sunset—feels overwhelming. What cinematographer Joshua James Richards can do with a camera bears the weight of countless filmmakers in thrall to the pregnant possibility of this marvelous continent. Every frame of this film speaks of innumerable lives—passions and failures and tragedies and triumphs—unfolding unfathomably.
While Brady's heart duels interminably with his body, the young man forms a close relationship with two horses, one of which, of course, ends in tragedy, though Zhao effortlessly avoids any cloying goodbyes or stilted melodrama. Rather than force too much meaning on these moments, Zhao simply observes the affection with which Brady treats these animals, his role in this world potentially reflected in theirs. It wouldn't be difficult for Zhao to base emotional beats around, say, the euthanasia of an irreparably injured horse. Rather than leave the drama at that, because shooting horses is really sad, with The Rider Zhao crafts a deeper meditation on purpose, one not buttressed by politics but by unambiguous emotion, exemplified in the quiet moments Brady spends riding, representing nothing but the sensation itself, a sensation Brady lives for. If a horse can't run, Brady explains to Lilly late in the film, then the horse's life isn't worth living. If a cowboy can't "ride through the pain" any longer—then what? There is still so much life left.
Director: Chloé Zhao
Writer: Chloé Zhao
Starring: Brady Jandreau, Lilly Jandreau, Tim Jandreau, Lane Scott
Release Date: April 13, 2018 (select cities); May 11, 2018 (additional cities)
---
Dom Sinacola is Associate Movies Editor at Paste and a Portland-based writer. You can follow him on Twitter.