Here's Our First Look at Nomadland, Chloé Zhao's The Rider Follow-up
The road film stars Frances McDormand as a modern-day nomad traveling the American West
Image via Fox Searchlight
Movies
News
Chloé Zhao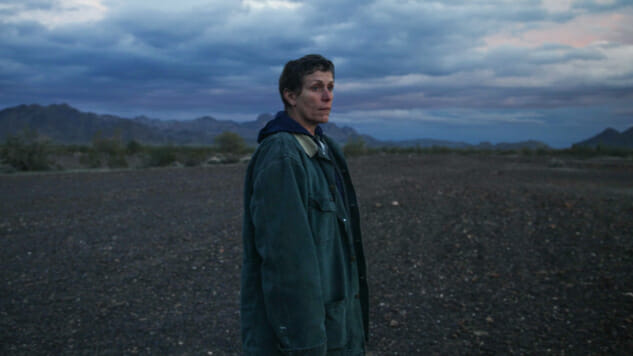 Writer-director Chloé Zhao made one of Paste's top films of 2018 in acclaimed drama The Rider, so we're fired up to get a first look at her follow-up, Nomadland, to which Fox Searchlight Pictures has acquired worldwide rights.
Adapted from Jessica Bruder's Nomadland: Surviving America in the Twenty-First Century, Zhao's third feature film stars Oscar winner Frances McDormand in her first onscreen role since 2017's Three Billboards Outside Ebbing, Missouri (she lent her voice to Wes Anderson's stop-motion animated Isle of Dogs in 2018). David Strathairn, Linda May and Charlene Swankie also star.
A press release describes Nomadland as "a road movie following Fern (McDormand), a woman in her sixties, who, after losing everything in the Great Recession, embarks on a journey through the American West, living as a van-dwelling modern-day nomad." It also points out that Zhao's new film—like The Rider and the Jandreau family before it—features the filmmaker's signature move of using real people in place of professional actors, including the aforementioned May and Swankie.
"As I fell in love with the American west, it was impossible not to become fascinated with the roads that lead to the many adventures beyond the horizon," Zhao said of her new effort in a statement. "I'm very fortunate to be able to hit the road with a talented team and collaborate with a cast of professional and non-professional actors who are deeply giving and inspiring. I can't wait to share their stories and what we've discovered along the way."
Zhao and McDormand produce the Highwayman Films, Hear/Say Productions and Cor Cordium production alongside Peter Spears (Call Me By Your Name), Mollye Asher and Dan Janvey. McDormand and Spears optioned the rights to Bruder's book soon after its publication in 2017.
"We are thrilled to work with visionary filmmaker Chloé Zhao on Nomadland," said Fox Searchlight's Nancy Utley and Stephen Gilula in a statement. "Her unique voice, combined with the extraordinary talent of Frances McDormand, makes it an important and compelling story."
Zhao will next direct Marvel Studios' The Eternals, becoming only the second solo female director in Marvel's history (Cate Shortland will direct a Black Widow standalone), not to mention the MCU's first female director of color.
See two first-look photos from Nomadland below, and find out where The Rider landed on our list of 2018's best films right here. You can read our review of the film here.