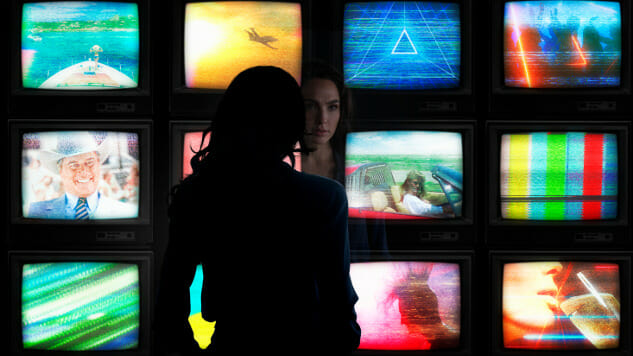 "Everything We Know about … " is Paste's series of deep dives into the forthcoming projects we're most excited about. Explore them all here.
Fans are eagerly anticipating the return of leading lady and DCEU savior Gal Gadot in Wonder Woman 1984, the follow-up to 2017's record-breaking Wonder Woman. Here's everything we know so far about Wonder Woman 1984.
---
Plot
While plot details are still being kept under wraps on Wonder Woman 1984, the official Warner Bros. synopsis is as follows:
Fast forward to the 1980s as Wonder Woman's next big screen adventure finds her facing an all-new foe: The Cheetah.
In addition to the time jump, Wonder Woman 1984 is moving the action from WWI-era London to the contemporary U.S., as Wonder Woman director Patty Jenkins first revealed in an Entertainment Weekly interview, prior to the first film's release:
"The story will take place in the U.S., which I think is right," Jenkins said. "She's Wonder Woman. She's got to come to America. It's time."
Reports followed in July 2017 revealing that the Wonder Woman sequel would be set during the Cold War, with Chris Pine somehow returning as Steve Trevor, who died in the first installment.
Who's Returning?
Unlike departed DC heroes Henry Cavill and Ben Affleck, Gadot will reprise her role as Diana Prince in Wonder Woman 1984, which, as with the first installment, will be directed by Patty Jenkins. Jenkins reportedly secured a record $9 million payday for the forthcoming sequel, the biggest for a woman director in Hollywood history.
While Jenkins' return comes as no surprise to fans of her woman-led vision of Themyscira from the original film, she bucks the all-too-common trend of woman directors being replaced by men in following installments of the franchises that they started. Twilight director Catherine Hardwicke was replaced by three male directors in the following Twilight Saga installments, and Mamma Mia! director Phyllida Lloyd was replaced by Ol Parker in this year's Mamma Mia! Here We Go Again.
More surprisingly, Pine will also make his return as Steve Trevor in Wonder Woman 1984, as confirmed in the first-look photos shared by Jenkins back in June. The character met his presumed death in the WWI-set first installment, but the first photo shows him very much alive, and he looks to have hardly aged a day in the Cold War-set Wonder Woman 1984.
Welcome to WONDER WOMAN 1984, Steve Trevor! #WW84pic.twitter.com/BCLARdVuTu

— Patty Jenkins (@PattyJenks) June 13, 2018
It appears Connie Nielsen will return as Hippolyta, the queen of Themyscira and Diana's mother, joined by Robin Wright, who memorably played Hippolyta's sister Antiope in the first installment (thought she didn't survive it). Wright confirmed that she had shot a flashback sequence for Wonder Woman 1984, along with Nielsen, in an August profile for Net-a-Porter.
Who's New?
In March, it was reported that Kristen Wiig was in talks to play Wonder Woman arch-nemesis Cheetah, and most likely the best-known iteration of the character, British anthropologist Dr. Barbara Ann Minerva. Minerva, introduced during the 1980s run of the Wonder Woman comics by Len Wein and George Perez, gains the powers of the cheetah while on an expedition in the African jungle.
That same month, it was also reported that Narcos star Pedro Pascal had been cast in the film, albeit in a still-undisclosed role. Jenkins, who worked with Pascal on the 2015 TV movie Exposed, welcomed him to the cast on Twitter.
Counting down the minutes until I get to work with the great @PedroPascal1 again. Welcome aboard!!!! Lucky us. https://t.co/vhHUmpF87o

— Patty Jenkins (@PattyJenks) March 29, 2018
The reports on Wiig's role were confirmed in June when Jenkins shared a first-look photo featuring Wiig in civilian wear as archeologist Barbara Minerva. That same month, Wiig left Apple comedy series You Think It, I'll Say It, reportedly due to scheduling conflicts with her Wonder Woman 1984 role.
In July, Jenkins shared a first-look photo featuring a seriously '80s-outfitted Pascal on Twitter, although she still did not disclose his role in the film. The photo's caption, and the fact that it was presented on a TV screen, however, led fans to speculate that Pascal is playing supervillain businessman Maxwell Lord, who in DC lore has the powers of telepathic persuasion.
Can't…Stop… Watching… @PedroPascal1 !!! #WW84pic.twitter.com/6s7YdkGQNL

— Patty Jenkins (@PattyJenks) July 30, 2018
In July, Insecure breakout Natasha Rothwell joined the cast in an undisclosed role, per Deadline. A few days later, Meet the Patels writer-director Ravi Patel and Carrie star Gabriella Wilde joined the cast, both in unknown roles, as Deadline also reported.
Behind the Scenes
Several members of the Wonder Woman team will also make their returns behind the scenes alongside Jenkins in the sequel, as revealed in a Warner Bros. release announcing that principal photography was underway on Wonder Woman 1984 starting back on June 13, 2018. Director of photography Matthew Jensen, Oscar-nominated production designer Aline Bonetto (Amelie), Oscar-winning costume designer Lindy Hemming (Topsy-Turvy) and Oscar-nominated editor Richard Pierson (United 93) are returning for the forthcoming sequel.
Production on the film is taking place in Washington, D.C., Alexandria, Va., and in the U.K., Spain and the Canary Islands.
Charles Roven, Deborah Snyder, Zack Snyder, Jenkins, Stephen Jones and Gadot are producing, with Rebecca Roven Oakley, Richard Suckle, Wesley Coller, Geoff Johns and Walter Hamada serving as executive producers.
In August, composer Hans Zimmer, who scored the first film, confirmed that he would return for Wonder Woman 1984, as announced on his official website.
One person who won't be back, though, is Brett Ratner, whose production company, RatPac-Dune Entertainment, co-produced the 2017 film alongside DC Entertainment, Atlas Entertainment, and Cruel and Unusual Films. In November 2017, star Gadot reportedly threatened not to sign up for the Wonder Woman sequel if Ratner, whom six women had accused of sexual harassment or misconduct in an L.A. Times report earlier that month, was not taken off the film.
In January 2018, the Producers Guild of America (PGA) announced that Wonder Woman 2 would be the first film to be shot with the PGA's Anti-Sexual Harassment Guidelines in place. In April, Warner Bros. chose to let its $450-million contract with RatPac-Dune expire, per L.A. Times reports. The contract ended with Rampage, released that month, and the company is not attached to Wonder Woman 1984, nor to any other forthcoming DC releases.
Release Date
Originally slated for a Dec. 13, 2019, release, which would have put it one week prior to Star Wars: Episode IX,
Wonder Woman 2 was moved up to Nov. 1, 2019, six weeks sooner than initially planned. However, that date would have come less than a full month after DC's own Todd Phillips-directed Joker film, which is currently set to premiere on Oct. 4, 2019.
On Oct. 22, star Gadot announced on Twitter that Wonder Woman 1984 had moved to "its rightful home," June 5, 2020, the same weekend that the first Wonder Woman premiered in 2017. Barring any other rescheduling, that's when we can expect the highly anticipated Wonder Woman 1984 to hit theaters.
Super excited to announce that, thanks to the changing landscape, we are able to put Wonder Woman back to its rightful home. June 5, 2020. Be there or be square!!!

— Gal Gadot (@GalGadot) October 22, 2018
---
Watch this space for further updates on the return of Wonder Woman.