Check Out the First Photos from Patty Jenkins' Wonder Woman 1984
Photos by Clay Enos/ Warner Bros.
Movies
News
wonder woman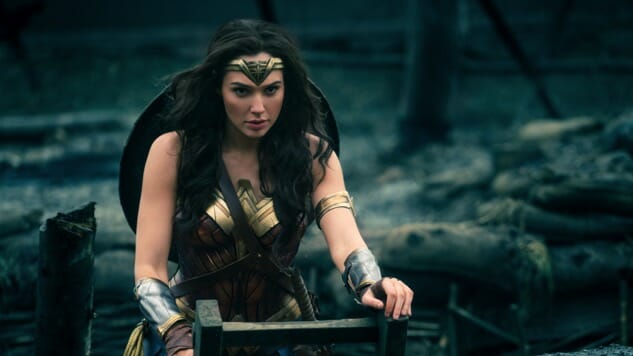 A year ago, Wonder Woman rocked box offices and shifted the superhero narrative. The film's eagerly awaited sequel, arriving Nov. 1, 2019, is still more than a year away, but on Wednesday we were given the first taste of what's to come in the newly titled Wonder Woman 1984, now in production. The first stills from the film reveal a surprising character return.
Leading lady Gal Gadot tweeted a photo of her character, Diana (aka Wonder Woman), followed by a tweet from director Patty Jenkins revealing Diana's love interest Steve Trevor's place in the film. Trevor, played by Chris Pine, seemingly made a departure from the Wonder Woman films in the midst of the first one's turbulent World War I setting, but this tweet confirms recent rumors to the contrary: He's back. Find both tweets below.
Wonder Woman 1984 #WW84pic.twitter.com/aFei1Taqrt

— Gal Gadot (@GalGadot) June 13, 2018
Welcome to WONDER WOMAN 1984, Steve Trevor! #WW84pic.twitter.com/BCLARdVuTu

— Patty Jenkins (@PattyJenks) June 13, 2018
Wonder Woman made more than $822 million at the global box office, making it the first female-helmed superhero movie of this caliber. While it was snubbed at the Oscars, that didn't seem to matter, as its importance for women in film could not be undermined. Warner Bros. announced that Kristen Wiig will star in Wonder Woman 1984 as supervillain Cheetah, so that will be only the greatest thing to ever happen in DC Comics history. Game of Thrones and Narcos star Pedro Pascal will also appear in the film, which will shoot in Washington, D.C., Alexandria, Va., and in the U.K., Spain and the Canary Islands.
There's a lot of Wonder Woman out there to explore while you wait for the next movie. Check out our review of last summer's blockbuster film, and then delve into our list of 20 books to read (and 10 comics) if you loved the movie.