Casting a Wider Net – Marvel's X-Men
If there's any superhero team to push the envelope on when it comes to casting, it's the X-Men.
Movies
Features
X-Men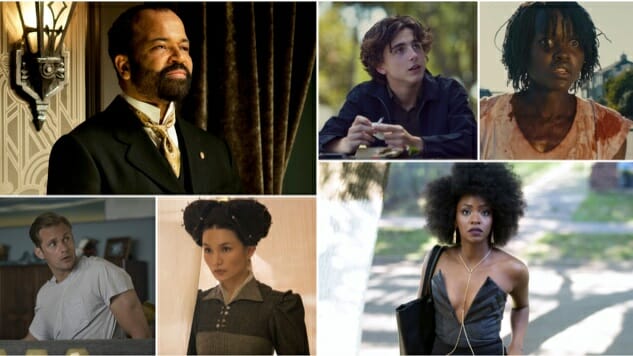 The Hollywood rumor mill is circulating again, and this time the buzz is surrounding Marvel and whether or not they'll give the X-Men the Spider-Man treatment. The addition of Peter Parker, played by Tom Holland, added a youthful exuberance and a level of inexperience to the Marvel Cinematic Universe that broadened the scope of the franchise. The X-Men frequently tackled social justice issues during its original run during the comics. Though the team was made up entirely of white members, the fear society felt at the genetically different mutants mimicked the civil rights and gay rights movements in the 1960s. If Marvel does decide to do a new X-Men series, they'll need to update the stories and expand the casting pool.
Instructors
Jeffrey Wright as Professor Charles Xavier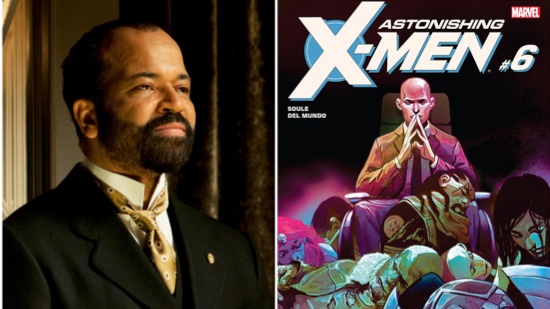 Cover art by Michael del Mundo
Xavier is the strong-willed, gentle-handed, telepathic leader of the X-Men. In previous iterations, both Sir Patrick Stewart and James McAvoy—a Brit and a Scotsman—have brought the New Yorker to glorious life, but a more American professor might better be able to handle a lot of the issues facing American youth, including gun violence, gender dysphoria and the new wave of poverty striking the nation.
Jeffrey Wright has mastered the deep thinking and warm smiling dichotomy of Xavier. His work on Westworld and Boardwalk Empire showcase the range Wright possesses. He can be a powerful manipulator or a dejected lackey. Wright's got the look, too. Goatee or not, bald-headed or not, Wright feels like an all-knowing professor. Placing a Black actor as head of a school for outcasts in New York would allow for more specific conversations around racism in academia.
---
Jake Gyllenhaal as Logan/Wolverine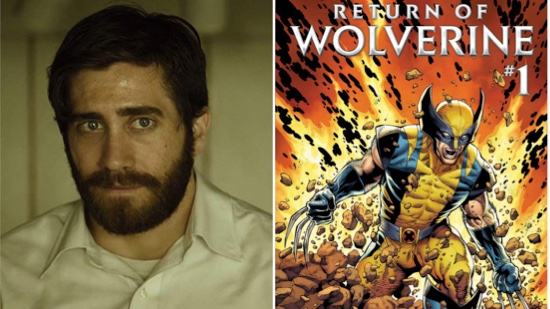 Cover art by Steve McNiven
Character burnout is real. Hugh Jackman is the one actor to stick it out through all of Fox's X-men movies. After the phenomenal execution of Logan, it'll take a top talent to breath new life in the fan favorite, Logan. Thanks to his healing factor, Wolverine's origin stretches back more than a century. He's been a warrior throughout, fighting in World War I, WWII and on CIA secret ops teams. Experimented on and memory-wiped more than your average mutant—and understandably angry and in pain—Wolverine is given a new lease on life when Xavier invites him to join the X-Men.
Jake Gyllenhaal would make the perfect Wolverine. He has the physicality to play the fighter, and the Oscar-nominated actor brings a swath of emotional depth. A hulking, anger-filled-sack of a man, if the movie Logan taught us anything, it's that Wolverine works best when his emotional disparity is at odds with his physical prowess, a fighter who is done fighting. I particularly love when Xavier forces Logan to teach at Xavier's School for Gifted Youngsters. Gyllenhaal would have the opportunity to flex his comedy muscle as the grizzled, put-upon instructor of bratty youth.
---
Upperclassmen
Teyonah Parris as Ororo Munroe (Storm)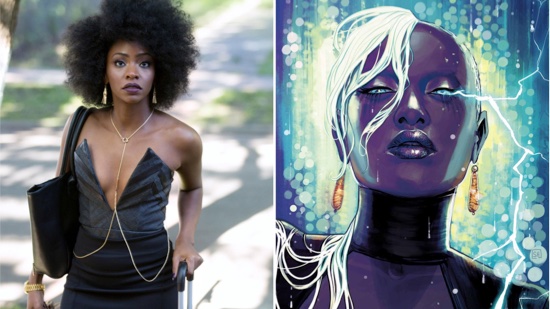 Cover art by Stephanie Hans
If Marvel does release an X-Men series, the first solo movie should be Storm's feature. A queen, a fighter, and briefly the head of the X-Men, Storm has a backlog of incredible stories to tell. Her parents were killed when a plane landed on their house. After being orphaned, Ororo wonders the streets of Cairo as a pickpocket. Then, she escapes to the Serengeti where she learns of her magical powers. While versions of this story have played out on the big screen, none of those capture the majesty of Storm's beginning.
After her stunning turns in Chi-raq and If Beale Street Could Talk, Parris will soon be acting royalty, and there's no doubt Parris can bring the fury required to play a great superhero. But there's also a sense of ethereal royalty to Parris. Shoulders squared, head held high, while thoughtful knowing eyes analyze her opponents, Parris would bring a full woman to Storm. After the last two performers to hold the mantle, authenticity would be a welcome change.
---
Alexander Skarsgård as Scott Summers (Cyclops)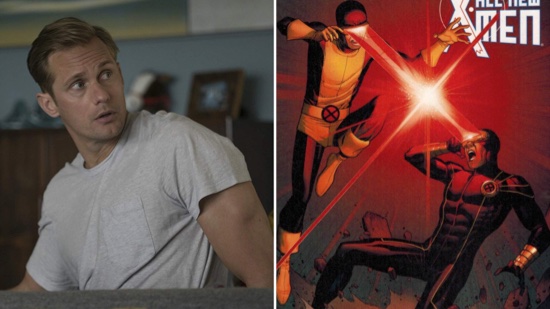 Cover art by Jim Cheung
Scott Summers is the first official member of the X-Men and often perceived to be the heir apparent to Xavier's school and role as headmaster. Orphaned and scared of his powers, Summers is the classic good guy. He always has what's right in his heart, but he often makes decisions based on his emotions instead of his head.
Alexander Skarsgård would make an excellent Scott Summers. The lanky blond fits the physical description of Summers perfectly. In both True Blood and Big Little Lies, Skarsgård plays deeply reflective baddies. He could easily translate that brood-ish behavior to the often heartsick, aspiring leader. It would be nice to see Skarsgård play the good guy for once.
---
Annet Mahendru as Jean Grey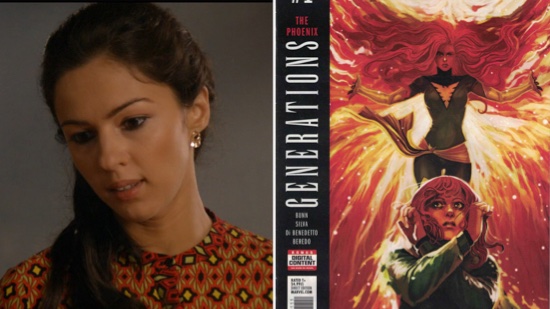 Cover art by Stephanie Hans
You can't cast Scott without immediately thinking about who would play his star-crossed lover, Jean Grey. Jean is complicated. She is usually written one of two ways. The first depicts Jean as the object of desire for Logan and Scott. The second, thanks to the Phoenix Force, makes her out to be the most destructive woman in the known universe (and a mass murderer). Jean is just as interesting when she's trying to figure out if she agrees with Xavier's teachings and exploring the moral quandaries of her incredible powers.
So who better to bring out the brilliance, beauty and moral conundrums of Jean Grey than Annet Mahendru, the covert Russian spy from The Americans and Nafisa Al-Qadi in Tyrant? Mahendru speaks six languages, which will be useful for telepath Jean. (Both Jean and Mahendru have professors for fathers.) Mahendru's powerful on-screen presence would easily enable her to bring the seriousness and the ridiculousness of the Dark Phoenix Saga to the screen.
Rogues
Joanna Kulig as Emma Frost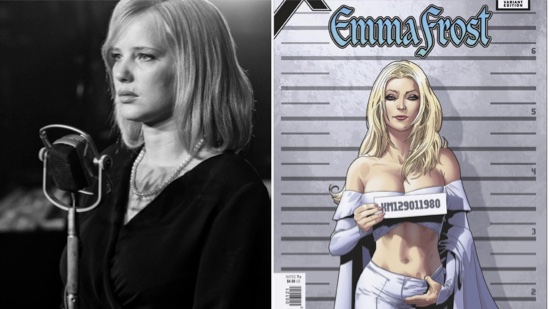 Cover art by Salvador Larroca
Sometimes an X-Men, occasionally an arch nemesis of the team, Emma Frost is generally written as the classic femme fatale. Which is to say, she's sexy, she's deadly, and she's very moody. But there's more to the ice queen than her scanty outfits and cold demeanor. Frost's backstory includes an abusive father, a drug-addled mother, the seduction of a teacher, blackmailing of her father, taking on the mob to protect a boyfriend, murdering the heads of a secret society, and protecting mutant kind.
In her films Ida and Cold War, Joanna Kulig is basically Emma Frost. Learning terrible family secrets, able to surmise the thoughts of her lovers, and weaving her way in and out of fascist states. Her fiery blue eyes stop men in their tracks, but beneath the steel surface she's breaking down. With her blond, almost white hair, Kulig has the ability to convey a wealth of emotions in a single look. I'd love to see Emma Frost as queen of the Hellfire Club, playing second fiddle to no one.
---
Gemma Chan as Mystique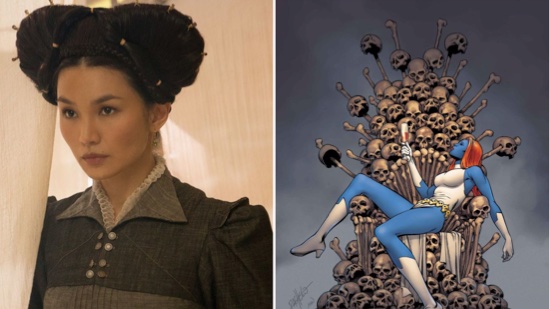 Cover art by Carlos Pacheco
Mystique is a sultry shapeshifter who plays no one's game but her own. Like many of the women on this list, Mystique is often portrayed as a sexual conquest for members of the X-Men. Her terrible childhood has made her moody and unapproachable, but Mystique is also a mother. She gives birth to Nightcrawler but has to abandon him when she's hunted down. Later, she becomes a surrogate mother to a young Rogue. A horror film exploring motherhood à la The Babadook, Alien, and Mother but featuring Mystique would be dope!
Gemma Chan is mostly known for her dramatic roles. In Crazy Rich Asians she's a gorgeous, fabulously wealthy woman married to an insecure, but insanely hot man. In Humans, Chan plays Anita, a humanoid robot, and balances emotional vacancy and awakening with eerie accuracy. Her motherly nature, striking beauty and piercing stare makes her the perfect casting choice for the blue mutant.
---
Lupita Nyong'o as Magneto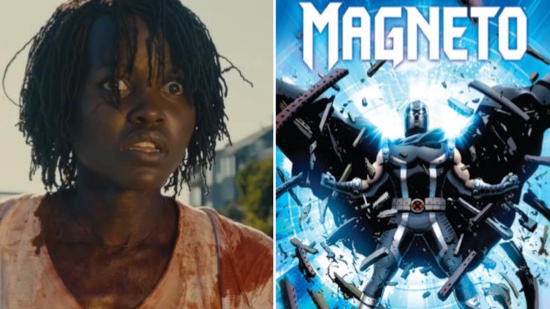 Cover art by John Cassaday
Magneto is one of my favorite characters. Having survived the holocaust and losing his family, Magneto can no longer believe that good will win out. He fights for his people, and is unwilling to consider the lives of humans, when mutant lives are at stake. After escaping the clutches of the Nazi's once, he is recaptured and sent to Auschwitz where he's forced to bury the bodies of those murdered in the gas chambers. These atrocities shape the way he sees the world, how he manages his team, and all of his personal relationships.
Magneto is the most visible and used villain in the X-Men canon. While I don't want to erase a character so steeped in important cultural history, I couldn't help but wonder what it would be like to place a woman in the role—particularly, a woman who was a child soldier. Themes of lack of education, sexual assault and mass murder which affect millions all over the world could be brought to the forefront of the X-Men franchise. The team was originally designed to explore the themes surrounding the civil rights movement. Today, the world's eye is on abused children. A hero, unwilling to compromise when it comes to the safety of survivors like her would be inspirational and hard hitting.
---
Freshman
Timothée Chalamet as Nightcrawler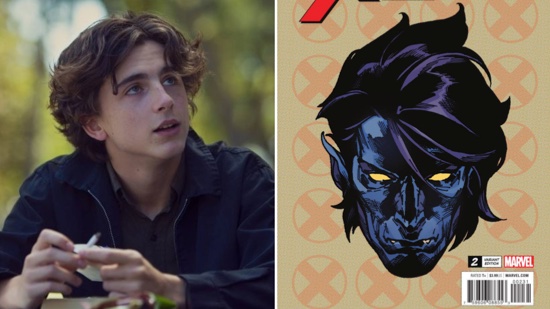 Cover art by Mike McKone
Despite being dumped in a well by his mother and raised by his father's sorceress mistress in a Bavarian circus, Nightcrawler is miraculously one of the happiest people on the team. He's always ready with a helpful hand. Bamfing in and out of rooms, some find his silver linings approach to life annoying. Others appreciate that not every one of the X-Men is a Debbie Downer.
Timothée Chalamet, with his perfect cheekbones, sunny disposition, and capacity for accents could more than handle the role. Nightcrawler will require either a convincing stunt double or a hardworking Chalamet to get in gymnast level shape. In his past work on Call Me By Your Name and Beautiful Boy, Chalamet's warmth radiates off the screen and makes the audience sympathetic to his plight. Swinging from circus tragedy movie to buddy adventure film, an origin story for Nightcrawler would be a wild way to enter the X-Men franchise.
---
Maisie Williams as Rogue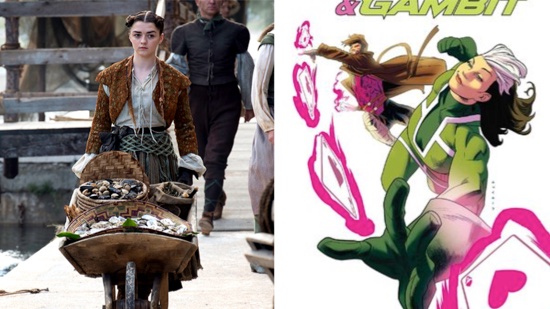 Cover art by Kris Anka
Rogue has a thick Mississippi accent, perfect hair and a deadly touch. The punk queen has been a fan favorite dating back to the 1992 cartoon series, X-Men: The Animated Series. Rogue's early years with Mystique would make for an amazing Leon the Professional update. The two would be spies and assassins patrolling the globe before being recruited by the Brotherhood of Evil. Eventually, Rogue realizes she doesn't want to be a terrorist and switches sides. On the X-Men, she's the teen with a dark past and a terrible secret.
Maisie Williams is just as popular with Game of Thrones fans as Rogue is popular with X-Men fans. Yes, perhaps asking the young British actress to perfect the deep drawl of the Mississippi Delta is a tall order. But, she's Aria Stark. I want to believe she is capable. Stunts won't be a problem. Attitude, she's got it to spare. Williams would bring out the devil may care attitude and kick-ass abilities of Rogue.
---
Joelle Monique is a Rotten Tomatoes-certified critic. A graduate of Columbia College Chicago, her passions include movies that sit at intersectional crossroads and high stakes drama TV. You can find additional work at Pajiba and follow her on Twitter.