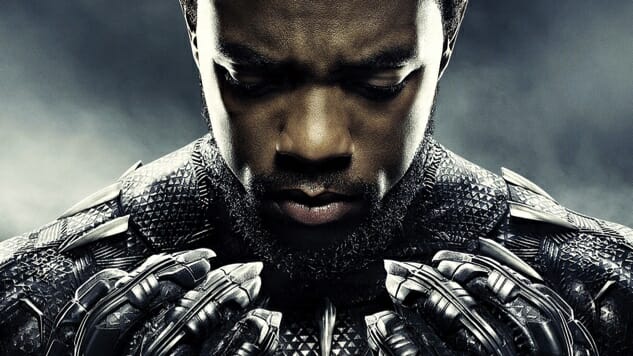 Comcast has recently improved their on-demand streaming rental service with better ease of use and an updated selection. You can now rent movies from $3.99 to $5.99 on your TV, computer or mobile device.
We've picked our 30 favorite movies available to rent (not buy) right now on Xfinity.
You can also check out our guides to the best movies on Netflix, Amazon Prime, HBO, Hulu, Showtime and in theaters. Or visit all our Paste Movie Guides.
Here are the 30 best movies available to rent with Comcast's Xfinity Stream: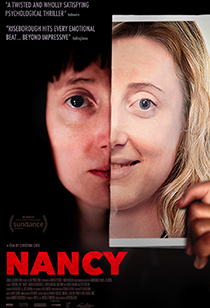 30. Nancy
Year: 2018
Director: Christina Choe
What's the value of identity in a culture that allows us to manipulate identity so easily? Nancy, the first feature by Christina Choe, quietly suggests that typical signifiers for identity—names and histories—matter less, perhaps, than character. Online, and even in person, you can change details of your backstory, but you can't change your stripes. The film, like its protagonist, and like the actress who plays her (Andrea Riseborough), is slippery in intention and in meaning. What you take out of it likely equals what you bring into it. Is Nancy, a compulsive liar who concocts fake vacations and fake pregnancies to marry with her many pseudonyms, a victimizer or a victim of her isolated circumstances? Is she just lonely, or is she much worse than that, willfully and remorselessly deceitful? You'll ask as many questions about Nancy as you will about Riseborough, not so much a chameleonic actress as an ineffable changeling, but the questions are essential to Choe's exercise. Whatever one thinks of her lead, her film's hypnotic, tragic power is undeniable, its grip inescapable. —Andy Crump
---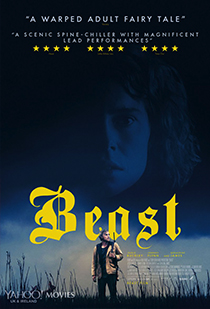 29. Beast
Year: 2018
Director: Michael Pearce
From the start of Beast, Michael Pearce's excellent feature debut, his protagonist Moll (Jessie Buckley) reads as a teen in arrested development—eventually we realize she's a tigress living like a gazelle. Everyone preys on Moll's perceived weakness by either pushing her around or simply ignoring her. Her mother, Hillary (Geraldine James), is both domineering and condescending toward her. Her older sister, Polly (Shannon Tarbet), takes Moll's birthday party as an opportunity to announce she's expecting twins. The ostensible lead in her own life, Moll is constantly outshone by her supporting cast. Rather than demand the respect she's due, though, she meekly holds her peace. Then she meets Pascal (Johnny Flynn) and everything changes. Theirs isn't a meet-cute. It's more of a meet-brute, Pascal playing her scruffy knight in tarnished armor, rescuing her from a date veering rapidly into ugly territory in yet another example of the world taking advantage of Moll's exterior innocence. He might also be a murderer. The question Beast puts to us is: Does Moll give a damn? Maybe there's a monster taking up real estate in her heart, a crueler self that's lived in her since her school days. Or maybe depriving a person of compassion and validation for half their existence enforces rather than erases their darkness. —Andy Crump / Full Review
---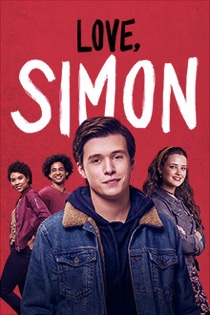 28. Love, Simon
Year: 2018
Director: Greg Berlanti
Love, Simon is the latest entry in the fairly minuscule collection of movies geared towards young LGBTQ people, but it's in how main character Simon (Nick Robinson) self-actualizes which seems to establish the film firmly in the present. The ironies of Simon's very liberal family, accepting friends, etc. are no match for deeply rooted anxiety and a proclivity to want to create some sort of identity online, a version of himself only he and one other, his anonymous pen pal Blue, can know. Love, Simon is not the first queer teen movie (though it's being touted as if it is), and it's not even the first queer film to explore digital identities, but the film is nonetheless of interest because of the way that it uses digital spaces to project who Simon wants to be and and what Simon wants gay desire to look like. Simon, brusquely masc-performing and part of a dream middle class family, can exist as an ostensibly more honest version of himself in the digital realm, while writing to an anonymous person named Blue, whom he found by way of a "confessions"-like blog. Love, Simon's connection to You've Got Mail is crucial because of how it articulates the line between artifice and authenticity: Simon, and Blue for that matter, are no less honest for carving out an identity online in which they feel safe enough to reveal an "authentic" part of themselves. The internet has evolved rapidly since Nora Ephron's film, but the same rules apply. Love, Simon is one of a few very recent queer films that has its protagonist use the internet to imagine who they could be, or who they think they should be. For Simon and Blue, an email thread can be the queer space they need to explore what "being yourself" really means. —Kyle Turner
---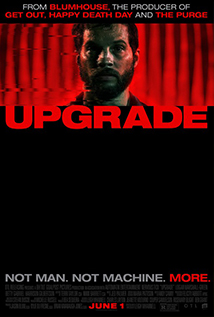 27. Upgrade
Year: 2018
Director: Leigh Whannell
Lovers of high-concept, b-movie sci-fi cinema would have been perfectly content were Upgrade not much more than a narratively streamlined, giddily hyper-violent vigilante revenge fantasy, sort of a Death Wish: Cyberpunk Edition. However, Upgrade is also sophisticated enough to leave the audience with some intriguing questions about how much power we can give artificial intelligence before it decides that we're a nuisance, taking full control. Of course, the premise of AI as existential threat is the bedrock for plenty of science fiction, with the most recent example in Alex Garland's great Ex Machina. With Upgrade, we get a Cliff's Notes version of this concept, examined in an understandably superficial but original way, and we get to watch a bad guy's head split in half. That's the textbook definition of a win-win. Writer/director Leigh Whannell has proven to be an efficient genre storyteller, having been the Bernie Taupin to James Wan's Elton John, writing for Wan's Saw and Insidious franchises, even directing the third Insidious. Here, he pushes the limits of his hard-R confines when it comes to painting the walls with the gooey crimson stuff. As the writer of three Saw movies, Whannell spent a good chunk of his professional life coming up with increasingly messed up ways to off people, and he demonstrates that expertise here. It's always fun to see an action flick with full-blown horror gore, especially when said gore is achieved through practical effects and top-notch choreography. With Upgrade, he confirms he's a formidable voice in modern b-movies. —Oktay Ege Kozak / Full Review
---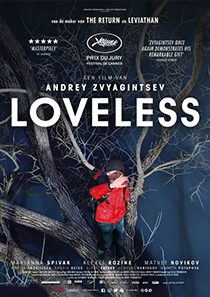 26. Loveless
Year: 2017
Director: Andrey Zvyagintsev
Often, it makes sense for a filmmaker to present his political commentary with a light touch, letting his story's inherent drama speak louder than his talking points. Other times, the sledgehammer approach has significant benefits. Russian director Andrey Zvyagintsev, whose last film was the Oscar-nominated Leviathan, has crafted a slow-burn moral drama that starts off as the portrait of a loveless marriage and the unhappiness it spawns in the form of a distraught 12-year-old child. But as Loveless rolls along, its scope widens, becoming a blistering commentary on the callous society that Zvyagintsev sees around him. What's the point of subtlety when your argument is this persuasive and this angry? Much in the style of his stripped-down 2011 drama Elena, Loveless is all perfectly composed, slightly icy images and tightly drawn characters, the plot only gradually asserting itself. Zhenya (Maryana Spivak) and Boris (Alexey Rozin) count down the days until their divorce—barely able to live under the same roof, they both have lovers on the side, and neither seems particularly concerned what will become of their boy Alyosha (Matvey Novikov) once they separate. It's not that they dislike Alyosha—it's just that he's a daily, physical reminder of a hateful marriage they rushed into once Zhenya got pregnant. Then a quiver of dread enters into the picture: They learn that Alyosha—who, come to think of it, has disappeared from Loveless over the past hour—hasn't been at school the last two days. Zhenya and Boris are concerned about his whereabouts, but there's a strange remove in their reactions. Yes, they're upset—but they're not as upset as one might expect parents to be. But one of Loveless' great strengths is how it cannily withholds clear emotional involvement with its characters—only to set us up for one blindsiding salvo at the end. When the film concludes, you may find yourself wanting to watch it again to fully absorb the journey Zvyagintsev took you on. And because Loveless is so accomplished, the repeat viewing promises to be deeply rewarding. —Tim Grierson / Full Review
---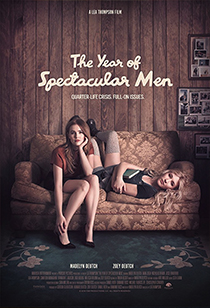 25. The Year of Spectacular Men
Year: 2018
Director: Lea Thompson
"Bubbly, clear-eyed sex comedy" is the last pitch a studio would expect from a writer shopping around a movie about depression, but The Year of Spectacular Men has a nifty hook: It's a family affair, authored by and starring Madelyn Deutch, co-starring her younger sister Zoey and directed by their mom, Lea Thompson, focusing her daughters' raucous sibling banter through paralytic sadness. Family is all about taking the bad with the good, the giddy, wisecracking banter and sororal love with the behavioral health troubles and personal tragedy. Paying for the lows alongside the highs feels like a bargain. Madelyn plays Izzy, older sister to Sabrina (Zoey), the adult children of Deb (Thompson). Their story isn't totally unhappy. Sabrina is hitting her career stride and passionately committed to her boyfriend, Sebastian (Avan Jogia), while Deb has found love with a much younger woman, Amythyst (Melissa Bolona), years after the death of the girls' father. Madelyn, in contrast to Sabrina and Deb, flounders, scraping through college by the skin of her teeth and exiting her relationship with her boyfriend Aaron (Jesse Bradford) by falling flat on her ass. The Year of Spectacular Men is a film about imperfection and the beauty of failure. It'd be a stretch to say the Deutch sisters and Thompson embrace or advocate for failure, but more that they, and the movie they've made, understand that nobody knows who they are, where they're going, or what they want out of life when they're in their 20s, newly sprung from an upbringing predominantly spent in school. Narratives about the world's Izzys tend to look at them unflatteringly, writing them off as brats or know-nothings, or generally treating them like disposable punchlines. The Year of Spectacular Men wants us to laugh at her, no doubt about that, but as the film builds we realize we're laughing with her. —Andy Crump / Full Review
---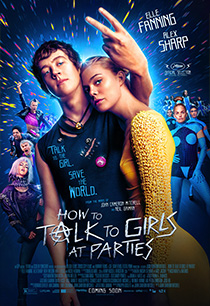 24. How to Talk to Girls at Parties
Year: 2018
Director: John Cameron Mitchell
How to Talk to Girls at Parties is a deliciously bizarre and refreshingly unique experience that manages to not only successfully meld two completely opposite tones—punk and whimsy—but to wrap them up into an exhilarating narrative that infuses a familiar sci-fi/comedy/romance structure with a host of surprises that even the most hardened genre scholar will appreciate. Written by Mitchell and Philippa Goslett, and adapted from Neil Gaiman's short story, the film spends a major chunk of the first act as a slice-of-life period dramedy about the punk scene in 1977's Croydon—a fairly bland working class suburb of London, crammed with blocky and gray housing projects—as told through the eyes of three teenagers trying desperately to get laid. The gang's leader, Enn (Alex Sharp), is an introverted romantic with a hardened wannabe exterior. After striking out at the local dive, Enn drags his two best buds, John (Ethan Lawrence) and Vic (Abraham Lewis), to a mysterious house party that can only be described as an unholy marriage between tight leather gimp-based BDSM performance art and a new age hippie cult. While John embraces the lunacy and Vic receives a literally out-of-this-world experience that scrambles his confused sexual identity even further, Enn strikes an immediate connection with Zan (Elle Fanning), an odd girl who seems to be uber-excited about experiencing life through Enn's eyes for some reason. As the surface narrative becomes crazier and more unhinged, Mitchell stays focused on the film's many astute themes, yet the true glue that holds this glorious insanity together is the airtight chemistry between Sharp and Fanning. With a wall-to-wall punk soundtrack and a delightfully psychedelic visual aesthetic, How to Talk to Girls at Parties is catnip for those yearning for a truly unusual experience. —Oktay Ege Kozak / Full Review
---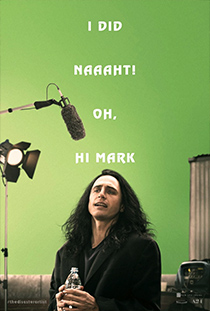 23. The Disaster Artist
Year: 2017
Director: James Franco
To tackle the ineffable mystery of Tommy Wiseau's consciousness is to understand the mind of a crocodile, or of a shark, or of a space alien. I wouldn't even know where to start. Which is precisely what makes James Franco's portrayal of Wiseau in The Disaster Artist such an impressive and triumphant one. Franco has physically transformed into Wiseau in the same manner that usually draws praise for an actor such as Daniel Day Lewis: not necessarily via hair or makeup, but in a way that is more primal and intimate. Every odd little tic, every awkward laugh, each inexplicable grimace—the gestures all shine through as genuine to anyone who has seen The Room, or even an interview with Wiseau. The portrayal is a huge part of what makes The Disaster Artist so compelling and just plain fun. You could make a good argument that this is the greatest role of Franco's career. And even if The Disaster Artist reads like it's positioning for a shot at year-end honors and the largest possible audience, fans of The Room will ultimately get far more from the experience than the average multiplex dweller. It's a film to see with an audience familiar with what it's about to see, with people who can appreciate the dedication with which Franco and co. have recreated so many of the original film's woeful charm. —Jim Vorel / Full Review
---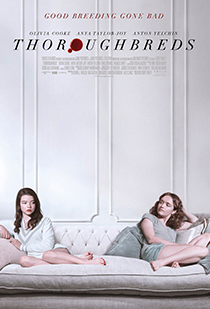 22. Thoroughbreds
Year: 2018
Director: Cory Finley
The line separating thrillers and horror films is razor thin. In the case of Cory Finley's feature debut, Thoroughbreds, the former fits more suitably than the latter, but to take a page from Potter Stewart, I know horror when I see it, and Thoroughbreds toes that line with macabre confidence. The film isn't particularly frightening, but makes up for that with suspense to harrow the soul. Thoroughbreds rattles us by pitting posh cultivation against human nihilism: When you're scared, you tend to be scared in the moment. When you're rattled, there's no telling how long you'll stay that way. That's Thoroughbreds in a nutshell: A sobering, beautiful movie that'll haunt you for weeks after watching it. Lily (horror queen ascendant Anya Taylor-Joy) is the epitome of high breeding: Impeccably dressed and made up, unflappably well-mannered, academically accomplished with a bright future ahead of her. Amanda (Olivia Cooke) is her polar opposite, a social outcast, friend to no one, possessed of a barbed tongue and a caustic temperament. They're childhood chums who became estranged from one another over years, an everyday occurrence spurred by an incident involving Amanda's family horse and an act of casual butchery. That all happens in the film's past tense. In its present tense, the girls reconnect, Lily acting as Amanda's tutor, and as they do the latter begins to rub off on the former and draw out her dark side. Lily and Amanda's grim candor is couched in limited settings, primarily the grand house Lily lives in with her stepdad Mark (Paul Sparks) and her mother, but Thoroughbreds' sense of confinement is a necessary component for its success as genre. Finley creates a space from which they can both break out, a gorgeous veneer akin to limbo. Within reason we can't blame them for wanting to escape. Finley does a lot with very little apart from the raw talent of his leads. If this is what he's capable of as a first-timer, we should rightfully dread his follow-up. —Andy Crump / Full Review
---
21. The Killing of a Sacred Deer
Director: Yorgos Lanthimos
In the uncanny valley of a Yorgos Lanthimos film, characters resemble human beings…but not entirely. In movies such as Dogtooth and The Lobster, the Greek writer-director has become a maestro of the queasy/funny horror-comedy, turning our universal anxieties into psychologically rich satires in which life's mundane surfaces give way to dark, often bloody realities we don't want to acknowledge. His movies are funny because they're so shocking and disturbing because they're so true. But for them to really soar, their provocations need to be grounded in recognizable behavior, which gives Lanthimos a foundation to then stretch his extreme stories past their breaking point. With his latest, we see what happens when his underlying ideas are not as complex as the intricacies of his execution. The Killing of a Sacred Deer reunites Lanthimos with his Lobster star Colin Farrell, who plays Steven, a cardiologist, who's married to an ophthalmologist, Anna (Nicole Kidman). They have two children, teen Kim (Raffey Cassidy) and her younger brother Bob (Sunny Suljic). It would be hard to describe their personalities because, in typical Lanthimos fashion, they don't really have any. Quickly, Sacred Deer introduces us to the fly in this particular ointment. His name is Martin (Barry Keoghan), a moody teen who seems as lobotomized as the other characters. There's one crucial difference, though: He has befriended Steven for reasons that feel sinister but will only eventually become clear, and he keeps insinuating himself into the man's world. It wouldn't be much fun to reveal where Sacred Deer goes from there, but Sacred Deer may be Lanthimos's most visually and sonically ambitious work—technically, it's pristine—clever without ever quite deciding precisely what it's about. —Tim Grierson / Full Review
---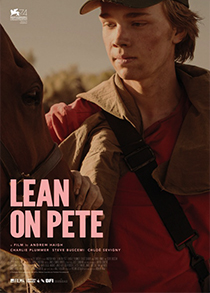 20. Lean on Pete
Year: 2018
Director: Andrew Haigh
Lean on Pete flows with such gentle beauty that it may be hard to grasp precisely what it's about or where it's going. But the power of writer-director Andrew Haigh's sublime drama is that it can support myriad interpretations while remaining teasingly mysterious—like its main character, it's always just a bit out of reach, constantly enticing us to look closer. Based on Willy Vlautin's 2010 novel, the movie is a smashing introduction to Charlie Plummer, who was the kidnapped John Paul Getty III in last year's All the Money in the World. Here, he plays Charley Thompson, a 15-year-old living with his drinking, backslapping dad (Travis Fimmel) in Portland. Charley has a sweet face and a soft-spoken manner—when he talks, the last few words evaporate into the air, as if he's too shy to even be bold enough to enunciate—but early on, we get a sense that there's a craftiness underneath that demeanor. The first indication is his willingness to lie about his age to Del (Steve Buscemi), a craggy horse owner who reluctantly takes him on as a caretaker for his elderly racehorse Lean on Pete. Charley doesn't know a thing about horses, but he's anxious to find something to do now that he's in a new town with his father, their reasons for leaving Spokane unspecified but clearly dispiriting. Familiar narrative tropes emerge in Lean on Pete: the boy-and-his-dog drama, the coming-of-age story, the father-and-son character piece, the road movie. Haigh breezes past them all, seeking something more elliptical in this deceptively slim story. With the patience and minimalist command of a Kelly Reichardt, he doesn't dictate where his film goes, seemingly letting Charley's restlessness call the shots. The boy's journey gathers force and poignancy as it moves forward, and the more we understand about Charley the more unknowable he becomes. Along the way, we meet other people and see other worlds—the life of young military veterans, the reality of homelessness, the grind of the low-rent racing circuit—but Haigh views it all with the same unassuming compassion we see in Charley's quiet eyes. —Tim Grierson / Full Review
---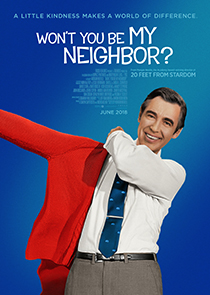 19. Won't You Be My Neighbor
Year: 2018
Director: Morgan Neville
Morgan Neville's winning portrait Won't You Be My Neighbor? withholds darkness. Which makes sense since the Oscar-winning director of 20 Feet From Stardom has turned his attention to Fred Rogers, a kindly TV personality who entertained a couple generations of kids with his benign PBS program Mister Rogers' Neighborhood. Rogers died in 2003 at the age of 74, and this year marks the 50th anniversary of his landmark show, so expect plenty of tributes over the next several months. Appropriately, as an official chronicling of the man's life and legacy, Won't You Be My Neighbor? isn't remotely innovative. We get polished interviews from colleagues, family members and Rogers' widow. There are plenty of clips from his show, as well as other archival material. There's a gimmick-y recurring use of animation to illustrate parts of his story that's the only truly cloying element of a film that mostly eschews mawkishness. And yet, Won't You Be My Neighbor? is a stunningly moving film that also feels just the teensiest bit radical. That word will be used a lot during this golden anniversary for Mister Rogers' Neighborhood, as his fans remind everyone that, rather than starring a smiling square who couldn't have looked less manly, the show was actually a pretty progressive program that frankly discussed everything from race relations to John F. Kennedy's assassination. Neville accentuates Rogers' unembarrassed sweetness as an example of his principled stand against bigotry and injustice, making the case with conviction and gusto.
At my True/False screening, the audience was warned before Won't You Be My Neighbor? that we ought to have Kleenex in hand to prepare for what we were going to experience. I'm an unashamed movie crier, but I resent being prepped for how I should feel about a movie I'm about to see. And yet, the warning was warranted: The tears elicited from Won't You Be My Neighbor? are a testament to Neville's tasteful, loving (but not fawning) depiction of a decent, unassuming man. The movie's not just a balm in the age of Trump—it's an opportunity for viewers to reconnect with their own decency, and Neville's gentle skill at arguing for goodness ends up being a minor miracle. —Tim Grierson
---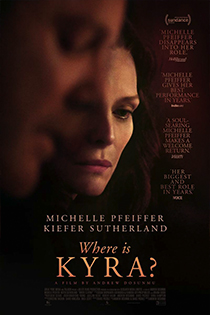 18. Where Is Kyra?
Year: 2018
Director: Andrew Dosunmu
Kyra (Michelle Pfeiffer) has almost nothing left except for her mother. Back living at home in New York with no job and only the social security checks her mother lets her cash, everything is falling apart, Kyra herself falling into darker and darker recesses of her mind. Nigerian photographer and filmmaker Andrew Dosunmu spins Where Is Kyra? as not only a treatise against an oppressive capitalist system—much of the film is spent watching as Kyra schleps from one business to another in search of work nowhere to be found—but as a horror film about depression and, ultimately, possession. Dosunmu's spaces are dark, clammy and claustrophobic, transforming both the apartment Kyra and her mother live in and Brooklyn itself into haunted houses, barren of joy and containing little else but ghosts and the distant remnants of possibility. With cinematography from Bradford Young, Kyra's life is shrouded in blacks, greys and navys, Kyra sometimes barely discernible in the faint light. The worst parts of Kyra's mother, and the worse parts of herself—deviousness, alcoholism, codependency—consume her entire identity, propelling her to do what financially stable people would consider unthinkable. Where is Kyra? may, in fact, be a monster movie: The unseen creature in the dark is poverty, caused by an unjust system, unseen and menacing. —Kyle Turner
---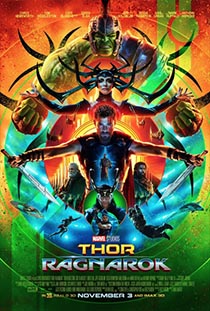 17. Thor: Ragnarok
Year: 2017
Director: Taika Waititi
Sixteen films and nearly a decade into the MCU—and in the midst of a renaissance/deluge of superhero movies in general—it's not unusual to encounter some grumbling about both Marvel Studios and even the genre itself. You'll find plenty of folks who bemoan its formulaic approach to plotlines, the overall weakness of its villains and lack of female heroes getting their due. Starting with Edgar Wright's departure from Ant-Man, there was also the rapidly accepted conventional wisdom that Marvel Studios was not the place for any director wishing to put his or her stamp on a franchise. Then along comes Thor: Ragnarok. The third film in the arguably least-loved franchise of Kevin Feige and company's box office-melting enterprise, it's also the liveliest, funniest and "loosest" film of the bunch (and that includes Guardians of the Galaxy Vol. 2). Much, if not all of this can be credited to director Taika Waititi, who seems determined to mine every ounce of comedy—be it physical, situational or conversational—from a tale that's both rollicking buddy movie and retelling of the least uplifting tale in all of Norse mythos. Given the source material and the director's track record, I'm not surprised there was plenty of ammo for Waititi or how well he used it—I'm just shocked and delighted he was allowed to use it in the first place. —Michael Burgin / Full Review
---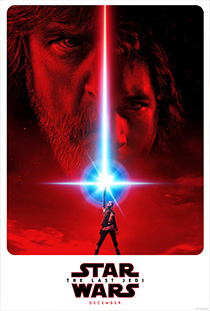 16. Star Wars: The Last Jedi
Year: 2017
Director: Rian Johnson
The Last Jedi, unlike its predecessor, has the freedom to be daring, and perhaps the most thrilling thing about it—and there are many, many thrilling things—is how abundantly it takes advantage of that freedom. If The Force Awakens was basically just Star Wars told again in a new, but familiar way, The Last Jedi challenges the audience, challenges the Star Wars mythos, even challenges the whole damned series itself. It blows the universe up to rebuild it; it is a continuation and a new beginning. And more than anything else, it goes places no Star Wars film has ever dreamed of going. In a way, the success J.J. Abrams had with The Force Awakens, particularly how decidedly fan-servicey it was, laid the groundwork for what The Last Jedi is able to pull off. That movie reminded you how much power and primal force this series still had. This movie is an even more impressive magic trick: It uses that power and force to connect you to something larger. Not everything in The Last Jedi works perfectly, but even its few missteps are all founded in the desire for something new, to take risks, to push an American myth into uncomfortable new directions. —Will Leitch / Full Review
---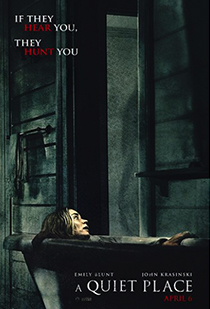 15. A Quiet Place
Year: 2018
Director: John Krasinski
A Quiet Place's narrative hook is a killer—ingenious, ruthless—and it holds you in its sway for the entirety of this 95-minute thriller. That hook is so clever that, although this is a horror movie, I sometimes laughed as much as I tensed up, just because I admired the sheer pleasure of its execution. The film is set not too far in the future, out somewhere in rural America. Krasinski plays Lee Abbott, a married father of two. (It used to be three.) A Quiet Place introduces its conceit with confidence, letting us piece together the terrible events that have occurred. At some point not too long ago, a vicious pack of aliens invaded Earth. The creatures are savagely violent but sightless, attacking their prey through their superior hearing. And so Lee and his family—including wife Evelyn (Emily Blunt) and children Regan (Millicent Simmonds) and Marcus (Noah Jupe)—have learned that, to stay alive, they must be completely silent. Speaking largely through sign language, which the family knew already because Regan is deaf, Lee and his clan have adapted to their bleak, terrifying new circumstance, always vigilant to ensure these menacing critters don't carve them up into little pieces. As you might expect, A Quiet Place finds plenty of opportunities for the Abbotts to make sound—usually accidentally—and then gives the audience a series of shocks as the family tries to outsmart the aliens. As with a lot of post-apocalyptic dramas, Krasinski's third film as a director derives plenty of jolts from the laying out of its unsettling reality. The introduction of needing to be silent, the discovery of what the aliens look like, and the presentation of the ecosystem that has developed since their arrival is all fascinating, but the risk with such films is that, eventually, we'll grow accustomed to the conceit and get restless. Krasinski and his writers sidestep the problem not just by keeping A Quiet Place short but by concocting enough variations on "Seriously, don't make a noise" that we stay sucked into the storytelling. Nothing in his previous work could prepare viewers for the precision of A Quiet Place's horror. —Tim Grierson / Full Review
---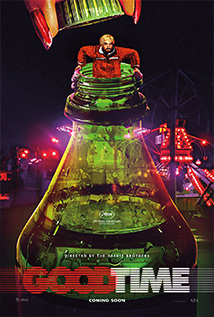 14. Good Time
Year: 2017
Directors: Josh and Benny Safdie
The hero of Good Time is one of the canniest individuals in recent cinema, which might seem like an odd thing to say about a scummy lowlife who screws up a bank heist in the film's opening reels. But don't underestimate Connie: Several of the people who cross his path make that mistake, and he gets the better of them every time. Connie is played by Robert Pattinson in a performance so locked-in from the first second that it shoots off an electric spark from the actor to the audience: Just sit back, he seems to be telling us. I've got this under control. The financially strapped character lives in Queens, unhappy that his mentally challenged brother Nick (Benny Safdie) is cooped up in a facility that, Connie believes, doesn't do enough to help him. Impulsively, Connie strong-arms Nick into helping him rob a bank. They make off with thousands of dollars, but what they don't realize is that they live in the real world, not a movie. A paint bomb goes off in their bag, staining the money and the criminals' clothes. Shaken and trying not to panic, Connie and Nick abandon their getaway car, quickly raising the suspicion of some nearby cops, who chase down Nick. Connie escapes, determined to get his brother out of jail—either through bail money or other means. As Connie, Pattinson is shockingly vital and present, unabashedly throwing himself into any situation. Following their star's lead, the filmmakers deliver a jet-fueled variation on their usual intricate exploration of New York's marginalized citizens. Good Time features no shootouts or car chases—there isn't a single explosion in the whole film. The Safdies and Pattinson don't need any of that. Like Connie, they thrive on their wits and endless inventiveness—the thrill comes in marveling at how far it can take them. —Tim Grierson / Full Review
---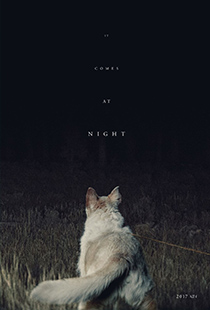 13. It Comes at Night
Year: 2017
Director: Trey Edward Shults
It Comes at Night is ostensibly a horror movie, moreso than Shults's debut, Krisha, but even Krisha was more of a horror movie than most measured family dramas typically are. Perhaps knowing this, Shults calls It Comes at Night an atypical horror movie, but—it's already obvious after only two of these—Shults makes horror movies to the extent that everything in them is laced with dread, and every situation suffocated with inevitability. For his sophomore film, adorned with a much larger budget than Krisha and cast with some real indie star power compared to his previous cast (of family members doing him a solid), Shults imagines a near future as could be expected from a somber flick like this. A "sickness" has ravaged the world and survival is all that matters for those still left. In order to keep their shit together enough to keep living, the small group of people in Shults's film have to accept the same things the audience does: That important characters will die, tragedy will happen and the horror of life is about the pointlessness of resisting the tide of either. So it makes sense that It Comes at Night is such an open wound of a watch, pained with regret and loss and the mundane ache of simply existing: It's trauma as tone poem, bittersweet down to its bones, a triumph of empathetic, soul-shaking movie-making. —Dom Sinacola / Full Review
---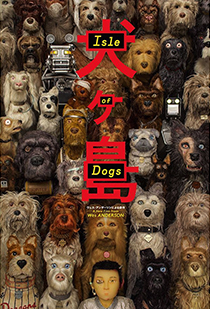 12. Isle of Dogs
Year: 2018
Director: Wes Anderson
Isle of Dogs may be the closest Wes Anderson will ever get to a sci-fi film. Of course he would use stop-motion animation to make it. Set 20 years from now, amidst the ultra-urban monoliths of Megasaki City—a Japanese metropolis that also seems to be Japan, or at least a Westernized idea of the small island nation—the film begins care of a decree by Mayor Kobayashi (Kunichi Nomura), a boulder of a man with equal ties to an ancient lineage of cat-loving aristocrats and to, based on the elaborate back tattoo we glimpse atop his tight little butt in a quick bath scene, an archetype of organized crime and political corruption. Due to a vaguely described epidemic of "dog flu" (or "snout fever"), Kobayashi bans all dogs to Trash Island, a massive byproduct of technology and futurism, beginning with Spots (Liev Schreiber), the guard dog of 12-year-old Atari (Koyu Rankin), who also happens to be the Mayor's ward after Atari's parents died in a horrible accident. Since Bottle Rocket in 1996, the more manicured Anderson's films have become—his obsessive control over his frames broadening into grander and grander worlds—the more we may be apt to extol his accomplishments rather than get invested in his stories. And it's probably never been easier to do that than with Isle of Dogs, so rife with meticulousness and imagination, as is Anderson's brand, and so unconcerned with steering this ostensible children's movie towards actual children. For a director who pretty much defined a generation's cinematic fetishization for symmetry (and quirky hipster nonsense) to then fetishize a country to which Westerners mainly relate through fetishization? So much of this beautiful movie just sort of eats itself. Still, the emotional weight of Isle of Dogs depends on knowing exactly what that bond between dog and human can mean, how deeply and irrationally it can go. At the core of Isle of Dogs is that kind of best-friendship: No matter how far we advance as a civilization, how disastrously we atomize and digitalize our lives, we'll always have the devoted dependence of a dog, our immutable companion across the vast wasteland of human history. —Dom Sinacola / Full Review
---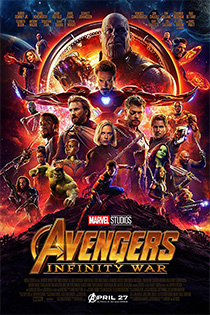 11. Avengers: Infinity War
Year: 2018
Directors: Anthony Russo, Joe Russo
Avengers: Infinity War is epic in a way that has been often aspired to but never fully grasped when it comes to the translation from comic book panel to the Big Screen. It's what happens when moviemakers take their source material seriously, eschewing unnecessary melodrama even as they fully embrace the grandeur, the sheer spectacle, of it all. (And if there's one lesson Disney has learned, it's that if you focus on the viewer experience, the product lines will take care of themselves.) For every frenetic fight scene in Avengers: Infinity War—and there are plenty of them—there are myriad character interactions and emotional beats the audience has been prepped for by the previous films (okay, maybe not 2008's The Incredible Hulk). As a result, writers Christopher Markus and Stephen McFeely have ample room to riff and play as characters meet for the first time or see each other again. Some of the interactions are easy to anticipate (if no less enjoyable)—the immediate ego clash between Cumberbatch's Dr. Strange and Downey Jr.'s Iron Man, for example—but our familiarity with these characters adds resonance to nearly every scene and every line, as the vestiges and ripples of emotional arcs laid down in the last decade's worth of movies bolster even the smallest moment. —Michael Burgin / Full Review
---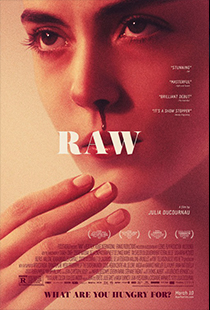 10. Raw
Year: 2017
Director: Julia Ducournou
If you're the proud owner of a twisted sense of humor, you might sell your friends on Julia Ducournau's Raw as a coming-of-age movie in a bid to trick them into seeing it. Yes, the film's protagonist, naive incoming college student Justine (Garance Marillier), comes of age over the course of its running time: She parties, she breaks out of her shell and she learns about who she really is on the verge of adulthood. But most kids who discover themselves in the movies don't realize that they've spent their lives unwittingly suppressing an innate, nigh-insatiable need to consume raw meat. Allow Ducournau her cheekiness: More than a wink and nod to the picture's visceral particulars, her film's title is an open concession to the harrowing quality of Justine's grim blossoming. Nasty as the film gets, and it does indeed get nasty, the harshest sensations Ducournau articulates here tend to be the ones we can't detect by merely looking. Fear of feminine sexuality, family legacies, popularity politics and the uncertainty of self govern Raw's horrors as much as exposed and bloody flesh. It's a gorefest that offers no apologies and plenty more to chew on than its effects. —Andy Crump
---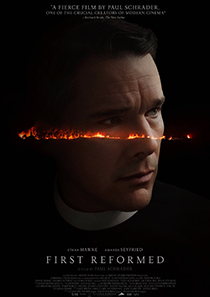 9. First Reformed
Year: 2018
Director: Paul Schrader
What makes a man start fires? What if that person were a man of God? Paul Schrader, now 71, has perhaps spent his entire career as a filmmaker attempting to ask that question, to breach the impenetrable truth of whatever that question's answer could be, beginning with Blue Collar, a story of auto workers and union members in Detroit compromising their values to survive in the shadow of forces too large and too immovable to compromise themselves. With First Reformed, Schrader's 20th feature as director, that question absorbs the whole film—not through cries of nihilism, as in his previous, garbage Dog Eat Dog, but as a sustained act of faith: What must the devout do for a world God has abandoned? The question lingers wetly in Ethan Hawke's eyes as he carries every frame of Schrader's film. Playing Father Ernst Toller—a minister who in a former life had a wife and a son and a military career, an end brought to all three by that son's death in Iraq—Hawke has spent the past 20 or so years sublimating the radical tendencies of his iconic slackerdom into a fiercely simmering anxiety, as if the purposelessness of his past malaise has left him stewing on how little he can or could do to change anything in this world. Not only does First Reformed directly butt heads with Dog Eat Dog, but it indulges melodrama without losing its calm. It works in obvious metaphors not for their own sakes, but as seamless extensions of theme. It's a gorgeous film, mourning the impossibility of being alive as it celebrates that which binds us, a conscious-rattling, viscera-stirring piece of art. And ultimately, it's a shocking film, powerful images gripping even more powerful fires within the bodies of those unequipped, as we all are, to put them out. —Dom Sinacola / Full Review
---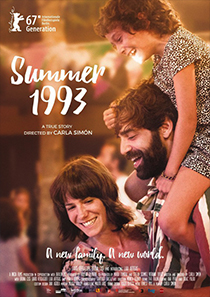 8. Summer 1993
Year: 2018
Director: Carla Simón
It's against this backdrop of knee-jerk ignorance that Carla Simón has set her feature debut, the autobiographical drama Summer 1993, a movie about childhood marinated in confusion born from death. Her surrogate is Frida (Laia Artigas), six years old and, as the film opens, in the process of being whisked from her home in Barcelona to live in the countryside with her uncle, Esteve (David Verdaguer), and her aunt, Marga (Bruna Cusí, Spain's Sally Hawkins doppelgänger), after her mother passes away from AIDS. It's a chaotic scene shot from Artigas's perspective, the camera latched to her alone, other characters appearing only when they happen to wander into the frame. Simón's focal point is Frida, and remains such throughout the movie. The adult experience is tangential to her own. Simón's cinematographer, Santiago Racaj, treats his lens as a member of the cast, too, impartial to the action without ever feeling removed from it. That dynamic has a way of subtly enhancing the film's realism: Because Racaj and Simón are so involved, and so invisible, in their work, we inevitably feel more present in the story. Frida's uncertainties become our own. Summer 1993 does what movies do so well (and yet so rarely do), which is to let viewers see the world through the eyes of another. Sometimes, Simón pulls this off literally, by angling Racaj's camera upward, capturing the world from Frida's vantage point. Most times she pulls it off figuratively by hanging the film on Artigas' wonderful performance. But throughout she completely absorbs the viewer in this portrait drawn from her memories, painting a picture of Spain caught up in AIDS era disinformation that's also an evocation of childhood doubts. —Andy Crump / Full Review
---
7. Hereditary
Year: 2018
Director: Ari Aster
Ari Aster's debut film begins in miniature. Later we learn of the trade Annie (Toni Collette), the film's family's matriarch, plies—meticulously designing doll-house-sized vignettes of the many domestic traumas she's experienced, and still does, throughout her life, not for children but for art gallery spaces—though in the moment, in the beginning of Hereditary, the effect simply alludes to Aster's ancestral preoccupations. From a tree house, pulling back through Annie's workshop window, cinematographer Pawel Pogorzelski's camera pans to a tiny recreation of the house we're currently within, then pushes into the simulacrum of high school student Peter Graham's (Alex Wolff) bedroom, which transforms into the room itself, perspectives already ruined so early in the film. Father Steve (Gabriel Byrne) enters to give his late-snoozing son the black suit needed to attend his late grandmother's memorial. Aster's intent, as is the case throughout Hereditary, is both blunt and oblique: worlds exist within worlds, shadows within that which casts them, or vice versa, reality represented like the rings of a tree or the spirals of DNA holding untold secrets within the cores of whoever we are. Colin Stetson's brain-churning score rattles the frame's edges. Menace looms—and menace soon unfolds, tragedies upon tragedies. The Graham family unravels over the course of Hereditary, which derives its power from testing the binds that force families together, teasing their strength as each family member must confront, kicking and screaming (or in Collette's case: making the noise of one's soul fleeing through every orifice), just how superficial those binds can be. In the absence of a reason for all of this happening, there is inevitability; in the absence of resolution there is only acceptance. —Dom Sinacola / Full Review
---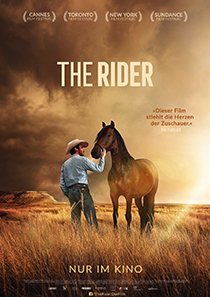 6. The Rider
Year: 2018
Director: Chloé Zhao
A dream dissipating. The Rider begins with flashes of a horse, in close-up, so intimately observed we immediately abandon all assumptions of symbolism or pretention of deeper meaning. Chloé Zhao's second film invites social commentary and political dissection—it's about the obsolescence of a certain way of life; about the death of toxic masculinity as exigency of a frontiersman's spirit of adventure; about the failure of rural America to embrace an obvious socioeconomic future—but there's nothing clearer, or more devastating, in The Rider than the bond between cowboy and horse. Said cowboy, and aforementioned dreamer, is Brady Blackburn (Brady Jandreau), a young, lithe South Dakotan rodeo rider still recovering from a head injury during one of his eight-second stints, a blurry accident we re-watch with Brady via YouTube video on his phone. With a cast of non-professionals basically playing themselves, Zhao rarely pushes her actors to too riskily delve into melodrama, or anything, for that matter, that might make them uncomfortable. Instead, in Jandreau and his family, Zhao discovers a beautiful, intuitive sense of calm, which she reflects in long, mournful shots of Dakotan vistas, so unhurried and unhindered by the boundaries of the screen that each interstitial segment—often of Brady contemplating the world before him as he stands, his hip cocked, before a magnificent sunset—feels overwhelming. What cinematographer Joshua James Richards can do with a camera bears the weight of countless filmmakers in thrall to the pregnant possibility of this marvelous continent. Every frame of this film speaks of innumerable lives—passions and failures and tragedies and triumphs—unfolding unfathomably. —Dom Sinacola / Full Review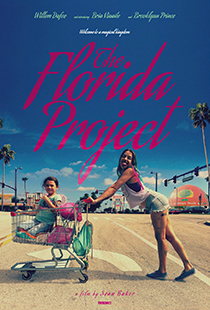 5. The Florida Project
Year: 2017
Director: Sean Baker
However useful Disney's surreal approach to reframing paradise may be, Sean Baker's The Florida Project presents a more acute critique. Baker plunges his audience into his worlds through the lens of social realism, his camera on the same playing field as Moonee (Brooklynn Prince), her mother Halley (Bria Vinaite) and the manager of the run-down Orlando motel just outside of Disney World they and the denizens occupy, Bobby (Willem Dafoe). The camera lives with the characters, watches them haul a bed-bug-infested mattress outside, or sit and eat pancakes by a small creek-ish ditch. Nothing climactic happens in these scenes, we just get to watch and not pass judgment—or pass judgment, whatever, it's up to us. Baker never interferes; the equality and equanimity of these scenes under the eye of his camera makes his film's pointed ideas about survival and joy all the more striking. The film may be buoyed with a sense of humor and, occasionally, wonder, but Halley's life is framed by an internal struggle over whether humor and wonder can help her retain her autonomy at all in spite of her class status. The Florida Project is spattered with profound sadness, with moments of externalized, violent frustration at presumed helplessness, at practically being born into all this. To what degree you believe Baker to be condescending or patronizing or exploitive is up to you, but the film's bursts of light, its idea of what caregiving looks like when caregiving is a privilege, is handled with sensitivity. When the film switches from 35mm to digital in its final shots, Baker imbues his camera, now mobile, with freewheeling liberation. No matter what happens after The Florida Project ends, in those last moments, these kids are born to live. —Kyle Turner / Full Review
---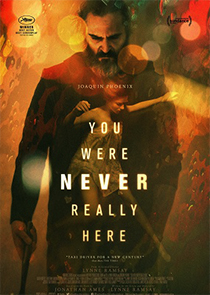 4. You Were Never Really Here
Year: 2018
Director: Lynne Ramsay
Lynne Ramsay has a reputation for being uncompromising. In industry patois, that means she has a reputation for being "difficult." Frankly, the word that best describes her is "unrelenting." Filmmakers as in charge of their aesthetic as Ramsay are rare. Rarer still are filmmakers who wield so much control without leaving a trace of ego on the screen. If you've seen any of the three films she made between 1999 and 2011 (Ratcatcher, Morvern Callar, We Need to Talk About Kevin), then you've seen her dogged loyalty to her vision in action, whether that vision is haunting, horrific or just plain bizarre. She's as forceful as she is delicate. Her fourth film, You Were Never Really Here—haunting, horrific and bizarre all at once—is arguably her masterpiece, a film that treads the line delineating violence from tenderness in her body of work. Calling it a revenge movie doesn't do it justice. It's more like a sustained scream. You Were Never Really Here's title is constructed of layers, the first outlining the composure of her protagonist, Joe (Joaquin Phoenix, acting behind a beard that'd make the Robertson clan jealous), a military veteran and former federal agent as blistering in his savagery as in his self-regard. Joe lives his life flitting between past and present, hallucination and reality. Even when he physically occupies a space, he's confined in his head, reliving horrors encountered in combat, in the field and in his childhood on a non-stop, simultaneous loop. Each of her previous movies captures human collapse in slow motion. You Were Never Really Here is a breakdown shot in hyperdrive, lean, economic, utterly ruthless and made with fiery craftsmanship. Let this be the language we use to characterize her reputation as one of the best filmmakers working today. —Andy Crump / Full Review
---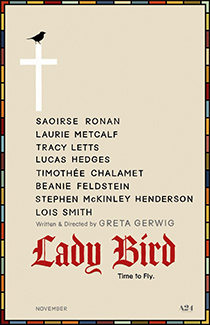 3. Lady Bird
Year: 2017
Director: Greta Gerwig
Before Christine "Lady Bird" McPherson (Saoirse Ronan)—Lady Bird is her given name, as in "[she] gave it to [her]self"—auditions for the school musical, she watches a young man belting the final notes to "Being Alive" from Stephen Sondheim's Company. A few moments before, while in a car with her mother, she lays her head on the window wistfully and says with a sigh, "I wish I could just live through something." Stuck in Sacramento, where she thinks there's nothing to be offered her while paying acute attention to everything her home does have to offer, Lady Bird—and the film, written and directed by Greta Gerwig, that shares her name—has ambivalence running through her veins. What a perfect match: Stephen Sondheim and Greta Gerwig. Few filmmakers are able to capture the same kind of ambiguity and mixed feelings that involve the refusal to make up one's mind: look to 35-year-old Bobby impulsively wanting to marry a friend, but never committing to any of his girlfriends, in Company; the "hemming and hawing" of Cinderella on the, ahem, steps of the palace; or Mrs. Lovett's cause for pause in telling Sweeney her real motives. Lady Bird isn't as high-concept as many of Sondheim's works, but there's a piercing truthfulness to the film, and arguably Gerwig's work in general, that makes its anxieties and tenderness reverberate in the viewer's heart with equal frequency. —Kyle Turner / Full Review
---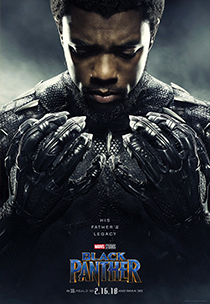 2. Black Panther
Year: 2018
Director: Ryan Coogler
Black Panther might be the first MCU film that could claim to most clearly be an expression of a particular director's voice. We shouldn't go so far as to call it auteurist, because it's still a Disney movie and (perhaps ironically) a part of that monopolizing Empire—i.e., eat the rich—but Black Panther's action scenes, especially, feel one with Coogler's oeuvre. Look only to an early scene in a South Korean casino, in which T'Challa (Chadwick Boseman), Okoye (Danai Gurire) and Nakia (Lupita Nyong'o) plan to intercept a deal between Klaue and everyone's favorite CIA milquetoast, Everett Ross (Martin Freeman, lovable) for a vibranium-filled artifact which Klaue stole from some colonizer-run museum with Killmonger's help. We're introduced to Klaue through the surprising spryness of his violence—Andy Serkis, too, freed from mocap, is still an amazing presence, even as a gangster shitbag—and Coogler gets on his wavelength, carving out the geography of the casino in long tracking shots, much like he convinced us to love stained, shitty-seeming Philadelphia gyms in Creed by helping us to comprehend the many crevices and corners of each hole in the wall. When the casino brawl breaks out into the streets, morphing into a death-defying car chase (slow motion thankfully kept to a minimum), we feel as if we know exactly what these characters—and this wonderful director—are capable of. Cue magnificent Vince Staples track. —Dom Sinacola / Full Review
---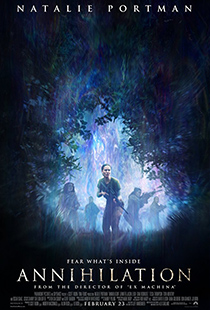 1. Annihilation
Year: 2018
Director: Alex Garland
Annihilation is a movie that's impossible to shake. Like the characters who find themselves both exploring the world of the film and inexplicably trapped by it, you'll find yourself questioning yourself throughout, wondering whether what you're watching can possibly be real, whether maybe you're going a little insane yourself. The film is a near-impossible bank shot by Ex Machina filmmaker Alex Garland, a would-be science fiction actioner that slowly reveals itself to be a mindfuck in just about every possible way, a film that wants you to invest in its universe yet never gives you any terra firma to orient yourself. This is a film that wants to make you feel as confused and terrified as the characters you're watching. In this, it is unquestionably successful. This is a risky proposition for a director, particularly with a big studio movie with big stars like this one: This is a movie that becomes more confusing and disorienting as it goes along. Garland mesmerizes with his visuals, but he wants you to be off-balance, to experience this world the way Lena (Natalie Portman) and everyone else is experiencing it. Like the alien (I think?) of his movie, Garland is not a malevolent presence; he is simply an observer of this world, one who follows it to every possible permutation, logical or otherwise. It's difficult to explain Annihilation, which is a large reason for its being. This is a film about loss, and regret, and the sensation that the world is constantly crumbling and rearranging all around you every possible second. The world of Annihilation looks familiar, but only at first. Reality is fluid, and ungraspable. It can feel a little like our current reality in that way. —Will Leitch / Full Review