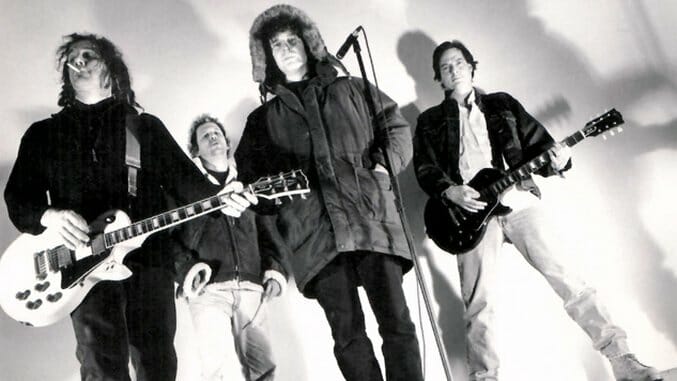 One of the best moments for any music fan is the discovery of a band or artist with a long, rich body of work. In addition to obviously offering tons of music, massive discographies are often stylistically compelling and offer the fodder of debate among friends and fellow music nerds.
However, which record should a new fan start with? Does an artist's often uncorrupted debut offer the purest example of their sound? Are oft-cited classics the best first step, or do they offer a difficult path for newcomers to tread?
With these questions in mind, we've selected one album from eights artists who boast towering, intimidating discographies of at least 13 albums or more. These eight acts are not only enormously prolific, but also fairly consistent, with no single album serving as "the" career definer (sorry Ryan Adams fans). Check out these entry point albums below.
1. Guided By Voices, Bee Thousand
This Dayton, Ohio project lead by "The Fading Captain" Robert Pollard is perhaps best described by the title of their official 2005 biography: Hunting Accidents In the Forest of Rock n' Roll. GBV made their name on albums stuffed with whatever the hell the band could cram into a reasonable album length.
With 24 studio albums released from 1987 to this past April, four "suitcase" compilation albums of 100 songs each and the many rotating projects of Pollard, attempting to listen to all of the band's discography is more a lifestyle choice than an achievable goal. The safest choice to start this journey is definitely 1994's Bee Thousand, an endlessly enjoyable record featuring a 20 track sampler platter of rock songs, Beatles-esque pop ballads and plenty of deliriously wacked out songwriting. The album, like the project as a whole, is as immediately catchy as it is eternally puzzling.
David Bowie, The Rise and Fall of Ziggy Stardust and the Spiders From Mars
At the beginning of 2016, this alien icon left behind an immense, amazing body of work for new fans to discover and veterans to re-appreciate. Bowie broke musical boundaries with the defining "Berlin" trilogy of Low, "Heroes", and Lodger. Before he got there, however, he released a bevy of greats in-between including Hunky Dory, Station to Station, to the unexpected 2016 swan song Black Star. Though it may sound cliché, the iconic The Rise and Fall of Ziggy Stardust and the Spiders From Mars offers Bowie at his most accessible, thanks to the rock n' roll chug of the title track and the Stones-sounding "Suffragette City." Spin this one a few times and before heading onto either the swelling pomp of predecessor Hunky Dory or glam-bam-thank you m'am of companion album Aladdin Sane.
3. Sonic Youth, Sister
Currently, this influential noise rock band is on hold due to the marital separation of frontman Thurston Moore and bassist Kim Gordon. Other than being alt-rock icons, this extremely talented four piece released several fantastic albums of beautiful guitar clanging clamor over their 30-plus career together. Sonic Youth constantly toed the line between accessibility and ambition, which is why starting with 1987's pre-fame Sister is perhaps the best for newcomers. Sister, released on iconic punk label SST, captured the band's developing knack for melting pop melodies between slabs of abrasive noise rock. Further, Moore's fascination with hardcore resulted in a full speed ahead energy on several cuts, like punk ravers "I Got A Catholic Block" and "Stereo Sanctity." Elsewhere, the slow burning punk power ballad "Kotton Krown" remains one of Sonic Youth's finest recorded moment.
4. Neil Young, After the Goldrush
Neil Young claims the largest discography on this list with 36 releases. The grunge godfather released his first solo record in 1969, by that time already having spent nearly a full decade as a songwriter in a various bands including Buffalo Springfield and Crosby, Stills, Nash & Young. Young's first four solo records are absolute classics, showing both his sweetly strained folk balladry, as well as the festering open wound of a guitar sound he has since perfected. Young's later discography bucks any sense of convention with releases ranging from a 1995 collaboration with Pearl Jam to the most recent "get off my lawn" full album screed The Monsanto Years
A newcomer to Young's work should reach for 1970's After the Goldrush. Ballads like opener "Tell Me Why" and the beautiful title track preview the refined acoustic beauty of Harvest while the caustic finger-pointing "Southern Man" and weary "Don't Let It Bring You Down" show early signs of the morose songwriting he would drop into "The Ditch" years.
5. Lou Reed, New York
Most know Lou Reed through his incredible run with The Velvet Underground (an essential discography if there ever was one.) Perhaps more than any other artist here, Reed followed his creative muses regardless of the probable consequences. While the intentionally confounding Metal Machine Music and whatever the hell Lulu was can be ignored, great albums like the dolled up flamboyant rock of Transformer, the weighty opera of Berlin and the breezy Coney Island Baby are all totally essential while remaining true to Reed's unique songwriting style.
Fans fresh off The Velvet Underground years should skip a few decades to 1989's New York. While not as iconic, New York stands as Reed's greatest "creative resurgence." This 1989 release was stripped back, lyrically packed and full of Reed's wry sense of style as he mused about the seedy beauty of his hometown.
6. R.E.M., Life's Rich Pageant
An essential ingredient to modern indie rock, R.E.M. are a band better known for contributing hits like "Losing My Religion" and the weepy "Everybody Hurts" to early '90s alt radio. While the albums those songs were gleaned from are great, their first five IRS released albums are endlessly influential and fantastic, even inspiring a young Pavement to record a nerdy fan song called ""Unseen Power of the Picket Fence. Further, even later recordings like 2008's revved up Accelerate and 2011's swan song Collapse Into Now showed the band at a renewed creative energy before pulling the plug.
It's this marriage of punchy songwriting and great energy that makes R.E.M.'s fourth album a perfect start for new fans. Cuts like the urgent "These Days," the energetic "I Believe" and environmentally conscious "Fall On Me" shows the band of Georgia boys playing with the ferocity and finesse that would skyrocket them into fame only a few years later.
7. of Montreal, Satanic Panic in the Attic
Eccentric mastermind Kevin Barnes guides this revolving psychedelic project that was birthed from the Elephant 6 collective (which included indie heavyweights Neutral Milk Hotel). Whereas of Montreal's first several albums were bright, pastoral bedroom psych in the vein of Brian Wilson, 2007's Hissing Fauna, Are You The Destroyer? injected cartoonish dance funk into the mix. Since then, we've seen atonal orchestral experiments in Paralytic Stalks the late Dylan period of 2013's Lousy with Sylvianbriar and now this year's electro heavy Innocence Reaches.
Those albums can be a bit overwhelming however, so start first with 2004's Satanic Panic in the Attic: 14 pure and simple psych songs packed full of strong melody and a ton of sonic color. Here, the highlights of Barnes' dizzying songwriting are on full display, ranging from the plaintive folk of "City Bird," to the whimsical vocal acrobatics of "Lysergic Bliss" and the dreamy "Climb the Ladder."
8. The Mountain Goats, All Hail West Texas
The project from nasally singer-songwriter John Darnielle is best known for lyrically dense albums and an extremely rabid fan base. The Mountain Goats' discography can be broken down into two halves; the early lo-fi albums Darnielle self recorded and the studio recorded output he has released with a full band since 2002. While there are ardent fans of both sides, one album in particular manages to marry both styles: 2002's All Hail West Texas, a 14-song collection recorded by Darnielle when his trusty Panasonic RX-FT500 suddenly spurred back to life. Here, Darnielle records tunes packed with some of his most detailed songwriting, like fan favorite anthem "The Best Ever Death Metal Band in Denton" which includes a sing-a-long outro of "Hail Satan!" Elsewhere, the doomed ballad "Fault Lines" and "Mess Inside" provide the detailed character sketches Darnielle would perfect on later concept albums.