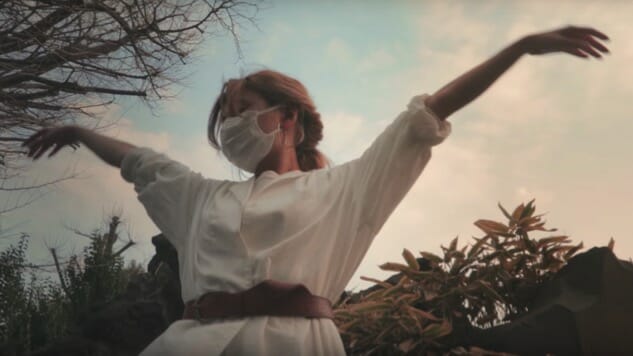 After a 15-year hiatus, Illinois-based emo legends American Football returned last year with their self-titled sophomore album. Today, following their moving video for "I've Been Lost For So Long," the band released another equally as poignant visual for their song "My Instincts Are The Enemy."
The video, directed by Chris Strong, features an entirely Japanese and Japanese-American cast, and follows a Japanese character living in a small town in Illinois, missing his home. The video shows sequences of everyday life—people working, cooking, bowling, attending a concert, and even lip-syncing and dancing.
In a statement, Strong goes on to say about the video:
I was initially asked to think of some ideas for videos on November 14, a week after Donald Trump was elected president and the same week the first trailer was released for the new Ghost in the Shell movie. There was a lot of talk in the news around that time about the reality for foreigners in the United States. There was also a lot of discussion surrounding the mostly white cast of Ghost in the Shell and the depiction of Japanese people in American film. Since the first American Football video for "Never Meant" had so many Caucasians, I thought it might be interesting to do something that used exclusively Japanese and Japanese-Americans …
American Football are currently on tour, playing select dates and festivals across the U.S., Japan, Europe and the U.K., including Pitchfork Music Festival and the upcoming Sasquatch! Music Festival taking place this Memorial Day weekend in George, Wash.
Check out the video for "My Instincts Are The Enemy" embedded above, and see the band's tour dates below.
American Football Tour Dates:
May
27 – George, Wash. @ Sasquatch Music Festival
June
06 – Ebisu, Japan @ LiquidRoom
07 – Tokyo, Japan @ Blitz
09 – Osaka, Japan @ Akaso
12 – Barcelona, Spain @ Apolo
13 – Madrid, Spain @ Copernico
15 – Milan, Italy @ Magnolia Summer
16 – Berlin, Germany @ So36
17 – Mannheim, Germany @ Maifeld Derby
18 – Hilvarenbeek, Netherlands @ Best Kept Secret Festival
July
16 – Chicago, Ill. @ Pitchfork Music Festival
September
01 – Brighton, U.K. @ Concorde 2
02 – Manchester, U.K. @ Albert Hall
03 – Edinburgh, U.K. @ Summerhall
04 – Dublin, Ireland @ Button Factory