Margo Price, Deering and Down & The Success Stories of AmericanaFest 2016
All photography by Geoffrey Himes
Music
Features
Americanafest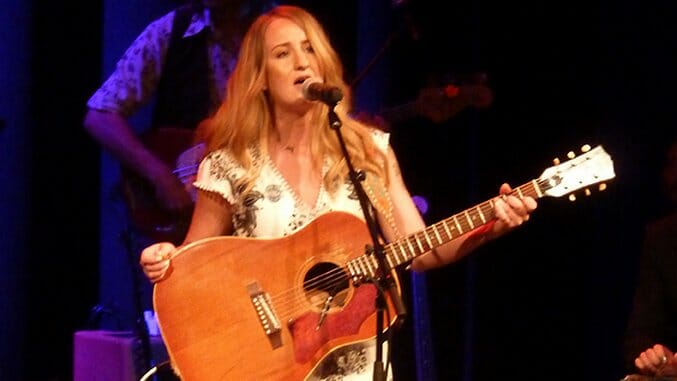 There are many definitions for Americana music, but the snarkiest one is this: "Americana is country music that doesn't sell." The 17th annual Americana Festival and Conference in Nashville last week seemed designed to refute both halves of that assertion. Americana is more than just country music, the fest proclaimed, and it does sell.
The Americana Honors & Awards Show is the best trophy event in show biz today. It has a great venue in the Ryman Auditorium, a virtuoso house band led by Buddy Miller, a witty emcee in Jim Lauderdale and just a few categories, which allows for more music and less talk. Last Wednesday, while the crowd sat on the Ryman's wonderfully historic and hard-on-the-tailbone curving pews, many more people watched the live stream on National Public Radio.
After performing "It Takes a Lifetime" as a duo with his wife Amanda Shires, Jason Isbell walked in from the wings to accept the Song of the Year Award for a different tune, "24 Frames." Chris Stapleton, wearing his feather-studded cowboy hat, walked up from the crowd to accept the Artist of the Year Award, and Isbell returned to accept the Album of the Year Award for Something More Than Free.
Both of these men are undeniably Americana acts and both had #1 albums on Billboard's country charts last year. Stapleton, a former lead singer for the bluegrass band The SteelDrivers, and Isbell, a former lead singer for the roots-rock band the Drive-By Truckers, represent the kind of fusions that define Americana.
Earlier in the evening, Emmylou Harris and Rodney Crowell, who have had several #1 country albums of their own, sang "Bring It on Home to Memphis" before accepting the award for Best Duo/Group. Dwight Yoakam, a previous Lifetime Achievement winner with lots of #1 records, sang "What I Don't Know" with the bluegrass all-stars from his new album, Swimmin' Pools, Movie Stars …. Accepting the Lifetime Achievement Performer Award was Bob Weir, whose former band, the Grateful Dead, sold a few records, too.
In a sense, the awards show was a theatrical presentation of the argument that, yes, Americana acts can sell records and tickets. They've done so in the past; they've done so in the present. And that's good news for the four acts who were nominated as Emerging Artist of the Year: Leon Bridges, John Moreland, Nathaniel Rateliff & The Night Sweats and Margo Price. And it's good news for the conference's most impressive lesser-knowns: Aaron Lee Tasjan, Jon Latham, Brent Cobb, the Cedric Burnside Project, Sunny Sweeney, Deering and Down and Motel Mirrors.
The whole week was a kind of coronation for Margo Price. She not only won the Emerging Artist Award but also found herself on the cover of Nashville Scene and on stage at the Country Music Hall of Fame and Museum, where she was interviewed by NPR Music's Ann Powers between songs. She deserved every bit of it, for her debut solo album, Midwest Farmer's Daughter, is one of the year's best releases—and found a place in Billboard's Country top-10. At the Hall of Fame's cozy Ford Theater, she stood on the oriental rug in her ankle-length flower-print white dress, her red hair spilling down her back, and sang that album's opening track, "Hands of Time."
It's an autobiographical work that describes her rural, working-class roots in Illinois and her struggles over 12 years on the bar-band scene in Nashville. The song is so expertly written, however, that it seems universal. Backed by her talented East Nashville quintet, Price's sympathetic soprano made the song not just about her own life, but about the coming-of-age struggles of every listener.
Price is very much a product of the fertile East Nashville scene, where young musicians are working to keep their songwriting and performing chops equally high. They write songs together and play in each other's bands. Sturgill Simpson played guitar briefly in Price's band, and Price played drums in Lily Hiatt's band. When Aaron Lee Tasjan hosted a set at the Basement East Tuesday night, he and his band backed up such East Nashville comrades as the promising songwriters Jon Latham and Darrin Bradbury.
The best artist on the East Nashville scene—and perhaps the best songwriter in the whole city—is the older but under-appreciated Kevin Gordon. Many of the week's showcases were held in the backyards of record stores, restaurants and film studios, and Gordon sang a short set behind Fond Objects Records on Tuesday. Playing alone on the dilapidated, Southern Gothic porch of the store's storage building, Gordon got a ferociously dirty sound out of his Gibson archtop and sang two unreleased songs, "Why Can't It Be Like This" and "Saint on a Chain," as good as anything heard in town all week.
More underrated artists were on display at the Music Export Memphis party at the Filming Station. Tennessee's other great music city has produced a lot of talent, but not enough people know about Motel Mirrors, the wonderful popabilly band featuring Amy LaVere, Will Sexton and John Paul Keith, or Deering and Down, the duo of achingly sweet vocalist Lahna Deering and psychobilly guitarist Rev. Neil Down.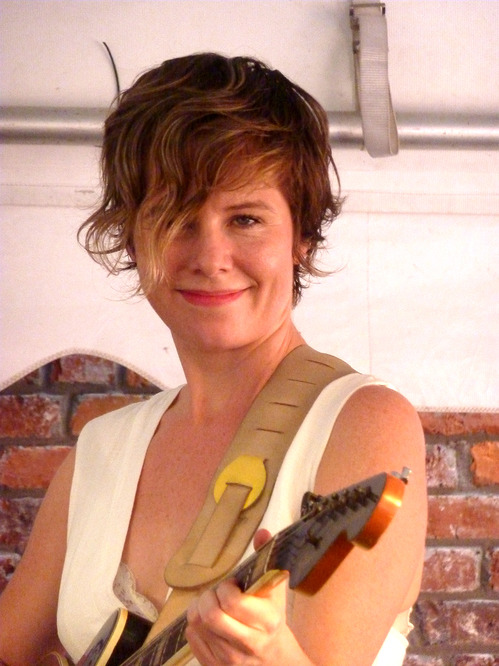 Lahna Deering of Deering and Down
Rev. John Wilkins closed out the show. This son of the legendary Mississippi bluesman Robert Wilkins grew up playing with his father and later playing sessions on soul records. The younger man became a pastor in Como, Mississippi, where Otha Turner was a parishioner, and has fashioned a sound that blends Memphis soul and Hill Country blues in a distinctive way.
Cedric Burnside, R.L. Burnside's grandson and longtime drummer, also kept the Hill Country sound alive. In a drums-and-guitar duo set at The High Watt, Cedric proved the best young singer to come out of that whole scene.
These were just two examples of an effort to broaden the AmericanaFest's diversity. William Bell, the great Stax Records singer, received the Songwriter Lifetime Achievement Award at the Ryman, and justified it with a terrific set two nights later at the 3rd & Lindsley Bar & Grill. Backed by a 12-piece horn band, Bell sang both smartly shaped songs both old ("Born Under a Bad Sign") and new ("The Three of Me").
Nashville's terrific gospel quartet, the McCrary Sisters, provided harmonies for both Buddy Miller's house band at the awards show and for Phil Madeira's annual Mercyland concert of secular hymns. The latter takes place at the Downtown Presbyterian Church, whose astonishing interior is decorated like the interior of an Egyptian pyramid.
There were other special moments. Guitarist Eric Ambel, who has produced the Bottle Rockets' best albums, joined the band at several points over the week, most memorably at an incendiary set at the Bloodshot Records party. Two of the most famous session musicians of Nashville's late-'60s/early-'70s era, Charlie McCoy (Bob Dylan) and Mac Gayden (J.J. Cale) made rare appearances. Australia's Kasey Chambers previewed several songs from her next album, due in January, which presented her in a new light: as a wailing R&B singer. And she pulled it off.
Not every aspiring Americana artist is talented, of course, and there were uninspiring sets all week long. But that's going to be true of any genre. The takeaway from the AmericanaFest, however, was that the best of the genre's acts are as good as anybody's—and have a chance to sell just as well.