200+ Artists and Labels Join Bandcamp's Fundraiser for Transgender Law Center
Images via Bandcamp
Music
News
Bandcamp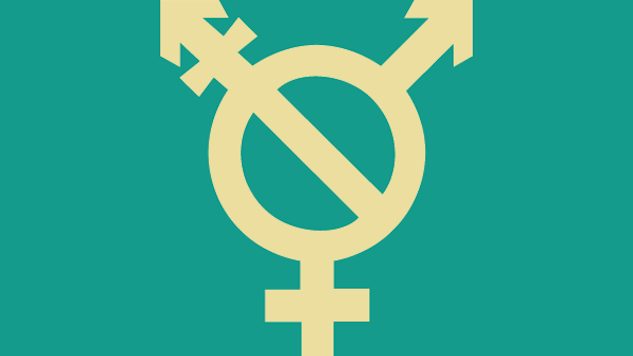 The good people at Bandcamp announced earlier this week that they would be donating 100 percent of their share of proceeds from today's sales to the Transgender Law Center. Now, over 200 artists and labels have joined their pledge.
Artists including Caribou, Florist, Ghoul, Man Overboard and ANOHNI, along with labels including Sub Pop, Epitaph and Merge, are among a long list of partners making donations. Several of the artists are also releasing new tracks or projects to accompany the fundraiser.
Car Seat Headrest released a new single titled "War Is Coming (If You Want It) [March Mix]," available today only for $2.
Ambient indie singer Grouper also shared a new single, titled "Children." In a statement, she mentioned she had forgotten about the song after she originally recorded it for her last album until "this year, amidst chaotic and painful political times, while working on another project, it reemerged and made more sense."
The Transgender Law Center shared a grateful statement via Twitter, writing, "We are overwhelmed by all the love and support from @Bandcamp, artists, and music fans today!"
Find the full, massive list of artists and labels supporting Bandcamp's fundraiser below, and find out more here.
12XU
100% Electronica
22 Entertainment
25 Diamonds
2D Cat (Donating all sales from Friday through Sunday to TLC.)
6131 Records
86th Floor Music (Donating 100% of all sales from Friday through Sunday to TLC.)
A-F Records
A Sound of Thunder (Offering special vinyl release.)
Abe
The Absent City (Donating the proceeds from all August sales to TLC.)
Alexalone (Donating proceeds from newest EP to TLC.)
Alice Bag & the Sissybears (Donating all proceeds from advance release of Alice Bag & the Sissybears single "XX" to TLC.)
alt255
All Dinosaurs
Allison Weiss
Already Dead Tapes & Records
Allysen Callery
Altered Axiom (Donating all sales Friday through Sunday to TLC.)
Amadeus Records
Ambsace
Amigo/Amiga (Donating 100% of digital and 10% of physical to TLC.)
Amy Kucharik
Anneka
ANIKA (Releasing new EP and donating proceeds from all sales to TLC.)
ANOHNI
Anthony Saunders (Donating all sales in August to TLC.)
ANTI-
Anti-Flag
Aqualamb (Donating 100% of digital sales and 20% of physical to TLC.)
Arbes
Art and Music
Asterales
ATO Records
Audio Antihero Records
Audiotree
Autarch
Automation Records
b.trix (Releasing new EP and donating sales to TLC.)
babygotbacktalk
Backward Music
Bad Bat Records
Baggage
Bary Center
base
The basebit Recordings
Bear & Walrus
A Beautiful Place
Bedlam Tapes
Bella Union
Benoit Pioulard (Donating proceeds from Stanza I-III, Radial, Thine, Seize/Marre, Roanake, Valley, Fir, Enge, Flocks, Plays Thelma, and Lignin Poise to TLC.)
Bett Butler & Joël Dilley
Bjørn Hatterud (Donating proceeds from sales of November 20th to TLC.)
Black Kaspar
Blood Ponies
The Bran Flakes
The Brangs (Donating 100% of proceeds from Seafoam Green to TLC.)
Brock Wilbur
Bryce Helm
BSNSS CLSS (New album The Altered States available for 24 hours, with all proceeds going to TLC.)
The Buddy System Project
Built By Snow
BURG
Buzzkill Squad
Bye Bye Banshee (Donating all sales Friday through Sunday to TLC.)
Bzenjil
Cait Brennan
Candy Says
Capacity of Color (Donating all sales to TLC and offering exclusive compilation.)
Captured Tracks (Offering exclusive releases from B-Boys, Alex Calder, and Lina Tullgren)
Car Seat Headrest (Releasing exclusive demo, with all proceeds going to TLC.)
Cardinal Sisters (Donating 70% of all sales to TLC.)
Caribou
Cascine (Donating 50% of all sales to TLC.)
Casey Dienel
Casper and the Cookies
Cat Meat
Ceramiks
Charlie Ulyatt
Charly Bliss
Chase Rayment
Cheer Squad
Christian Fitness
Christine Bougie
Christopher Dotson
Circuits (Posting new EP early to support fundraiser.)
Claire Michelle
clipping.
Clouds Collide
Cómeme
Common Jack
Community Records (Donating all weekend sales, beginning Friday, to TLC.)
Concierge Records
The Cornersmiths
Crash Symbols (Donating 50% of all sales to Fairness West Virginia.)
Creature Comfort
Crissy Bell
Crooked Face (Proceeds from exclusive pre-release of Shroud will be donated to TLC.)
Crossbill Records
Crown Larks
Cult of the Lost Cause
Curious Quail
Cursed Collective
Cyclope Espion (Donating 100% of digital sales and 20% of physical to TLC.)
Daniel M. Karlsson
Daniel & the Real Feels
Danny Paul Grody
Dark Entries Records
Dark Horse
Dark Vision Media
Darko the Super
Datavis
Dawnings
Dawn Xiana Moon
Dear Astronaut
Deathwish Records
Debra Galactica
The Deepsea Goes
Deep Sea Records
Deep Space Objects
Depth & Current
Deserted Village
Devin Hoff (Donating all sales and releasing two new albums.)
Dharmata 101
diana xn (Donating all sales Friday through Sunday to TLC.)
Diane Marie Kloba
Dietrich Strause & the Blue Ribbons
The Difference Engine
Dion Lunadon
Distort//Discos
The Districts
Dizzy Bats
Donker (Donating all proceeds from the song "Shadow Box Butterfly" and 50% of album sales to TLC.)
Don't Panic Records (Donating $1.00 of every sale to TLC, plus selling limited-edition hot sauce.)
doubleplusgood Records
Dr. Identity
Drawing Room Records
Dred Collective
Dub Jay
ella guro (Releasing Atoms, a collection of unreleased material, for fundraiser.)
Eluvium
Emily Elbert
Epitaph
Escapist Records
Euforquestra
Eric Benoit (Donating all sales and releasing exclusive single.)
Evade the Eye
Evan Greer and Friends
Ever/Never Records
EXBX Tapes
EXOAURA
Exploding in Sound Records
Eyes Behind the Veil
Fabrica Records
Fact Pattern
FaithVoid
Fate vs. Free Willy
Father/Daughter Records
Faultlines
Fay Wolf (Donating proceeds from all digital sales to TLC.)
Fedorahead
felte.
Ferdi
Field Guides
fire island AK (Donating all digital sales to TLC.)
Fire Talk Records
First Word Records
Five Star Hotel
Flannelgraph Records
Florist
FLUF
Forward Music
Fotocrime
Fractal Cat (Donating all sales from Friday through Sunday to TLC.)
Frankie Cosmos
Frontier Records
Fun Never Starts
Fuzz Records (Donating all sales from Friday through Sunday to TLC.)
Gabe Knox
Gareth Hardwick (Early release of new album for fundraiser.)
Gavin Prior
Gaywire
Georgie Jessup
Germany Germany
getXwell
Gewzer
Ghostly International
Ghoul (Donating all sales Friday through Sunday to TLC.)
Glasfrosch
The Glitch Mob
Glitterbox
Glow in the Dark Radio
Gold Flake Paint ("Putting something together" exclusively for Friday.)
The Golden Age of Nothing (Donating all sales from Friday through Sunday to TLC.)
The Good Graces
Grace Petrie
Greasy Knoll (Donating 50% of all sales from Friday through Sunday to TLC.)
Great Circles (Donating 100% of all digital sales, 50% of vinyl sales and 100% of all WOLF EDM vinyl sales to TLC.)
Great Grandpa
Greenleaf Music
Greenness (Donating all proceeds from new single to TLC.)
Griffin McElroy (Donating proceeds from the soundtrack to The Zone Cast to TLC.)
GrimmusiK
Grotesque Organ Defilement
Gryvix (Donating 50% of sales to TLC.)
Guerilla Asso (Donating all sales to OUTrans.)
Guising
Gurdonark
Hallelujah the Hills
Hang In There Records
Hardly Art
Hargow (Releasing two new tracks; donating proceeds to TLC.)
Hausu Mountain (Donating all shipping costs and 20% of sales to TLC.)
Heather Christian & the Arbornauts
Hello June
Hill Haints (Donating all proceeds from Sharice Says to TLC in perpetuity.)
Holly Hunt
Home Skillet Recordings
Honest Horse
Hora Douse
Horse Lords
HUGOwho
Human Heat
Humanly (Donating 60% of all sales to TLC.)
Hyperdub
Iapetus
Iberian Juke
Idiotic Intellectual (Donating all proceeds from Resist, a compilation of previously-unreleased material, to TLC.)
ilyAIMY
Immara
Immortal Bird
The Implicit Order
Indian Jewelry
Indonesian Junk
Infinite Best
Inspected by 13 (Proceeds from new album, Thundershaft, will be donated to TLC.)
International Orange
Internet Club
io echo (Donating all proceeds from sales of new song "Harm" to TLC.)
Italdred
Jackknife Seizure
James Parenti
Jay Regan
Jazz Sequence
Jeffrey Holmes
Jennie Sadler
John Marglin & Carl Bauer
Jon Baz
Jonathan Geer
Jouissance du Rien Records (Donating all digital sales to TLC.)
The Judys (Donating proceeds from The Very Best of the Judys to TLC.)
Julian Morena
Juliana Finch
Julius Eastman (Offering unreleased, exclusive single.)
K. Svwisftp (Donating all sales from 2017 to TLC.)
Kaptur
Kaz Mirblouk
Kelly Moran
Kelly Parde Cooper
Ken Reid
Kiam Records
Kicked in the Head
Kill Rock Stars
Killcrop (Donating all sales Friday through Sunday to TLC.)
Kim Schaefer
King Britt
Kingfisher Bluez
Klipspringer
Koshari
kranky (Offering an exclusive new song from Grouper, with proceeds donated to trans-friendly organizations.)
Lake Ruth
Lamb's Legs
Lamniforms
Landscape Tapes
Late Bloomer
The Late Cretaceous
Lazy Legs
Leaving Records (Releasing exclusive album Spores by Yialmelic Frequencies, with proceeds going to benefit TLC.)
Lee Rosevere
Leisure System
Lenny Zenith
Lich King
The Lighthouse Keeper
Liquid Library
Little Dickman Records
Logan Callahan (Donating 50% of all sales Friday through Sunday to TLC.)
Lonely Voyage Records
Long Neck
Lost Twin
Lovelast (Donating all proceeds for the month of August to TLC.)
LRKR
Lycanthea
Machine Tribe (Donating all sales from Friday through Sunday to TLC.)
Magno Garcia
Maki Yamazaki (Donating 50% of all sales to TLC.)
Mall Music (Donating 50% of all sales to TLC.)
Man Overboard
Maple Death Records
Marc With A C
Matt Block
Matt Steady
Matt w/2 t's
Matthew Ashcroft
Meat Panda
Mel Stone
Melodywhore
The Menders
Merge Records (Donating 50% of sales to TLC, plus offering free mystery 7? with the purchase of two or more vinyl LPs.)
METZ
Mexican Summer
Michael Hefner
Michael Hix (Donating all proceeds from new album, Pneuma, to TLC.)
Minorcan
Milk! Records (Donating all digital sales to TLC.)
Miracle of Sound
Mirror Universe Tapes (Donating proceeds from all purchases to TLC except Gimmie Tinnitus, which benefits NYCLU.)
Misbehavin' Maidens
Mississippi Jones
Mister Vertigo
Modern Radio
Moniker Records
Moon Microsystem
Moon Myst Music
mothpuppy
Mud On My Bra
Muktahinari
Museum Mouth (Donating proceeds from exclusive demos for Popcorn Fish Guinea Pig to TLC.)
My Education
Nancy Falkow
Natiform (Releasing new "limited edition" tracks, with proceeds going to TLC.)
Near Mint
Nebulamigo
Neon Shudder
Nervous Triggers
New Professor
Night Heron
Night Sweats
NIKK BLVKK
NNA Tapes
No Idea Records
No Sleep Records
Northwoods Records
Nosedive
Numero Group (Proceeds from early release of Jackie Shane's single "Cruel Cruel World," from the forthcoming Numero Group collection, will be donated to TLC.)
OIM Records
Old Flame Records
Old Lion
Once and Future Nerd
One Eyed Jack's
Ongakubaka Records (Donating 20% of physical sales and 100% of digital sales to TLC.)
Opossum Trot (Donating 50% of all sales to TLC.)
Other Electricities
Ordinal Records
The Outfit
Outside Music
Owen Kilfeather
Oxidant
Pangs (Proceeds from new song, "Next to Me," will benefit TLC.)
Panties
Paper Garden Records
Paper Thin (Donating sales from 10am PST Saturday to 10am PST Sunday to Minus18 Youth.)
Patrick Turner
Patsy's Rats (Donating 100% of digital sales.)
Paul Melancon
Paul Rob (Donating all sales Friday through Sunday to TLC.)
Perfect Scums
Personal Archives (Donating sales to TLC, with matching donation to Dubuque Rescue Mission.)
Pilgrim Omega
PINKCOURTESYPHONE (Donating all proceeds from sales of "Ossification Palisades" to TLC.)
Pixelpussy
Polarities
Polyvinyl Records
Powi
Primitive Acoustics
Primitive Screwheads
Projekt Records
Psychic Teens
Psychic Troubles Tapes
QOHELETH
Quiet Time Tapes
Recess Records (Donating 50% of sales to TLC.)
The Reverse
Revolution I Love You
Rezbit Diortem (Donating 100% of all digital sales.)
Richard Eaton
Room 34 (Donating and matching all proceeds.)
Room 40 Records
Roommate (Donating all August sales to TLC.)
Round Whirled
The Royal Landscaping Society (Donating all sales from Friday through Sunday to TLC.)
Ruins of Elysium
Rum Bar Records (Donating 50% of their share of sales.)
Run For Cover
Sacred Bones Records (Donating 100% of digital sales to TLC.)
Sad13
Saddle Creek Records
Salem Wolves
Sam Torres
Sarada
Sarah FM (Donating a portion of sales to Sylvia Rivera Law Project.)
Sarah Hennies (Posting exclusive, unreleased material.)
Sarah Shay
Schwebung
Seb Woodland
Self Aware Records (Also donating proceeds from Amanda X's Giant to Women Against Abuse.)
Será
Servant
Shagohod
ShyBoy (Donation 100% of proceeds from the song "He and She" to TLC.)
Silver Walks
SINthetik Messiah (Donating 100% of sales from the past quarter, plus Friday sales to TLC.)
slashsound
SLEAZY (Donating proceeds from limited-edition test pressing.)
Slumberland Records
Smute?ní slavnost
SNAILS
So Is the Tongue
Soccer Mommy (Donating proceeds from Collection to TLC.)
Soft Lashes
Sol y Momma (Donating proceeds from all sales of new album to TLC.)
The Sonder Bombs
Sophia Subbayya Vastek (Donating 100% of digital sales and 50% of CD sales to TLC from Friday to Sunday.)
Sparkler Monthly
Sparkling Wide Pressure
Speak Sleazy Sounds
Speedy Ortiz
Standard Issue Citizen
Static Noise Bird (Offering two exclusive songs with screenshot of Friday purchase.)
Stelliferous
Stephen Liu
Stereochemistry
Straight Panic (Donating 100% of digital sales and a portion of physical sales to TLC.)
The Striped Bananas
Studded Left
Sub Pop
Subtastics
Sunrot (Donating all first-day sales from their debut full-length to TLC.)
Super Thief
Swedish Columbia
Swept to See (Donating all sales from Friday through Sunday to TLC.)
SwissDarkNights Label (Donating 25% of sales to TLC.)
Taleen Kali
Tame.. Tame and Quiet
Tara Jane O'Neil (Releasing exclusive live EP, with all proceeds going to TLC.)
Technikal Ted
Ted's Dead
Tender Loving Empire
Terrance Pryor
Tim Fromont Placenti
The LSDJ (Donating all Pre-Order sales on Friday to TLC.)
Third Kind Records (Releasing "something new" on Friday for the fundraiser.)
This Is Hell
tino
Tiny Engines
The Tired Horizon
To Live a Lie Records (Donating 50% of all sales to TLC.)
Toby Goodshank
Tofu Carnage
Tom Winckles
Tonks and the Aurors
Topshelf Records
Totally Knuts
Tru Thoughts (Donating 50% of all digital sales to TLC.)
Tyler Suarez
UIQ Music
Ulrike Mod
Umm
Underground Communique
Verses Records
Vertigo Fox (Donating proceeds from all sales from Friday to Monday to TLC.)
Victor's Lament
Violet Crime
Visual Disturbances
Voices of Where
Voice of the Unheard (Donating all proceeds to OUTrans.)
Volar Records
Votiv
v?x
Vytia
WAKE
Wakesleep
Warehouse 86
Warm Body
Watching Nebula
We Are Not Trump
We're All Just Passing Through
Le Weekend
Weird At Last
Well Manicured Music
Wenda Rose
Wetlands
Whimsically Macabre
whitegirlproblem (Donating all sales Friday through Sunday to TLC.)
Whitevisitation
Wichita Recordings
Wild Arrows
Wildhoney (Donating all sales to TLC and releasing an exclusive EP of covers and solo songs.)
William S. Braintree
Winkie
Wiretap Records
Wounded Knife (Donating to Kampania Przeciw Homofobii, a non-profit organization aiming to promote legal and social equality of LGBT people in Poland.)
The Wyrd Brothers
XETAS
Yippee Ki Yay! Records
Young Adults
The Zannies (Donating proceeds from new live record to TLC.)
Zontarian Moments (Donating 100% of all digital sales to TLC.)
Zoom Lens (Donating 100% of all digital, cassette, CD, and vinyl purchases to TLC.)
ZUM Audio
Zvi