AL West
Los Angeles Angels
Musician: Riley Breckenridge
Band: Thrice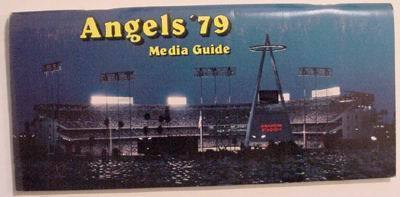 Why he loves the Angels: "I was born and raised an Angels fan. Some of my earliest memories are of watching games on TV with my dad and heading out into the yard after games to play catch or Wiffle Ball. …My life is full of Angels memories, but most of them were rooted in failure. That all changed in 2002 when the Halos won the World Series. I was on tour at the time and watched the final out in a Salt Lake City sports bar, alone, but dad was at the game and was only a phone call away. After 25-plus years of rooting for a team together and little to show for it, we were able to share a moment together that few baseball fans ever get to experience in a lifetime. (Unless you're a Yankees fan)." (via Magnet Magazine)
Riley's admittedly-biased take on the Angels today: "Since 2002, the Angels have transformed into a model franchise, winning the American League West five out of the past six seasons, built around a core of homegrown players, while maintaining a respectable payroll under the guidance of owner, Arte Moreno. …The stadium is a great place to see a game, the weather is perfect all season long, the tickets and concessions are moderately priced, and the product on the field is a perennial contender. I'm proud to be an Angels diehard. They've been a staple in my life, a pillar in my relationship with my dad and a joy to watch (most of the time). A fan couldn't really ask for much more." (via Magnet Magazine)
Fan-o-meter: 77/100
Oakland Athletics
Musician: Brett Dennen
Why he loves the A's: "I can't forget how much I love the Oakland A's. I try to write about what I know about. People might not think I'm a sports fan, or that I like baseball, but I do. I love a lot of those old baseball songs, "Willie, Mickey and the Duke," "Talkin' Baseball." The San Francisco Giants asked me to sing the national anthem at a game, and I told them I couldn't do it because I'm an A's fan." (via eMusic.com)
Fan-o-meter: 71/100
Seattle Mariners
Musician: Ben Gibbard
Band: Death Cab For Cutie
Why he loves the Mariners: "Some of my fondest childhood memories involve the going to the Kingdome with my Dad to see the Mariners. In the early '80s they were as bad as they are now but somehow the seemingly endless string of 60-102 seasons didn't seem to matter to me. We would hop on a Seattle-Bremerton ferry with a cooler full of health food (concessions were a no-no) and I would worry aloud that the game would sell out before we got there. This concern always turned out to be unfounded, as we would arrive to find we had the left field bleachers virtually all to ourselves.
My dad is a very neat and orderly, ex-military man and my parents' house is pretty much immaculate. He would have a coronary if you were to place a glass down on the coffee table without using a coaster yet when we went to the Kingdome he would treat the bleachers as his own personal dumpster. Food wrappers, napkins, and peanut shells were strewn about without any regard whatsoever. He taught me how to crack open a peanut and insisted there was nothing wrong with leaving the empty shells in a pile under your seat or the seat in front of you. While I kind of felt bad for whoever had to clean up after us, it was refreshing to see my dad do his mini-version of cutting loose.
I found an old ticket stub in a box of memorabilia recently and I was shocked to realize those tickets were only three bucks. Either that was cheap even for those days or I've reached an age where I'm shocked at how much more expensive things are now than when I was a kid. I suppose it could be a little of both. Regardless, I loved watching those shitty teams and trashing that drab, concrete dome with my dad."
Former Mariner who gave Gibbard an autograph at age nine: Alvin Davis.
Fan-o-meter: 79/100
Texas Rangers
Musician: Nathan Allen
Band: Seryn
Why he loves the Rangers: "My Dad and I go to a Rangers game every year. We went all the time when I was younger. In second grade, I did a 'How To' project on 'How To Enjoy A Rangers Baseball Game'—I got to eat chips and drink root beer in class. All the other kids were super-jealous—it was the best! Another time George W. Bush signed a ballcap for me. It says 'To Red.' I still have it. Can't wait for nachos and beer this summer."
Fan-o-meter: 61/100