Fifteen years ago, I sat front row on the third-base line at Wrigley Field at a Cubs-Padres matinee. It was my first real encounter with baseball—I was still oblivious to the Cubbie curses, and I was more captivated by the sand-covered Tony Gwynn home run ball that landed in my possession somehow after being thrown back by the Cubbie faithful than I was in the game. Of course, all of this was accompanied by the endearing, often non-sensical, babbling that was Harry Caray's broadcasting, along with the first of many seventh-inning stretches I'd hear sung from the booth. That intersection of baseball and music has long been a running theme, as they remain two of the most essential components of American culture today.
As opening day brings about the start of another MLB season, we decided to revisit this cross-section of baseball and music, taking a look at each professional team through the eyes of musicians that are die-hard baseball fans. Paste rounded up at least one musician for every ballclub—from The Decemberists (Cubs) to Rush (Blue Jays), Randy Newman (Dodgers) to The Hold Steady (Twins) in search of what draws these musicians to devote themselves to America's past time (be sure to check out the baseball edition of our Signs of Life podcast in the media player to your right).
AL East
Baltimore Orioles
Musician: Erin McKeown
Why she loves the Orioles: "I'm from Virginia, far south of Washington D.C. Still, growing up, the Baltimore Orioles had my heart. Several times a season, starting at age 5, my dad and I would make the three-plus-hour trip up to see a game. In 1995, my senior year in high school, Cal Ripken…was closing in on breaking Lou Gehrig's streak of consecutive games played. That fall, we went to a game, and I brought my beloved field hockey stick, second only to my guitar for my teenage affections. After batting practice, I worked my way down to the field, leaned over the railing, waved my stick and called 'Cal! Cal! Over here, Cal!' He spotted me and I handed him the stick. Weighing it in his hand for a second, he made a motion that was somewhere between a putt and a home run cut. "Keep it up," he said, and signed the wide, flat shaft. To this day, I'm convinced I have the only field hockey stick ever signed by Cal Ripken. Please don't tell me otherwise."
Teenage Baltimore O's crushes: Brady Anderson, Cal Ripken.
Fan-o-meter: 76/100
Musician: Steve Colmus
Band: J. Roddy Walston and The Business
Why he loves the Orioles: "It isn't easy being an O's fan these days, after 13 consecutive losing seasons, intermittent steroid scandals and the hordes of Yankees and Red Sox fans that take over our stadium 18 games a year because they can't afford tickets to their own. But some friends and I, including our guitarist Billy [Gordon], were able to lay irrational enthusiasm to tape in the form of a couple of songs about the Birds—"How 'Bout Dem O's" and "Oh Oh Orioles"—that the team plays during games at the Yard. No matter how bad things get, my evening clarity ritual involves lugging a radio and some beers on the roof with friends and listening to Joe Angel and Fred Manfra—two titans of their craft—call the games, making the small victories feel, momentarily, every bit as satisfying as the elusive big ones."
Rooftop beer of choice for O's games: National Bohemian (Natty Boh).
Fan-o-meter: 84/100
Boston Red Sox
Musician: Ken Casey
Band: Dropkick Murphys
Why he loves the Red Sox: "As a young kid, my grandfather was a well-connected guy around Boston…and would take me to games when I was six, seven years old right after the '75 World Series in like '76 or '77. He knew people and after the games, I'd run out and get to go on the field, dive around on the field and pretend I was Carl Yastrzemski or Fred Lynn. It was just kind of ingrained from that age.
In the 80's, I was a teenager partying with my friends and sneaking into Fenway all the time. My friend's father was a cop that did all the details so we walked into all the big games. I was at all those '86 World Series games. I remember when they clinched the pennant against the Angels, me and my friend Timmy Brady were going to…be the first to run on the field to celebrate. Just as we were about to jump on the field, his father who was the cop that let us in grabbed us and locked us in one of the souvenir stores at the top of Yawkey Way. After the game, [there] was pandemonium in the streets, everyone celebrating, and we were locked inside this glass-front souvenir store—we went from thinking we were going to lead the celebration onto the field to being the only two people in that ten-mile radius that weren't taking part."
The story behind the band rewriting "Tessie," the Red Sox anthem: "I got a call from a friend of mine Jeff Horrigan who used to write for The Boston Herald and said 'the Red Sox want to do a remake of this old song that used to be their anthem back at the turn-of-the-century when they won their first few World Series. They thought of you 'cause we had done remakes of traditional Irish songs.' You don't say no to the Red Sox, growing up [as a fan in Boston].
He sent me a version of the song, and we emailed right back…and said 'we're out,' because it was so old and outdated and all 'god, what do we do with this?' It was a song from an old Broadway play…Right when we were about to pass on it, we realized that it was actually in the key of B-flat, which is the key of the bagpipes—that was kind of an omen…we remade it and turned it into a rock song, and kept the piano so it would have a hint of the original, kept the melody from the chorus and rewrote the lyrics to be actually about that era of baseball instead of about whatever the original song was about."
All-time favorite Red Sox player: David Ortiz.
Fan-o-meter: 97/100
New York Yankees
Musician: Steve Wynn
Band: The Dream Syndicate, The Baseball Project
Why he loves the Yankees: "Can you imagine being a fan of a team that everybody hates? I mean, I understand the hatred. The Yankees have the most money, the most championships and a kind of cool bordering on aloofness. I remember being a little bummed last year (and again this year) when they didn't get Cliff Lee but also knew it would be one more reason for people to hate the team and act as though it's just too easy to be the Yankees. But you know what? The Cubs spend tons of dough, the Mets spend tons of dough, the Braves buy free agents and so do my childhood team, the Dodgers. And between them? I count, oh, one championship in the last 20 years. I think that Joe Torre knew how to manage rich, veteran superstars—with respect and just enough distance—and Joe Girardi has followed in his footsteps. The Yankees treat their players and even their fans—I mean, they could just hoard the money and not buy high priced players—with respect and there's nothing wrong with that. Must admit it has been kind of fun to celebrate five—count 'em five—world championships in the 17 years since I moved to New York City. I'm looking forward to number six."
Name of his second baseball-themed album as part of the The Baseball Project: Vol. 2: High and Inside
Fan-o-meter: 83/100
Tampa Bay Rays
Musician: Robin Zander
Band: Cheap Trick
Why he loves the Rays: "I'm a huge Rays fan, and I have been since I moved here. The Cubs will always be near and dear to my heart, but I'm a believer in supporting your local team… I think they're going to go to the Series, Go Rays." (via TampaBay.com)
Fan-o-meter: 31/100
Toronto Blue Jays
Musician: Geddy Lee
Band: Rush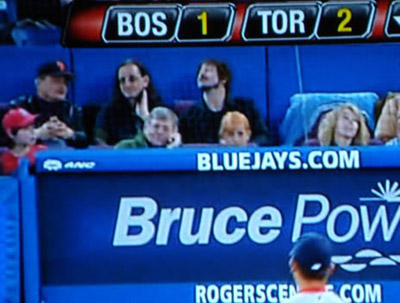 Why he loves the Blue Jays: "Game 6 of the 1992 World Series in Atlanta…sitting with my brother Allan and beside Candy Maldonado's dentist from Puerto Rico and the wives of the Blue Jay coaches…an island of Jays fans in a sea of Braves T-Shirts, cheering in the top of the 11th inning as Dave Winfield hit a double off of Charlie Liebrandt to drive in two runs which would lead to the Blue Jays capturing the "Holy Grail"—a long awaited World Series championship. Truly the greatest Blue Jay play for me…even the 1993 championship and Joe Carter's jaw dropping home run could not compare to that spectacular moment in Atlanta."
Rush song once played at bat by former Blue Jay Gregg Zaun: "Limelight."
Fan-o-meter: 80/100