Body/Head: Coming Apart, Then Back Together on No Waves
Photo by Annabel Mehran and Andrew Kesin
Music
Features
Body/Head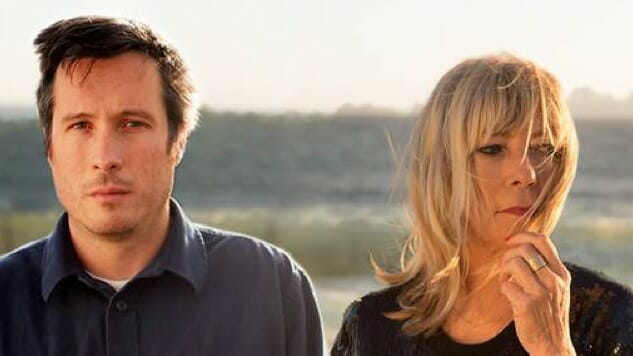 Bill Nace and Kim Gordon may live on opposite coasts, but they're still finding ways to release material as improvisational noise-rock duo Body/Head. Three years after dropping their double LP debut, Coming Apart, the two will soon release a live follow-up called No Waves on Nov. 11 via Matador. The three-track album will feature largely improvised songs the two played at the 2014 Big Ears Festival in Knoxville, Tennessee.
According to Nace, the group's guitarist, No Waves was an easy way to keep releasing music as Body/Head while he and the former Sonic Youth member pursue individual projects on opposite coasts. "We talked about doing other studio things, but Kim had moved out to L.A., and I was on the East Coast," he says over the phone. "And I went out to L.A., but I was doing some touring and my own stuff, so we were just kinda, you know, not really linking up."
"Yeah, Bill doesn't know where he's living," laughs Gordon in a separate call. "He doesn't really live anywhere. Although he's got a lot of his stuff in my garage."
No Waves itself celebrates the absence of a plan, as Gordon's spontaneous vocals puncture Nace's droning chord-work, creating three brand-new recordings: "Sugar Water," "The Show Is Over" and "Abstract/Actress." Below, Nace and Gordon expand on their latest release, open up about the future of Body/Head and whether or not Gordon will pursue a solo career.
Paste: What made you guys decide to pursue a live album?
Bill Nace: It was actually a really quick decision. Our friends did this limited live record for us, and then Kim had an art show in Greece, where they did an exhibition catalog for it, and it came with a live record of this live gig we had done for the closing of that. I like the idea of having a bunch of live records, to represent what we'd been doing over the course of that two years. 'Cause it had grown so much from what the studio stuff sounded like. To have something to represent all that.
Kim Gordon: We're basically an improv band, so it makes sense to put out a live record. Somebody had sent us this recording from the Big Ears Festival, and it sounded really good. So, yeah, it's like, "Why not?"
Paste: Would you say that the three songs on the live record are new interpretations of your material on Coming Apart?
Nace: Yeah. I've said this in a couple other interviews, but one thing I really like are Velvet Underground bootlegs—they make the band bigger in your mind. It's not like—all their live shows aren't just them playing those records. Some of them are playing those records, some of them are doing just a total experimental noise, some of them are doing completely different versions of those songs. And I think it makes the band feel a little broader in your mind when you get to hear all that stuff. Personally that's what appealed to me about it. The live thing's such a huge element of what we do, so just kind of having that represented. Much in a way like the live thing isn't really us trying to duplicate the record. I didn't want like a new studio thing that was maybe us trying to duplicate what we had been doing over the last couple years live.
Paste: That sounds like the inverse of what a lot of bands do—test out new material live that they'll later record on a follow-up record.
Nace: Yeah. I mean it's really all improvised, so maybe the one thing that gets tested sometimes the vocals, lyrical ideas or concepts. And then it's kinda like figuring out musically what goes best with that.
It's kinda just knowing where the other person's coming from and what we're thinking about. But mostly it's being really present to the moment and trying to be open to what's happening and interacting and reacting to the other person.
Gordon: Sonic Youth spent a lot of time developing music that way. It often did start with improvising around one riff or just everyone playing together. [But] It's not fun improvising with too many people. I know I prefer just one other person, or maybe two other people at the most. It's just hard to focus.
Paste: Was there something about this show in particular that stood out to you, that made you want to release it as an album?
Nace: You know, I'm sure over the course of the next six months, maybe other recordings will come out, and maybe I'd really like one or two of those too. But it just was like, timing. lt can be rare with recordings of two loud guitars and vocals where it sounds good, everything's present and can be heard. So just from a sound perspective, just getting to have that is really big.
I think sometimes it's easy for people to write [shows] off as just kind of one big slab of noise. And this one has discreet endings and beginnings, which I think listeners can hit the reset button. So, we just thought that would be a good element to have on this particular release as our second record.
Gordon: This critic wrote me saying, "This is one of the best shows I've ever seen!" And then sent the recording—I guess he knew the person who recorded it, or something, and it just kind of came together in a way that seemed, you know, like it worked. I generally hate listening to live gigs. It's the last thing in the world I want to do. And so it was almost like, well here's this gem of a thing. Let's just put this out instead of listening to every live gig.
Paste: Why did you decide to call this release No Waves? Is the title a nod to the genre No Wave?
Nace: Kind of. It was a joke I came up with, and Kim really liked it. We both love that music, and at the time I had been thinking about moving to L.A., but I feel like I consider myself such an East Coast person that I had a lot of hesitance about going out. So it was just kind of a joke on that. Like, "Ah, fuck the beach, fuck the West Coast." [Laughs.] But I honestly don't totally mean that.
Paste: And Kim, how has it been for you, moving back to L.A. after all of the time you spent in Massachusetts?
Gordon: It's been great. It just feels natural. You know—just—funny, though. I'm not used to living in a big city again. There's so many things going on every night. It's so hard to not go out. My daughter's actually been living with me for a brief period, but—I was, kind of aside from my dogs—but they weren't even here yet—I was like, mmm, totally free. It's so weird.
Paste: I would love to know a little bit about the album art and the artist you commissioned to design it.
Nace: It's Raymond Pettibon. Kim's known him for years. He did the iconic cover for [Sonic Youth's] Goo. He's Greg Ginn's brother from Black Flag. He used to do all the Black Flag flyers, and the Black Flag logo is his. We were just kicking around ideas of who could or should do it, or if we should just do it ourselves, and then she brought him up, and I've loved his stuff for years, so…. He said yes, luckily.
Gordon: Raymond's a friend, and somebody I've known for a long time. I don't know, I just had this idea with the name, with kicking around the idea of making the name of our next record No Waves, and it was kind of a joke, a play on No Wave music, that we're both influenced by, and the fact that I'm living in California now, and Bill lives out here part of the year.
And Raymond's done a lot of paintings of surfers and surfing with captions that are really funny and dark. I kind of had this vision. I almost feel like I saw him, saw a painting of his that had, like, flat ocean, and saying "no waves." Anyway, he was kind enough to comply.
Paste: Kim, I know that you put our your first proper solo track, "Murdered Out," last September. Are you working on some more solo material?
Gordon: I don't know. I'm not sure. I'm trying to decide. Yeah. I don't know. It was fun to do, but it was also simple and then when you start making a record with somebody it can become complicated. So, I'm not sure.
Paste: Does Body/Head have a plan to reunite for a studio follow-up to Coming Apart?
Gordon: We'll probably do a studio record at some point in the near future. Somehow.
Nace: I don't think we'll wait till we're in the right city. But, yeah, we're planning on doing a studio recording. We'll probably do these shows that we have coming up and then probably not till the new year, kind of start thinking about what to do next.