Why Bruce Springsteen's The River Works So Well Live
Concert recap: Bruce Springsteen at Atlanta's Phillips Arena (2/18/16)
Photo by Danny Clinch
Music
Features
Bruce Springsteen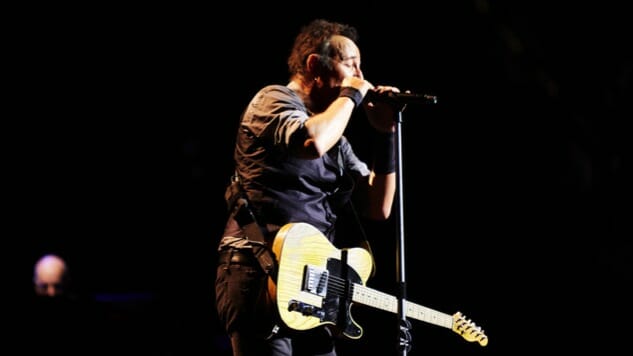 You don't need me to tell you that Bruce Springsteen and the E Street Band are incredible in concert. That's a universal truth—the sky is blue, the grass is green, The Boss is one of the greatest live performers all time. But when Springsteen announced last year that this tour would feature his 1980 double album The River front to back—something he'd only done once prior, at a 2009 Madison Square Garden show—it raised a few questions. Would the album's sequencing work in a live setting? Would more casual fans turn out for a record that often gets overshadowed in the Springsteen canon by the likes of Born to Run, Nebraska and Darkness on the Edge of Town?
Yes and yes. The story behind The River goes like this: Springsteen enters his 30s, readies a 10-track followup to Darkness on the Edge of Town for release, and then scraps it, opting instead to flesh it out into a double-LP and incorporate a greater variety of tones. "We were trying to get a record that felt like our live show, that's why it ended up being a double record," Springsteen recently told Jimmy Fallon. "We had a lot of bar band music on and a lot of character studies that I would write also. It got close to capturing some of the energy of a live show."
Because of that, you get some mood swings, like the devastating brooder "Independence Day" sandwiched in between two uptempo romps ("Two Hearts" and "Hungry Heart"), and critics of The River argue it lacks cohesion. But to do so is to ignore the coming-of-age themes that run through its 20 tracks.
"The River is about time," Springsteen told the crowd at Atlanta's Phillips Arena on Thursday night. "You get to a certain point in life when you realize you're running out of time—to make connections with people, to fall in love and get married, to do your work."
But time doesn't exist when you're watching Bruce Springsteen play. It does for his characters, of course, who find themselves struggling to connect with an aging parent, grappling with mortality after witnessing a wreck on the highway or wondering if a dream is "a lie if it don't come true, or is it something worse." But it doesn't exist for Bruce himself, whose three-plus hours onstage will make you believe he could go on forever, or for the "pared-down" nine-piece E Street Band (Steven Van Zandt, Nils Lofgren, Patti Scialfa, Jake Clemons, Max Weinberg, Soozie Tyrell, Garry Tallent, Roy Bittan and Charles Giordano), who sound as strong as ever. And it certainly doesn't exist for you when you're screaming along to "Cadillac Ranch" with 20,000 other people.
In many ways, that makes The River Tour the Springsteen-iest Springsteen show you could ask for. Those connections young Bruce's narrators so desperately seek are formed by the fans listening to their tales, and his desire to write an album that sounded like a live show…well, quite obviously, makes for a damn good live show. The record's all-encompassing nature means The Boss gets to use every weapon in his arsenal. He breaks our hearts, he builds us up, he throws a party—with The River he's got a song about virtually every aspect of life, through the lens of someone staring down adulthood and realizing he's got a finite amount of time to work everything out.
The potential lull The River's slower second half presents is balanced by the high-energy greatest-hits set that Springsteen follows it with, and on this particular night, those included classics like "Born to Run" and "Dancing in the Dark" along with more recent favorites like "Wrecking Ball" and "The Rising." When he sings "So you're scared and you're thinking that maybe we ain't that young anymore" on "Thunder Road," you can't help put notice how well it fits in with The River. Then later on, while you're playing air sax during "Rosalita (Come Out Tonight)" and thinking the same thing, you'll realize that's the beauty of The River—everything fits in with it.
That's what happens when you make an album about life, and few things are as life-affirming as a Springsteen show, whether its Jake Clemons successfully filling the shoes of his late uncle Clarence, or Nils Lofgren whirling around while unleashing an insane solo on "Because the Night" or Springsteen himself crowdsurfing during "Hungry Heart" and bringing up a fan who had traveled all the way from Korea to be at the show to dance with him during "Dancing in the Dark."
By the time he wrapped with the Isley Brothers' "Shout" and his customary "You've just seen the heart-stoppin', pants-droppin', earth-shockin', hard-rockin', booty-shakin', earth-quakin', love-makin', Viagra-takin', history-makin', legendary E Street Band" sign-off, any nagging questions about whether this is the Springsteen album that deserves a tour built around its in-sequence performance had been wiped away. The River was essentially his attempt to take everything that makes his shows great and lay it all down on tape; of course it's fantastic live.
Setlist:
1. Meet Me in the City
2. The Ties That Bind
3. Sherry Darling
4. Jackson Cage
5. Two Hearts
6. Independence Day
7. Hungry Heart
8. Out in the Street
9. Crush on You
10. You Can Look (But You Better Not Touch)
11. I Wanna Marry You
12. The River
13. Point Blank
14. Cadillac Ranch
15. I'm a Rocker
16. Fade Away
17. Stolen Car
18. Ramrod
19. The Price You Pay
20. Drive All Night
21. Wreck on the Highway
22. Prove It All Night
23. Badlands
24. Lonesome Day
25. Wrecking Ball
26. Because the Night
27. Brilliant Disguise
28. The Rising
29. Thunder Road
30. Born to Run
31. Dancing in the Dark
32. Rosalita (Come Out Tonight)
33. Bobby Jean
34. Shout (Isley Brothers cover)