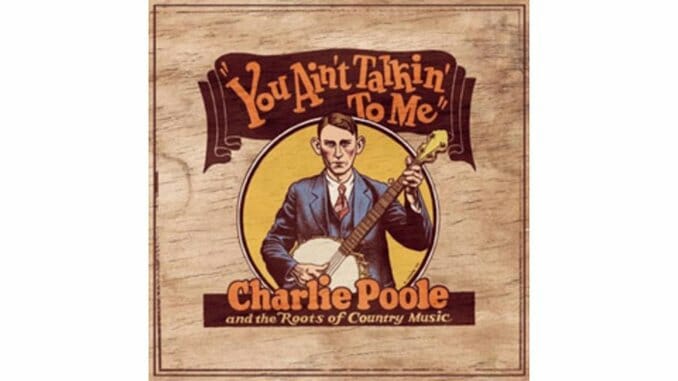 Something is happening out there in the hinterlands. A generation of young roots musicians are digging deeper than rockabilly, deeper than honky-tonk, deeper than bluegrass, all the way down to old-time string-band music. Bands like The Duhks, The Mammals, Old Crow Medicine Show, The Be Good Tanyas, The Foghorn Stringband, The Carrie Fridley Band, The Wailin' Jennys, The Redstick Ramblers and Jim & Jennie & the Pinetops are attacking this pre-Pearl Harbor, rural-Southern music as if they'd just discovered the Klondike gold vein. And they have.
To understand why these 20-something pickers have jumped on the old-time bandwagon, all you have to do is listen to the late-'20s and early-'30s recordings by their heroes Charlie Poole, Gid Tanner, Dock Boggs, Clarence Ashley and Gus Cannon. These men didn't showcase virtuoso solos like their bluegrass heirs; they didn't spotlight honeyed singers voicing universal sentiments like their honky-tonk descendants. In their string bands, everyone played at once with barely constrained energy, and the lyrics favored the surrealist, absurdist worldview of the 19th-century folk songs they often recycled.
It hasn't always been easy to find this music, which goes in and out of print in irregular cycles. But Poole, Tanner, Boggs, Ashley and Cannon are all represented on Harry Smith's Anthology of American Folk Music, the 1997 reissue that kicked off the current old-time revival. And now Columbia is releasing You Ain't Talkin' to Me: Charlie Poole and the Roots of Country Music, a three-CD, 72-track box set that not only collects the 43 best numbers of Poole's short recording career, but also offers 29 tunes by fellow old-time acts who either influenced Poole or were influenced by him.
This is an unusual approach, but compiler Harry Sapoznik argues convincingly that you can't understand an artist's work unless you also understand its context. Thus we hear Poole's 1925 hit, "The Girl I Left in Sunny Tennessee," followed by the Floyd County Ramblers' 1930 remake and Doc Walsh's 1925 parody version, "The Bulldog Down in Sunny Tennessee." And we hear the original 1906 recording of the New York vaudeville number, "Monkey on a String," followed by Poole's 1926 hillbilly version. Then we hear both Poole and Tanner taking a whack at 1901 minstrel tune "Goodbye Booze" in competing 1926 versions.
These juxtapositions evoke a scene not of innocent farmers sitting on their front-porch rocking chairs and singing their grandfathers' tunes, but of professional entertainers raiding each other's repertoire and putting a novel twist on each song in search of a hit. By and large, these were working-class men in their 20s who relied on the fame of their 78s to draw crowds to their schoolhouse concerts as they traveled from Georgia to Virginia and from North Carolina to Tennessee. These men would do almost anything to escape working in a textile mill or a tobacco field as most of their friends and audience did. Out of this competition and desperation came some of the era's most exciting music.
Poole was one of the scene's biggest stars. He was born in 1892 in Randolph County, N.C., and by the end of World War I, he was working in a textile factory and playing banjo whenever he could. One day in June, Poole, his fiddling brother-in-law Posey Rorer and their guitar-picking neighbor Norman Woodlieff brought their instruments to work and played a few numbers on the factory floor before Poole announced, "Goodbye, boys, we're gone." A month later they were in Columbia's New York studios, recording "Don't Let Your Deal Go Down." Two months after that, the song was a hit, eventually selling 102,000 copies at a time when there were only 600,000 phonographs in the South.
Who could resist? Poole's flailing banjo arpeggios and Woodlieff's choppy guitar created a pell-mell rhythm; Poole's nasal tenor yelped out his boasts of having "been all around this whole wide world," while Rorer's fiddle danced around the melody, playing three or four notes for every one in the vocal. It promised a world of boisterous fun beyond the confines of listeners' little mountain towns if only they'd refuse to let society's pre-arranged deal go down. The song became a standard in the South, recorded by bluegrass acts like Flatt & Scruggs, Mac Wiseman and, eventually, rock 'n' rollers Dave Alvin and Jerry Garcia (who would name his bluegrass quintet with Peter Rowan and David Grisman after another Poole song, "Old and In the Way").
The success of that first disc enabled Poole to live out the song's lyric, and he rambled as far as Montana, always returning to New York for recording sessions and to North Carolina for his hard-core local fanbase. Between 1925 and 1930, he recorded such landmark songs as "White House Blues" (the McKinley assassination song later covered by Bill Monroe, the Stanley Brothers, the Carter Family, Doc Watson and Jerry Douglas), "I'm the Man That Rode the Mule 'Round the World" (later covered by Uncle Dave Macon), "Leaving Home" (a lively version of "Frankie and Johnny"), "Hungry Hash House" (a hilarious satire of 1920s boarding houses), "Milwaukee Blues" (his last and perhaps most modern side) and "Flop Eared Mule" (a proto-bluegrass tune recorded 16 years before Monroe met Earl Scruggs). They're all on the new box set.
By the end of 1930, the Great Depression had pretty much wiped out the hillbilly record market, and Poole's worsening alcoholism made him an unreliable performer. Back at the mill by the end of 1931, he got a telegram that Hollywood wanted to use his music in a movie; he celebrated with a 13-week bender that ultimately killed him on May 21, 1931. He was 39.
You have to get by some obstacles to hear this music. You have to get past Poole's thick, nasal drawl, past the constricted sonic spectrum of 1920s recording, past the cloying sentiment of the parlor songs, past the casual racism of the minstrel numbers. But if you can hear the liberating thrill of the driving rhythms and brash vocals, you'll understand why some of the best music of the 1920s came from old-time string bands and why their revival is one of the most promising developments of our own decade.