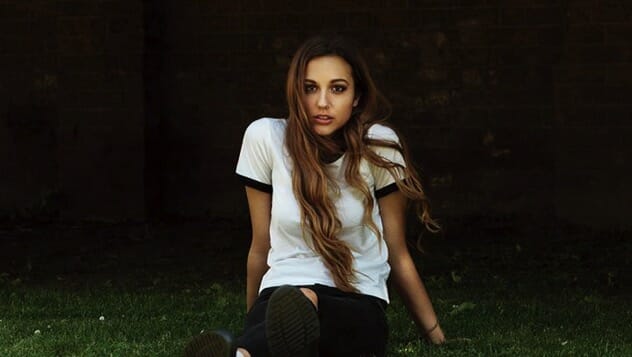 How did 20-year-old Melbourne wunderkind Kaity Dunstan—who records and performs under the simple sobriquet of Cloves—arrive at the heavenly, Adele-verdant vocal style heard on her lush debut EP, XIII? By traveling the rough and rocky highway to hell—quite literally, in accordance with her Australian birthright.
Before Dunstan started writing her own skeletal material at age 12—believe it or not—she and her older sister performed crowd-pleasing covers in a local bar band. "And we used to do the classics, like AC/DC, and 'Highway to Hell,'" she giggles, girlishly. "And at the time, I was so young that I didn't really care how I was singing, so I would just kind of scream it, like this…." as she launches into an impromptu, decidedly eardrum-piercing rendition of the metal morsel. "It was horrible – I don't think you even want to picture it. I would just sing as loud as I could and hope for the best."
A banshee-velocity Bon Scott shriek is probably the last sound Cloves fans could imagine emanating from this seraphic chanteuse's pipes, judging by delicate XII acoustic ballads like the piano-sculpted "Frail Love," a soulfully-strummed "Don't You Wait," and the falsetto-accented "Don't Forget About Me," which was also recently featured on the Me Before You film soundtrack. But her career has practically been built on unusual contradictions, starting with her obsessive love of music, which kicked in when she was only a toddler. And still can't explain it.
"I just always wanted to do music," Dunstan says. "I remember making cassette tapes with my mum, with me singing, when I was four or five. I just liked it. I just loved music. And I remember going to a musical when I was four years old and watching the performers onstage, and just being like, 'Oh, my God! This is so amazing!' I always thrived on music—it made me feel better about everything." In school, she always daydreamed about performing, to an almost OCD degree. By 11, she'd penned her first song, "Just a Memory," for a class songwriting competition. Her father—who had several guitars sitting around the family home—sensed his daughter's ambition, and loaned her instruments and even positioned a fake microphone in the garage, where she would dress up and perform to a blank wall. Yes, she sighs, she was that blindly determined.
Soon, Cloves—who took the name from a trip to Bali, where cloves are a national export—had joined the school choir and formed her first combo. "I just wanted to go onstage as a performer," she recalls. "So I kept writing songs, and then my sister started playing with me. And I think the first festival we ever played was not even a festival—it was a street market down the road, with a little amp set up, so we were basically just signing to the people walking past. I didn't care what I was doing or where I was performing," she adds. "I just liked performing my own songs—that was really it for me."
Looking back on those days now, Dunstan shudders. Sure, writing and playing your own material sounds really cool, she says. "But they weren't good songs at all. In fact, they were terrible songs." Still, her father encouraged her. He took his girls to guitar shops and introduced them to different brands and models. He roadied all their shows, and drove them home afterwards. And most importantly, he got them into the intricacies of recording technology, which really piqued Cloves' interest, in particular, especially after her sister abruptly bowed out of the business. She used to pride herself on inserting the most flowery phrases into her lyrics. But—once she started writing and recording with her current producer, Justin Parker—she learned the art of studio subtlety, that less can truly be more.
To mature, Dunstan looked to the past, and specific soulful idols like Etta James, Amy Winehouse and Eva Cassidy. "And people that I was inspired by, vocally, they knew when to push forward and when to pull back," she notes. "And I think it's all about how you convey a lyric, rather than how hard you sing it, or how loud you sing it. So over time, I started to pick that up more, and that's what I aim for—not so much how I'm singing or the pitch or the clarity, but just the feeling that you get when you hear that lyric. That's really what I put all my energy into, so hopefully people can feel what I'm trying to convey to them."
The XIII EP was titled to honor Dunstan's grandmother, who cherished the supposedly ill omen of 13 and taught Dunstan that you can—and should—make your own luck in life. She took that philosophy to heart. And if you think it's full of tearjerkers dealing with heartbreak, wait till you hear Cloves' upcoming full-lengther, which was inspired by the recent breakup of a long-term relationship. She will only reveal the name of one cut—"If Only You Knew." "But the lyrics have gotten quite blunt, more sassy, and a little harsher," she says, ominously. "Because I really think that simplicity is key."
Another crucial aspect of Cloves is her innate humility, perhaps an offshoot of Australia's so-called tall poppy syndrome—wherein any flower that grows taller, more prouder than the others is quickly scythed down to size. Dunstan is drop-dead gorgeous, and she's even done some modeling. But she doesn't rely on elaborate makeup or designer fashion to embellish her sound. She prefers jeans, simple T-shirts, and Doc Martens, and her thick-gauge nose ring. She didn't have lots of friends in high school, and she was occasionally picked on by both guys and girls. But—although she stands on the brink of becoming the next Adele (seriously—she's that good) she doesn't see hers as some uplifting ugly duckling fable. "Because I would not say that I'm a swan at all," she laughs. "I am the most ungraceful thing you've ever seen! And my wardrobe is very basic, which has more to do with the fact that I have to do my own washing now. I left home at 18, and I've moved over to London. And it's the worst thing when you wake up in the morning, and you realize that you have no food in the house, and you have to do your own washing and also vacuum." She sighs. "But you've got to be an adult."
Not that Dunstan wants to grow up too fast. There's still a rebellious sprite lurking just beneath the quiescent chanteuse surface that enjoys shocking her parents. The nose ring was the first jolt. Now it's the tattoos she's been acquiring in her travels, 12 in all, including a #13 on her arm for her grandmother. "The first day I turned up with a tattoo, my family was kind of annoyed by it," she says. "But now they're like, 'Well, it's just Kaity, now isn't it?'" But she admits she's made a few egregious aesthetic errors: "I got the worst possible tattoos on my toes when I went to Bali. I had a couple of drinks, and I drew them on with a pen, and then the tattoo parlor inked them in. I got a moon—a banana-shaped moon—and an actual peace sign!
"But hey—at least they're a good story, right?" Or just another step on the highway to hell….