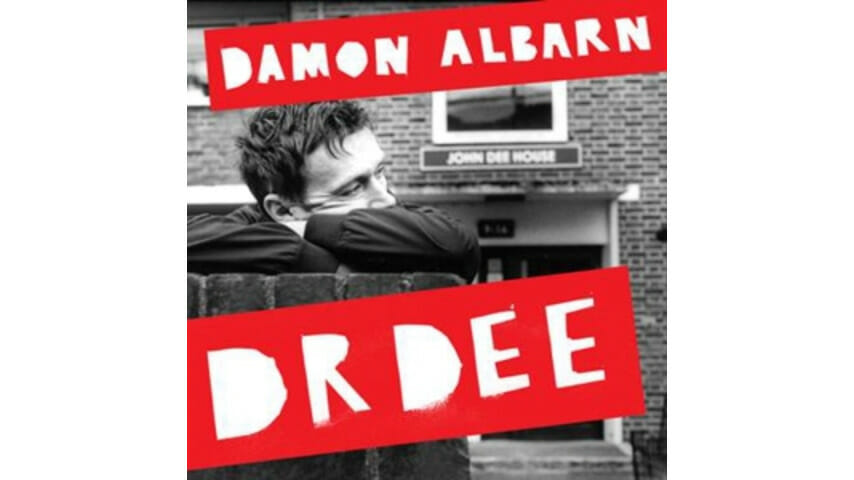 Damon Albarn's got his eye on David Byrne's career, and though he's far less arch and brittle than Byrne, he's unfortunately far less of an innovator. Albarn's more like Byrne the taste-curator than the artist, surrounding himself with fascinations and class in hopes to create a new, revitalized mishmash from old parts. In Gorillaz, his shocking left turn away from Blur and towards beat-collage, he excelled at this, making hits out of the unthinkable: Del the Funky Homosapien, Cibo Matto, a 20-years-older De La Soul and cartoon monkeys. But his songwriting's always been schizoid—Blur's Parklife is almost an opera with spunky musical turns to the point of attenuated annoyance and beautiful accident—both ends of the spectrum. So he's less of a Renaissance Man and more of an Everywhere Guy. That's fine, and it's squeezed a surprising amount of good music out of a musician whose best strength is being a conduit. But I regret to inform you that his new album is an opera.
Dr Dee is one of Albarn's most English projects ever, which takes some doing. The storyline concerns John Dee, 16th-century philosopher and medical advisor and astrologer to Queen Elizabeth I. It's as far as can be from the planet-rocking Afrobeat jam session his supergroup with Flea and Fela drummer Tony Allen released as Rocket Juice and the Moon only a few months ago, which was surprisingly one of Albarn's smoothest-flowing albums ever. Instead, Dr Dee is a sermon, and it feels as long as one, with lots of droning organ and violins and "moods" I suppose. "A Man of England" is a hopeless dirge; "O Spirit, Animate Us" is more flatlining than animated. Despite compelling-sounding input from director Rufus Norris and legendary comics creator Alan Moore, it's ironic that after the success of Gorillaz' dazzling multimedia innovations via Jamie Hewlett, that a project so obscure and with such visual experts on board has nothing but the forbidding music on hand to help understand it. Gorillaz fans certainly won't want to sit through the yes-opera-not-QuadrophenianotAmerican Idiot castratos of "Edward Kelley" or the ridiculous screechings of "Watching the Fire that Waltzed Away." Maybe Decemberists or Beirut fans will, but this is Albarn's most indulgent and glaring failure to date—he's a fish out of water, not a born storyteller like those guys (well, libretto teller) stumbling on the job.
But worst of all, Dr. Dee's just not pretty music. Byrne's Music for the Knee Plays was an organic outgrowth of his own Afropop obsession that constructed hypnotic horns and retained his rock-and-roll strengths in the way of repetition and melody. Albarn is striving for blank significance in his desire to pull back from the interactive shared experience of Blur's chart success and Gorillaz's fan paraphernalia. Unfortunately, an undertaking as complicated as Dr Dee needs all the accessibility that would-be fans can get. And instead it's nothing more than rabbit-hole music for Dr. Damon.